If you're in the market for a new laptop, sifting through the sheer number of choices on offer can take a while. Many of them are far too expensive to even consider, while some others are cheap but perform poorly.
If you checked my previous recommendations, you know that I often recommend ASUS laptops, but is ASUS a good laptop brand?
ASUS is a good laptop brand, as it has a wide range of laptops with different specifications, built to fulfill different needs. ASUS straddles the line between affordability and quality very well, with many of its laptops having competitive features at a fraction of the cost of its competitors.
Regardless of what your need is, you'll likely find an ASUS laptop that will fulfill it. ASUS laptops are a great option for gaming, coding, business, students, and creatives among others.
If you're considering getting an ASUS laptop and are still on the fence, then the rest of this article will give you everything you need to know to make an informed decision.
What Makes ASUS a Good Laptop Brand?
Once you've done a bit of research, you might notice that ASUS brand laptops come up quite often during your search.
Most people agree that the brand has quite a few good laptops and that regardless of their flaws, they are overall a good brand. I am personally writing this article on an ASUS laptop that I am very happy with, for example.
However, for the less tech-savvy people, figuring out exactly why ASUS is a good laptop brand can be difficult.
What makes ASUS a good laptop brand is that it caters to various consumer needs. While many laptop brands are mainly known for a specific niche they fulfill, ASUS is known for making a wide range of laptops for a wide range of needs. From gaming to business, ASUS usually has you covered.
If the jack of all trades was a laptop brand, it would be ASUS.
The difference here is that while many brands that attempt to do well at a wide range of niches instead of sticking to one usually fall flat, ASUS does a very good job across the board.
Are ASUS Laptops Good for Gaming?
Many laptop users are gamers, as gaming on a laptop gives you a good, mobile alternative to purchasing a console.
As a result, many people looking to get a new laptop usually want to know if the brand they have their eye on is good for gaming.
ASUS laptops are very good for gaming. In fact, ASUS's line of gaming laptops is one of the things it is best known for. Not only do most of their laptops allow you to play games on at least minimum graphics, but they are also very affordable.
If gaming is your primary concern and you're in the market for a good laptop to game on then, an ASUS laptop might be the solution to your search.
The wide range of options on offer means that most people will usually find something that fits.
Why Are ASUS Laptops Good for Gaming?
ASUS has some of the best gaming laptops options on the market. From their ROG series to even their non-gaming-focused laptops, most of their laptops can handle games pretty well. This brings us to the question of why ASUS laptops are good for gaming.
ASUS laptops are good for gaming because of their hardware. Regardless of how good your laptop looks, one of the most important things that makes a good gaming laptop is under the hood. ASUS does a good job giving you amazing performance while still being very affordable.
Generally, three main things determine how well a laptop will run any game:
GPU (Graphics Processing Unit)
CPU (Central Processing Unit)
RAM
Of these three, the GPU is by far the most important. An easy way to understand what makes it so important is understanding the difference between a GPU and a CPU.
A CPU handles most of the processes that go on in a computer and does everything from watching videos to handling the most basic of inputs.
However, when it comes to more intensive activities like gaming, it can buckle under the weight.
This point is where the GPU comes in.
Similar to the CPU, the GPU also handles processing. The key difference is understanding that the processor is a jack of all trades, and the GPU is the master of its domain.
Gaming requires hundreds of thousands of calculations to be made, all happening concurrently. As a result, while the processor is built for versatility, the graphics card is made for pure throughput.
The best GPUs can handle millions of concurrent processes at a time without strain, a feat that would be significantly more difficult for an ordinary processor.
Best ASUS Laptops for Gaming
With the number of choices on offer, you could be feeling stumped about which ASUS laptop is best for you and why. Here is where ASUS shines, as the sheer amount of variety makes it very easy to choose one based on your needs.
Please note: Our blog gets commissions for purchases made through links in this article.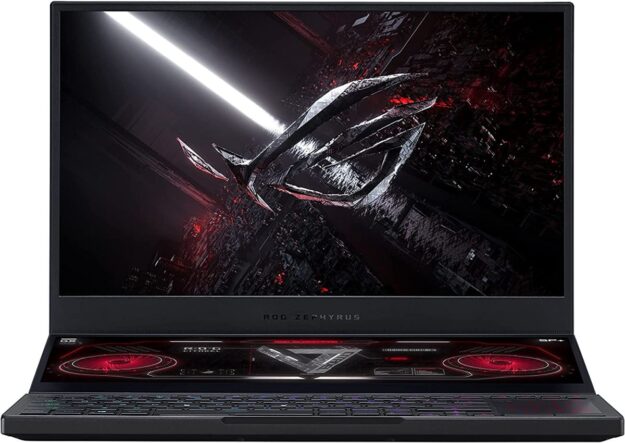 If cost is not an issue and you just want to get the best gaming laptop money can buy, look no further than the G15. Note that I said best gaming laptop, not just best ASUS gaming laptop, it's that good.
The G15 boasts such a wide range of amazing features that it blows all its competitors out of the water.
The G15 comes with some of the best GPUs available, which is a very big plus in its favor. Along with this, it ships with a 1440p screen. Combining these two features means that your games will run smoothly, and they'll look good too.
There are two major downsides to the G15.
The first is that it does not ship with an inbuilt webcam. This problem could be significant, especially now that many people are socially distancing and have most of their meetings online.
However, an external webcam like this Webcam with a Microphone from Amazon could be a great choice as it comes with a built-in microphone, making it perfect for meetings.
The second problem is troublesome depending on your preferences.
Gaming laptops have a history of being extremely flashy, but the ASUS G15 forgoes a lot of that pump for a simple finish. While this shouldn't be a dealbreaker, it is enough of a deviation from most gaming laptops that it needs to be said.
Click here to check this model out.
If you'd like to strike a nearly perfect balance between budget-friendly and performance, then the ASUS TUF A15 is going to be hard to beat. Although it doesn't reach the dizzying heights of the G15, it is no slouch.
This is actually a similar mode to the one I am using (and have been using for a while) and I really have no complaints in terms of performance.
The laptop can ship with the standard 60Hz display, but if you really want those crisp visuals, it also satisfies that with a 144Hz upgrade.
Furthermore, the TUF A15 also comes with up to 32 GB of ram and an RTX 2060 graphics card. As a result, it will likely run almost any game you want, although it might not be able to do it on maximum graphics settings.
Click here to check this model.
Conclusion
ASUS is a very good laptop brand. In fact, it is one of the best brands on the market. Regardless of what you need a laptop for, you will like to find an ASUS brand laptop that will fulfill your needs.
If you lean specifically towards gaming, it is very unlikely that you will be disappointed. If you want to look at more affordable models, make sure to read a bit more about Lenovo laptops or even a lesser known brand (but a very good one imho) iBuyPower.
Although the ASUS ROG Zephyrus G15 is the best of the best, there is still a wide range of other gaming laptops on offer for all types of budgets.