Laptops have quickly grown from frowned upon by the gaming community to at least accepted devices that can handle modern games with ease. Nowadays, most people own and need a laptop and automatically they want to be able to play current generation games on them.
But one of the problems that laptops have when it comes to gaming is screen size. Bigger is better in the world of gaming, so today we're going to look at the best 17″ inch laptops created specifically for gaming. We're also keeping budget in mind, so you won't have to spend a fortune on your next gaming laptop.
In my opinion, a 17″ laptop is perfect for gaming because it offers a larger screen, is more accessible and portable than larger options and even though price won't always work in our favor, if it's a laptop you need instead of a desktop computer, you can make it work really well.
So without further ado, let's check out the best cheap 17″ gaming laptops in 2021 below. We'll start by listing them in a table for an easy, quick look, but we'll also have more details on each models if you want to know everything about them.
Please note: We get commissions for purchases made through links in this article.
Laptop
Main specifications
ASUS TUF Gaming F17

Best budget 17″ laptop
i5-10300H CPU, GeForce GTX 1650 Ti
8GB RAM, 512GB SSD
Check Price
EVOO Gaming Laptop

Editor's Choice
i7-10750H CPU, RTX 2060 GPU
16GB RAM, 512GB SSD
Check Price
HP Omen

Editor's Choice Alternative
i7-10750H CPU, RTX 2060 GPU
16GB RAM, 512GB SSD
Check Price
CyberpowerPC Tracer IV R Xtreme

Best performance
AMD Ryzen 7 4800H CPU, RTX 2060 GPU
16GB RAM, 1TB SSD
Check Price
CUK GF75 Thin

Best GPU
i7-10750H Six CPU, RTX 3060 GPU
8GB RAM, 512GB SSD
Check Price
Best 17″ Gaming Laptops for the money
If you want to get a bit more in depth and see why each of the models recommended above made it to our list, read on. You will find out the full specifications of each model, as well as my opinion on why they are worth buying – and what you get for the money.
ASUS TUF Gaming F17 – Best Budget 17″ Gaming Laptop
I am personally using an ASUS TUF gaming laptop – although slightly upgraded compared to the model recommended here. But this one is perfect for gamers on a really tight budget who still want to do some serious gaming on a 17″ device.
It has some decent specifications that will allow you to play even the latest games on the market – although not at high settings. Still better than nothing, unless you have more money to spend.
Powered by Intel's Core i5-10300H quad-core processor that goes up to 4.5 GHz and 8GB RAM, it also has a decent dedicated graphic's card, the GeForce GTX 1650 Ti with 4GB of RAM.
You would have to consider upgrading the RAM to 16GB as soon as possible, because 8GB in today's world isn't much at all – but apart from that, these are some decent specifications that can handle most games with ease. The good part is that an additional 8GB of RAM are cheap, so the overall costs for acquiring this model will remain low.
You also get a 512GB SSD which is basically the norm when it comes to cheap gaming laptops. The device's display is a really good 144Hz fullHD IPS-type display, meaning that all movement on screen will look better and smoother. It's a good thing that even on a budget you can get 144Hz refresh rates!
You have a ton of additional ports for connectivity, but most of them all on the laptop's left side. I personally prefer them on both sides, but it's not really a deal breaker.
You get three regular USB ports and one USB-C, an HDMI port and an additional Kensington lock ono the right side for added protection. The laptop itself looks good and it has a military-grade build, but I still wouldn't recommend to get into rage mode and spill your frustration on the laptop itself.
The battery will easily last several hours when used as a regular laptop, but you won't get too much time when gaming heavily. The power you get on a single charge depends on the game(s) you're playing, but it's best to always have a power socket nearby.
All in all, for such a low price, you get a solid laptop whose biggest problem (the low RAM) can be easily fixed on the cheap.
Click here to check price on Amazon
EVOO Gaming Laptop – Editor's Choice
Maybe you haven't heard a lot about EVOO which is a relatively new name in the laptops world, but rest assured that they are really high quality. It's actually owned by THX and the laptops they produce, although manufactured in China, are really good and most importantly sell for a low price.
As a result, this laptop offers the best value for the money, thanks to its Intel Core i7-10750H Processor that goes up to 5 GHz, as well as 16GB of RAM.
It has a really good GPU – the NVIDIA GeForce RTX 2060 – and offers 512GB of storage on a super-fast SSD. So all in all, some really good specifications for the price. This laptop can handle modern games with ease and without the necessity of an upgrade as in the case of the previous model.
While it does look like a cheap laptop and it could use some improved cooling, it works well and that's all that matters in the end.
Being produced by THQ, it has the advantage of an improved audio experience and the image quality is really good also. We're getting 144Hz refresh rates as well for a perfect gaming experience.
While it doesn't have glowing reviews on Amazon at the moment of writing this piece (there's actually two 1 star reviews posted), have in mind that its overall rating on Amazon is 4 out of 5. So don't let the poor reviews discourage you. You're getting a lot of value for the money here and you will be pleased.
Sure, it's not the most beautiful laptop ever and it's bulky and heavy, but it offers great value for the money. You get a decent battery as well (still, you'll need a charger nearby for longer gaming sessions) and all the ports you need for adding extra peripherals and whatnot. A good buy!
Click here to check price on Amazon
HP Omen – Editor's Choice Alternative
This is basically the exact same thing as above in terms of specifications (which are identical). The main difference here is a slightly different design and a better known brand.
I wanted to include this laptop as well in case you prefer not to risk it with a lesser known brand. This would definitely be the safer choice, but it would also cost more. Your decision to make, but know that in terms of performance, both this model and the previous one are basically the same.
This means that you get the same Intel Core i7-10750H processor, 16GB of RAM, the nice GeForce RTX 2060 GPU and 512GB of SSD storage.
The display is also really good, offering 144Hz refresh rates and good image quality when gaming and using the laptop.
I personally am not a fan of the design, but that's just a personal preference. The most annoying thing to me is the fact that HP decided to add a set of extra keys on the left side of the keyboard – six function keys to be precise, which take away some valuable space from the actual keyboard. But still not a deal breaker.
I am also not a fan of the empty space left between the display and the base of the laptop, but since it doesn't affect performance in any way – at least not in a negative way, it shouldn't matter too much.
This laptop has most of its ports on the left side, but at least it offers a ton of them: three regular USB ports, one USB-C , as well as an HDMI port. Different from previous models, it also offers a miniDP port, as well as a SD card reader. These are always nice to have!
The battery of the laptop won't last long when gaming – but no laptops can really offer much in this area, no matter what their price is. Have in mind though that this laptop is a bit on the heavy side, so if you're planning to travel a lot, it might get a bit uncomfortable.
But all in all, it is a very good laptop that can handle modern games with ease. It is more expensive than the previous model, although it's basically the same thing, but some people might prefer the brand name instead, just to have an extra guarantee that nothing will go wrong with their device.
Click here to check price on Amazon
CyberpowerPC Tracer IV R Xtreme – Best Performance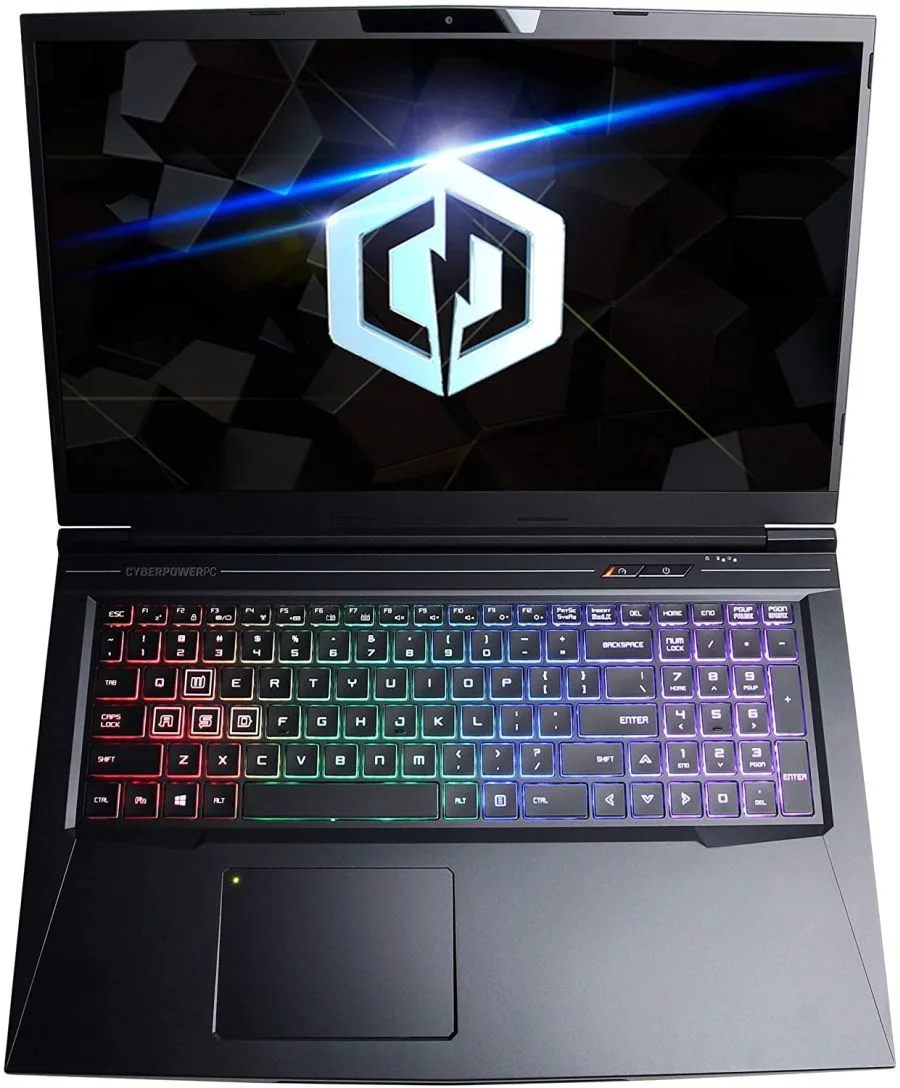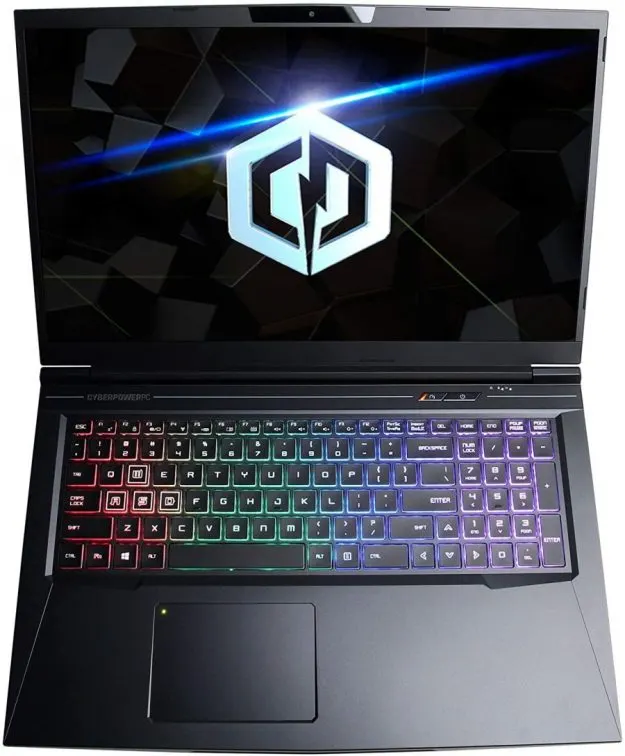 Another lesser known brand, but this time with fewer complaints from the general audience and absolutely none on my side.
The best part about this cheap 17″ gaming laptop is the fact that it offers a lot for the money. Actually, it offers the best performance of all laptops on our list so if you have the funds for it, it's definitely worth getting.
First of all, it is powered by the AMD Ryzen 7 4800H processor which beats the i7-10750H easily and by a noticeable margin. It also has 16GB of RAM and comes equipped with the GeForce RTX 2060, which is similar to other models. But the CPU boost is important and useful.
Also, this is the only model on our list that comes with an 1TB SSD – and with modern games requiring up to a few hundred GBs per install, more space is always welcome.
The display is also surprisingly good for this price range. It offers 144Hz refresh rates for optimal movement flow on-screen, it is Full HD and anti-glare. As I said, really good overall with no reasons for complaint.
I personally appreciate the fact that it has the ports nicely spread out to the sides and back – the charging port is at the back too, which is how I prefer it to be.
Overall, this is a good laptop that delivers more than most at this price range in the performance department.
Click here to check price on Amazon
CUK GF75 Thin – Best GPU on a Cheap 17″ Gaming Laptop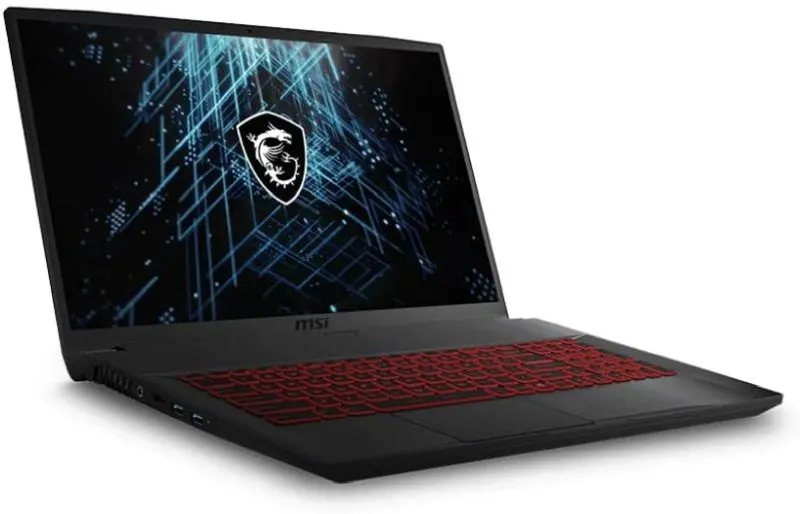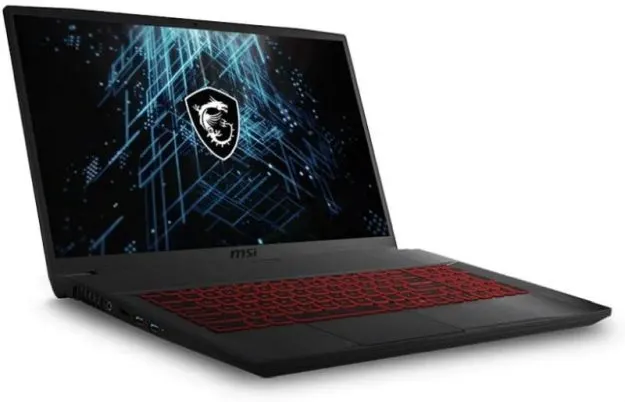 Last but not least, we have a device that we have mixed feelings about. It's the most expensive on our list at the moment of writing – and that because it has the best GPU on the list (which is a great bonus). However, it also has a sub-par amount of RAM that take away some of our excitement.
The GPU it has equipped is the great nVidia GeForce RTX 3060 with 6GB of dedicated RAM. This is one of the best GPUs on market at the moment, which means that it will remain relevant for at least a few more years.
At the same time, this device only has 8GB of RAM, which is pretty much surprising with such a nice GPU, and also a really good CPU – the Intel Core i7-10750H hexacore processor.
The good thing is, as we discussed it on our first recommendation, the RAM can be easily upgraded and doesn't cost a lot. Getting it to 16GB would, therefore, be a good idea. But even though it's not cheap, it's extra work and extra money you'd have to spend on top of the initial purchase price. It's up to you to decide if it's worth it or not.
For that amazing graphics card, I'd say it does!
Apart from these, you also get the standard 512GB SSD, plus the good Full HD display with 144Hz refresh rates. Your regular set of ports – including USB-C and a nice design to allow for better airflow round up the design.
This is a MSI-made laptop upgraded by Computer Upgrade King (CUK). I am not entirely sure what they upgraded here – most likely the GPU and definitely not the RAM.
The laptop is lighter and seems a bit smaller than your regular 17.3″ laptops, which is a good thing since this makes carrying it around a lot easier. You'd still need the charger with you, as you won't get more than a few hours on a single charge – potentially less on high settings when playing modern games.
So despite the RAM (which must be upgraded in my opinion), you get a set of amazing features and a more than decent gaming laptop for the money.
Click here to check price on Amazon
Conclusion
These are our top 5 picks for the best budget gaming laptops to get right now. You have some solid options above, for a limited budget. We tried to recommend models that sold under $1,500 – but that was at the moment of writing and prices can change. Still, these are great options for gamers on a tighter budget.
Finding a cheap 17″ gaming laptop is not easy as they are generally expensive, but if you are ready to compromise a bit in a few areas – mainly the SSD size, then you can get a really nice deal for the money and still enjoy top level gaming on a budget.