Mechanical keyboards are the best choices when it comes to perfect gaming keyboards. But what model to choose if you have small hands?
As somebody who struggled with the larger keyboards my entire life, I am happy to be able to come and help and share with you the best gaming keyboards for small hands (list updated for 2022).
These are actually so good and comfortable that even my 7-year-old with his tiny hands has no problem using them. And I also feel like a PRO gamer: it's easier to hit the right keys at the right time without feeling that you have to become Plastic Man or something…
We're going to get a bit more in depth with how to choose the perfect gaming keyboard if you have smaller hands, but for now let's just check the best ones! So without further ado, here are the…
Best gaming keyboards for small hands
If you're in a hurry, we're quickly listing the recommended models below. But if you want to find out more about each of our recommended keyboards, just read on!
Please note: Our blog gets commissions for purchases made through links in this article.
Model
Main Features
Logitech G Pro
Editor's Choice

Check price
Ultra-portable, detachable micro USB cable. eSports built.
Redragon K552
Best Budget

Check price
87 keys, small & beautiful design, tenkeyless.
Glorious Modular

Check price
1000Hz polling rate, barebone keyboard, minimalist
CORSAIR K65

Check price
Linear and quiet, media controls, air-craft grade design.
Now let's get a bit more in depth and check out the details of each of our recommended keyboards for those who have smaller hands and still want to game like PROs.
Logitech G Pro – Editor's Choice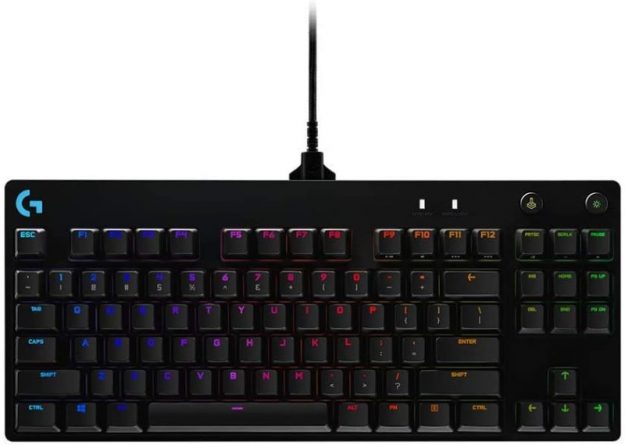 Our top recommendation today is the Logitech G Pro, an ultra-portable and extremely impressive mechanical keyboard that's perfect for gamers with smaller hands.
It has a tenkeyless design (no numpad) and is extremely compact. It's very comfortable to use if you have smaller hands.
But what matters the most is the fact that it is an eSports-grade keyboard, meaning that you're getting an extremely high quality product for the money. And you'll be extremely pleased with its performance, despite the smaller size of the keyboard itself.
It blends perfectly performance (speed & precision) and quiet-ness (is that even a word?). Even if that's not a word, the Logitech G Pro is a silent keyboard with precise, extremely responsive and comfortable keys.
It features the Romer G switches which are claimed to offer a 25% performance boost compared to older mechanical switches. Now that's really impressive, especially in a game where even fractions of a second count.
Here, each key press is instantaneous, with no delay. That's exactly what you want!
It is powered by a detachable micro-USB cable and it is extremely portable. It is a backlit keyboard with lots of customization options (which require the Logitech G HUB software which is available as a free download).
All in all, this is our favorite gaming keyboard for small hands. It offers an amazing performance, is highly customizable and it is extremely comfortable for those with smaller hands. Really nothing to complain about!
Click here check its price on Amazon.
Redragon K552 – Best Budget Choice
If you have a more limited budget available, the Redragon K552 comes to the rescue! It's actually a really good keyboard for the money and has a really awesome design. You'll love it.
We're talking about a really compact mechanical keyboard here, one that has beautiful ergonomics but also aircraft-grade aluminum construction. Yes, we gamers tend to get angry every now and then, so an extremely durable product is always welcome!
It is still extremely fast despite its lower price and comes with full n-Key Rollover support for complete Anti-ghosting. You can press as many keys as you want without any problems!
It might be a tiny bit slower than our other recommendations, but it's something that probably 99% of gamers won't even notice. In other words: it's still extremely fast and precise, with instant response times.
One of its biggest problems comes from the fact that the USB cable is not braided, nor removable… but you're not paying a premium – so have that in mind.
Also, it's not the most silent mechanical keyboard you have ever tried, but without being loud or annoying.
It does have full backlit capabilities and offers various lighting effects and even various game modes. A bonus comes from the fact that it has a dust-proof and splash-proof design. This is always a pro.
While this is not the best performing gaming keyboard ever built, it offers a more than satisfying experience and usually costs less than half the price of a professional gaming keyboard.
So unless you're a Pro gamer or you really need everything to be perfect, this keyboard will work extremely well and will give you no real reasons to complain – at least not regarding its performance.
It's a good, budget-friendly gaming keyboard for people with small hands. This is why we've included it on our list.
Click here to check its price.
Glorious Modular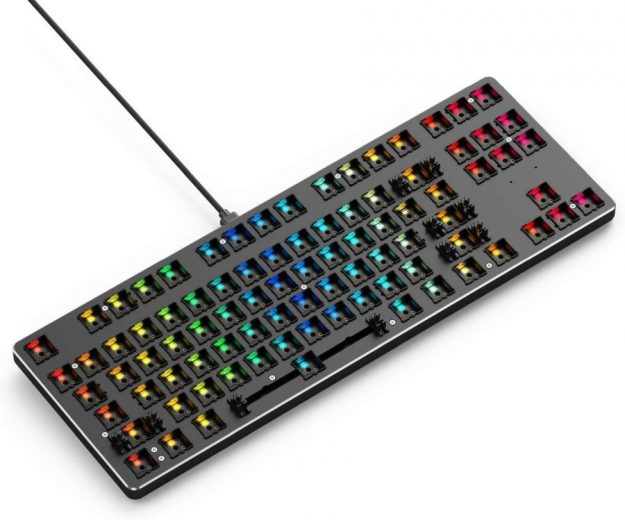 For the DIY enthusiasts, you can't get anything better than this fully customizable, barebones mechanical keyboard. Or, better said, the base of a keyboard.
This means that you will actually have to buy the keycaps (like these here) but you will surely be extremely satisfied with your build.
Yes, you end up paying a nice sum of money overall, but it's a really high quality gaming keyboard that you are getting. The best part of it? It's really compact and easy to use if you have smaller hands.
In terms of features, you get all the goodies from the Glorious Modular keyboard. It has 87 keys (no NumPad) with lube plate-mounted pre-installed stabilizers for the keys. It also has a removable braided USB-C cable, which is always a bonus.
In terms of looks, it has it all: 16.8 million color RGB LED backlights with adjustable brightness and full customization. You can really make this keyboard your own!
The minimalistic design will help you focus on your gaming – and even change switches extremely fast. You don't need more than 5 minutes to change or replace a key!
It has 100% Anti-Ghosting capabilities, using a full NRKO technology. This means that each key is scanned individually, so you can press as many keys as needed and still get the desired results.
It also has an impressive polling rate of 1,000 Hz, meaning that is is extremely fast and responsive. Not even a millisecond will be wasted between you pressing a key and the keyboard recording it.
Its main disadvantage is the fact that it's sort of a DIY keyboard. You need to buy the extra keys and place them accordingly. We personally found that relaxing and nice, but some might not want to do this.
But if you do want to fully build up your keyboard (it only takes a few minutes!) then you're getting in return a truly high quality, eSports-grade keyboard that is perfect for small hands.
Click here check its price on Amazon.
CORSAIR K65 LUX
We're now moving to the other extreme of the budget, with a more expensive keyboard than our previously recommended model. But one that's worth all the money – as long as you can afford it.
The Corsair K65 is also a compact mechanical keyboard that is perfect for those with smaller hands.
But despite the fact that it's on the smaller size, it's extremely durable and highly comfortable. The contoured and textured keycaps offer a really pleasant experience, while the ergonomic hand support makes prolonged gaming sessions a lot more comfortable.
In terms of performance, it offers all the goodies you would expect from a top grade mechanical keyboard. 100% Cherry MX switches, 100% anti-ghosting, as well as vibrant, fully customizable backlighting (per-key RGB backlight, actually).
All in all, this is a simple, minimalist, but really high performance keyboard that offers everything you need from a solid keyboard that's built for those with smaller hands.
Click here to check it out now.
How to choose the best gaming keyboard for small hands?
If you are having problems with a regular-size keyboard or if it just feels a bit uncomfortable to use them especially for longer periods of time, choosing a compact keyboard should be your main priority.
While these keyboards are not particularly built for those with smaller hands, but for smaller, tighter spaces, they are perfect for small hands also.
Also read: The best gaming mouse for small hands.
The biggest con is that they usually come without a numpad (and are called tenkeyless or 10 keyless), but this is a minor setback.
What matters the most is that all compact keyboards have smaller keys which are simply easier to press but without needing extra adjustments.
Apart from a compact design, if you want a great keyboard for gaming, you must choose a mechanical one.
These are specifically built for performance, offering extremely fast and precise response times, as well as increased durability and extended comfort.
Nowadays, the offer on the market is pretty big when it comes to compact keyboards, giving you the option to purchase cheaper products (that are still good) like the Redragon one, or more expensive and even higher performance models.
If you still don't know what model to purchase, don't forget that our top recommendation is the Logitech G Pro – a mechanical keyboard you will easily fall in love with!