If you want to keep up with the trends and technology when it comes to reading your favorite authors, but you also don't want to strain your eyes with that dangerous blue light modern readers emit, an eBook reader with no blue light is the perfect choice for you.
In today's article, I am going to share with you exactly that: the best eBook readers with no blue light available on the market, as well as some alternatives that still get their display lit, but are putting little (if any) extra pressure to your eyes thanks to the way the light itself is propagated.
While this article will have all the details you need about each product that we recommend – from complete descriptions of these ebook readers, to more details about blue light, the warm light that some devices offer and everything else that you need to know when it comes to choosing the best eBook reader for you, we'll quickly list them below just in case you don't want to read everything.
(But remember – if you want all the details, just scroll down to check out an in-depth overview of each reader, as well as learn more about eBook readers and the things to consider when it comes to the health of your eyes, the readers' effects on your eyes and more).
Please note: We get commissions for purchases made through links in this article.
Now let's begin by checking out the best eReaders with no blue light (or highly customizable, eye friendly lighting options in reality):
Best E-Reader without blue light in 2023
Now, we're going to talk more about each of the products listed above, so that you have all the details in one place, to make an educated decision and choose something that ticks all your needs without breaking the bank.
Kindle Oasis – Editor's Choice
If you're an avid reader, there's really no better option for you than a Kindle.
The thing with Kindles is that they have direct access to Amazon's huge eBook library (audiobooks as well, if you're into that), while all the other readers that are not Kindles don't.
The thing about it is that it's not completely unlit. But don't just run away from it! Technology has advanced a lot over the years and they came up with this amazing, warm light, frontlit display type.
In other words, you will get no strain from reading on a Kindle Oasis (or all the other eReaders recommended below). This is because you have a warm light (not blue light) that illuminates the screen from the top, not the bottom. Just like using an old school reading light for your book!
I will explain this new technology towards the end of the article, so if you want to find out more and why it is almost as good as unlit (and still no blue light!) read this entire article.
Now back to the Kindle Oasis!
Amazon stopped doing unlit Kindles since around 2012, with the launch of the final Kindle 4th generation model (or somewhere around that time).
I personally felt no difference between the frontlit displays and reading regular books or from a reader with no blue light. They don't light up the room and they don't cause any eye strain, even during the night, in the dark.
And the Kindle Oasis is just perfect, in our opinion, grabbing our Editor's Choice award.
If you ever held a Kindle in your hand before, you know that it has the perfect size – and the Oasis is the same, even though it seems a bit odd at first with its buttons to the side.
They actually make navigation on the device a lot easier and you'll get used to them instantly – the screen itself rotates automatically when you switch hands too!
The design is actually really smart, once you get over the first impression (yes, I did believe it looks strange at first): the grip it offers makes it easy to hold with one hand – unlike most e-readers that are not that comfortable to hold with one hand – while, at the same time, offering the impression that you're actually holding the spine of a paperback.
Plus, with the buttons to the side, you don't run the risk touching buttons you don't want to like it happens on a touchscreen. How many times you wanted to go "Home" on a touchscreen display only to turn pages or do other actions? Well, buttons fix that!
The device itself uses the latest eink technologies, as well as the Paperwhite tech to make it resemble the real feel of a real book as much as possible. And I consider that they do an amazing job on that matter – the white of the "paper" is perfect, while the black extremely easy to read.
The Kindle Oasis is – as I said already – offering an adjustable frontlit display. This means that you can read in the dark, set the intensity and color temperature of the lighting and not have to worry about your eyes being put under more pressure as with a regular led display.
The light's brightness and temperature are adjustable using two separate bars (one for brightness and one for the color temperature) and since the device offers warm color as well, it actually makes the pages look like those in older books. I personally keep that feature on at all times as I love the feeling!
As an added bonus – that might not be of much use for regular owners, but still a good one to have since you never know – the Kindle Oasis is waterproof. So you can relax in the bathtub and read without worrying that you could break your device if you get water on it!
It is also fully integrated with Audible – Amazon's answer to audiobooks (with a TON of titles available too), meaning that you can instantly switch from reading to listening to a book when you're on a move. And it does work with Bluetooth headphones!
In terms of storage, the recommended model finally gives you enough space to never worry about running out of storage for your books – and maybe even for audiobooks.
We're talking about 32GB of storage space, but if you think that it's way too much for your needs (for example, if you don't plan on adding audiobooks which are much larger than regular ebooks), there are also 8GB options available.
Even though it is more expensive than your regular Kindle, it is definitely one worth investing in thanks to all its features and technological advances.
And to top them all, it's also the thinnest of its kind and also the lightest. So in terms of portability, you won't even feel that you're carrying it around!
As for the battery, Amazon's devices always offered a lot on a single charge and the Kindle Oasis makes no exception.
You can easily get up to a couple of months on a single charge under specific circumstances, like not using the brightness levels at maximum values. Even with more intense levels set, you will still get a solid battery life from this e-reader.
To sum things up, I would say that the Oasis is by far the best option on the market.
It's not as cheap as other ebook readers out there – including other Kindle models – but it is the best in my opinion. So even though it's not fully not lit, it is the device you most likely need. You'll love it! This is actually the product that I use and absolutely love.
Really, you can simply stop reading now and check it out. You will be extremely satified!
Click here to check its price on Amazon.com
apple iPad
Yes, you be surprised that the apple iPad is a really good e book reader. Yes, it does emit blue light, but in the newer versions of device you can turn ON Night Shift mode that changes the colors of the screen to warm colors which emit close to no blue light at all.
It's a big win for us, because you get to use the advanced and user friendly iPad which is one of the most popular if the most tablets on the market, and also protect your eyes while reading.
Another great thing to know is that apple iPads have batteries that last for a long time which is a great thing when you sit down and read for a long time.
The screen resolution and quality is un-matched with the retina display, and especially if you are looking to read or look at books with lots of visuals and colors, this one will be the best for that.
The iPad is not heavy, only weighing from only 1.05 pounds to 1.5 pounds of the iPad Pro.
What's cool is that if you go with an iPad is that you get to use all the other features if you like. Like the camera, speakers, and what not, it's like a mini laptop at your fingertips. Might not be a good option for people who are trying to avoid taking their laptop everywhere.
But a great option for those who want everything in one place.
Sony DPT-RP1/B
If you want a huge eBook reader, this Sony-made device is definitely the right choice for you: at 13″, its screen is larger than some laptops out there – so definitely consider its size if you plan to travel a lot and pack light.
However, despite its size, the DPT-RP1/B (yup, they could've come up with a better name!) is really light: just 12.3 oz (around 350 grams). It's also very thin, similar to the thickness of 30 pieces of paper.
Thanks to the digital paper technology that it uses, our first recommended product is perfect for reading, offering a paper-like experience, without any actual paper.
Its screen is not backlit (or frontlit), meaning that you need to be in a lit room to be able to actually see it. But this one goes one step further and even its texture is paper-like, which is a really nice touch.
It also means that you're getting exactly what you're looking for: an e-reader with no blue light! But prepare to pay a premium, as this is the most expensive device on our list (and by a lot!)
Its quality is undeniable: despite the large size, there is no loss in text quality. The display offers high contrast rates (1650 x 2200 dots), it is low glare and extremely comfortable to the eye. This means that the text is always easy to read, from all angles.
However, this is much more than a simple ebook reader, being chock-full of features, bells and whistles. It's a high end device that might, in reality, be a bit too much for the regular reader, but one that has to be considered nevertheless.
For example, it comes bundled with a stylus that allows you to underline text, but also take notes or even use it as a writing board. This is something you might never use, though – but definitely an interesting extra feature to have.
What makes the Sony DPT-RP1/B even more interesting is the fact that it doesn't connect to the internet directly and it doesn't offer an internet browser, for example.
Syncing is done through the digital paper app that it comes bundled with, which can be considered a con by some. And definitely for its price, not offering WiFi internet is a bit of a disappointment…
But at least this means that you have even longer battery life as it will need minimal amounts of energy when you use it to read your favorite ebooks. Expect it to last on a single charge anything from 2 days (with heavy stylus use) to a couple of weeks if you're just reading.
It also has some other tricks that it can perform, like the ability to read PDFs – while also allowing you to fill up PDF forms, auto folder sync and the "Print to digital paper" option which allows you to print to the ebook reader any file from your computer or Mac.
In terms of storage space, it comes with 16GB of internal storage memory, which should be enough for a large library of books, as well as many saved personal notes. Nothing to complain here about.
My main problem with all the reading devices that have no blue light at all is that they can actually be considered tablets, offering so many more functions than you would need from a device whose sole purpose is to let you read books.
This doesn't only go for the otherwise amazing Sony DPT-RP1/B, but all the no blue light readers listed here and probably any other similar device available on the market.
While these features are definitely welcome and of great help to those who actually use them, most of the readers don't and having to pay a premium for things you're not going to ever use isn't the best sales pitch possible.
But unfortunately, this is how things are at the moment and the devices that have no back light are expensive and offer more features than most readers will ever need or use…
Click here to check the price on Amazon today
Kobo Clara HD
This is a smaller option, very similar to the original Kindle in size and appearance. Kobo is basically the main brand that challenges Kindle's market dominance, and it is a really good e-reader.
Thin and light and easy to hold, it has a 6″ display with a touchscreen instead of buttons. It does really well and is responsive as it should, but I still prefer pressing a button to change pages and for navigation. That's just my opinion.
Of course, it won't have access to Kindle's library directly, but you still have a huge offers of ebooks elsewhere and with a bit of tweaking and some time consumed to convert your books, you can read anything on it, including Kindle books.
Plus, you can borrow books from libraries if you're in one of the supported countries (currently the US and Canada, the UK, Australia and New Zealand)
It also offers a Frontlit display with the company's proprietary ComfortLight technology which offers warm light with close to no strain for the eyes.
As the day progresses, the light gradually changes to an orange candlelight, to be gentler to the eye. You can manually change this for full control.
My wife reads on it in the bed, next to me, and it doesn't bother me at all. Your eyes won't get tired either, so it's a really good one to have especially as you don't have that blue light shooting at your eyes.
In terms of design, as you can see in the image above, it looks a bit like the traditional Kindle, albeit a bit smaller. It's a minimalist design and you really don't need more!
The quality of the text – as well as the color of the page itself – is also really good. I don't think that there are any mainstream e-readers that no longer get it right, and the Forma makes no exception.
You get high quality fonts that are easy to read, and it's as close to the experience of reading text on paper as possible: we're talking abouttop E-Ink technology and a solid 1072 x 1448px resolution.
In terms of storage, it only offers 8GB, but that is still enough to hold up to 6,000 ebooks.
The battery itself is decent, although not too impressive – probably its weakest feature, to be honest.
You do get a couple of weeks of battery life under regular use, which is still more than enough in most cases.
Keep that brightness to minimum in order to increase battery life though (or decrease it greatly if you keep it up).
All in all, this is a solid competitor for the Kindle Oasis and a really good alternative if you want something a bit cheaper which isn't tied directly to Amazon.
It doesn't always go as smoothly as the Kindle does, but for most of the time, you will have absolutely no reasons to complain about. As long as you're OK with touchscreens.
Click here to check the price of this eReader
BOOX Nova Air – Rising Star
Although not as well known as the other names on this list, Boox is actually a really good brand when it comes to feature-packed ebook readers. It gets the rising star award from me (even though the brand has been around for a while in the ebook market)
They actually had a really nice e-reader / tablet mixture that had no light whatsoever and I initially wanted to include that on the list, but it appears that they're no longer manufacturing it.
Even so, we do have the Boox Nova Air which also offers a ton of features – but comes with a frontlit display (again, with adjustable brightness, so it won't hurt your eyes).
And thanks to the eInk feature, it will look at feel as close to real paper as possible. It's really amazing and sells for a great price, being able to read all sorts of documents (supports 17 different types of files) and allowing you to make notes with a stylus (not included).
We have already discussed this frontlit feature – and I will detail it before this article's end – so I won't insist on this.
In terms of size, this ebook reader is pretty large – but not too large to become difficult to handle with one hand. However, it is extremely light and comfortable to hold.
We're talking about 7.8″, which makes it larger than the Kindle Oasis and the Kobo Clara. In my opinion, I consider the smaller ones better, but 7.8″ is by no means huge and it's actually very comfortable to hold one and read from it.
The device also has both electromagnetic touch and capacitive touch, meaning that you can easily use gestures or a stylus with it.
The stylus can be used for you to take notes directly on text, but also write your own thoughts, sketch or draw. This is an added bonus for those who actually need this feature, but for most readers not really a necessity. But better have a feature and not use it, instead of needing it and not having it available.
The display itself is really good, coming with some interesting and welcome features.
Not only that the text can be read easily and it looks just like the text on your regular paper books, but the display also has the option to let you switch from blue light (still frontlit) to warm light – or use a mixture of both.
This means that you have full control over the lighting settings and you can easily adjust them depending on your location: turn on the blue light during the day or in very lit areas, for example, and turn on the warm light when reading before going to sleep.
It doesn't have adaptive lighting, though, so you will have to set it yourself – but it's not difficult to do and only takes a couple of seconds.
The device also comes with a solid battery that packs a massive punch on a single charge (if you're not abusing the brightness levels), but also allows for bluetooth connectivity, meaning that you can quickly switch to listening audiobooks (or music if you really want that) if you have a headset or speakers with bluetooth support.
One of the extra bonuses brought in by the Boox Nova Air is the impressive processing power it offers.
We're talking about an Android-based eReader, with an octa-core processor (similar to what you could find in a laptop, for example), 3GB of RAM and 32GB of storage on a super-fast eMMC.
A great choice if you want more freedom when it comes to different document formats that your reader can… well, read and you're also a fan of the extra bells and whistles it provides.
Click here to get it from Amazon
Likebook Mars E-Reader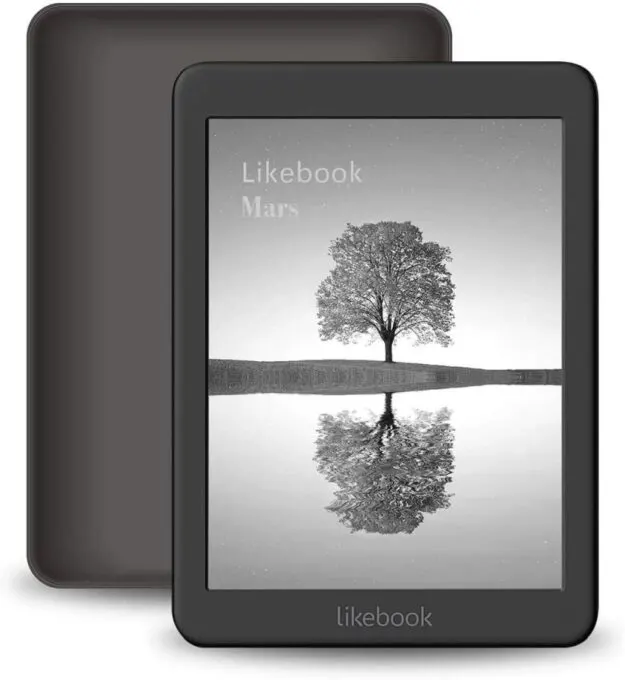 Last but not least, we're recommending an eBook reader that comes with somewhat mixed reviews, but which still performs well and offer a solid alternative should you need one.
With a large display – 7.8″, this eBook reader is running on Android, and on really strong hardware too, being one of the best on our list from this point of view.
You get a 1.5GHz octa-core processor, 16GB of storage and pretty fast response times overall.
Everything is coupled with a really solid image and text quality, thanks to the top, 300ppi and 1404*1872px resolution. It also has an anti-glare screen, to make it as comfortable as possible when you read outside in direct sunlight.
It has a dual-mode temperature frontlight that allows you to switch from blue light to warm light, with 24 brightness levels, for full customization. We personally recommend keeping it on the Warm Light setting at all times for increased eye protection and reduced eye strain.
While it doesn't have a headphone jack to connect headphones directly, it does have bluetooth so you can still listen to your favorite audiobooks. It also has a proprietary dual refreshing mode that improves the quality if you're reading comic books, for example.
It also has a pinch&zoom feature which is useful for comic books and magazines. It supports various file extensions, including PDFs, and basically any mainsteam format.
Finally, it comes with 16GB of native storage – which should be more than enough even for the larger eBook libraries out there, but if you want even more, you can add up to 128GB of extra storage via a SD card.
Even though not as popular and not a big brand-name like the previous recommendations, the Likebook Mars E-Reader has a bunch of really nice and useful features and offers a lot for the money.
Click here to check its price on Amazon.
Nook GlowLight Plus
The Nook has long been the main competitor of Amazon's Kindle in my opinion, but things have started to change with the constant releases of improved products in the Kobo ebook reader line, as well as other e-readers.
However, this ebook reader created by Barnes & Noble still has some aces up its sleeve and is a solid option for those looking for a quality reader that doesn't really break the budget, has some good specifications and has warm frontligt options not to put extra pressure on your eyes.
This is a fairly large eBook reader, with a display of 7.8″ that has a perfect resolution for reading.
The quality of the screen itself – and that of the fonts you can read on it – is similar to that of all the other recommended devices: 300 PPI, resulting in crisp, easy to read text in all lighting conditions, with an anti-glare display that is also scratch-resistant.
In terms of design, I like it a lot. You will appreciate the buttons to the sides, which make reading and turning pages a breeze. It also has a main button at the bottom. Really easy to use and extremely comfortable, in my opinion!
And if it gets too dark, you have the frontlit display (with the proprietary Glow Light feature) that can be adjusted to match the environment.
You can enable the auto mode or control the settings manually. Either method you choose, the warm light is perfect for night time reading – and evenly spread over the screen.
Another bonus is the fact that the device is both waterproof and dustproof, meaning that you should no longer worry too much about its safety when taking it with you at the beach… or when deciding to relax a bit in a hot bath and do some reading…
Compared to previous Nook e-readers, the GlowLight Plus is definitely an improvement. It offers better grip, it's more comfortable for reading marathons and has all the features that you'd like from a modern ebook reader.
It runs on Android and has access to the Barnes & Noble library, which offers millions of books to choose from – meaning that most likely you won't really have to go through the trouble of using extra software to import Kindle books. But it all depends on what authors you read and if they're exclusive to Amazon or not…
In terms of storage, the GlowLight Plus offers 8GB of space for your ebooks and magazines and whatnot, while the battery itself is pretty decent, regularly offering weeks on a single charge if you don't use it heavily.
All in all, the Nook Glowlight Plus is a good choice if you want a large, yet highly portable ebook reader that doesn't break the bank.
Click here to check it out now
No Blue Light vs Frontlit Display
I have barely touched the subject in the overview of the recommended eReaders above, but I want to talk more about this. Mainly because it's getting more and more difficult to find an ebook reader that has absolutely no light, while most of the good ones opt for this Frontlit Display.
What is this Frontlit Display, after all?
Just like its name suggests, it's a relatively new technique that is used to light up a device's screen by sending light from the front.
Normal screens use a backlit display: your phone uses it, your laptop's screen uses it, the TV does too… most of the things that we look at nowadays have a backlit display.
This means that all the LEDs that the device have are placed behind the screen itself, making it look beautiful and nice – there's no doubt about it.
But the biggest problem is that these led lights, which are usually extremely bright even when you tune them down, start hurting your eyes after a while.
The backlit displays and the bright blue light they use are responsible for aching eyes, tiredness, difficulties falling asleep after using a backlit screen and much more.
With a frontlit display, things change drastically. The display here is lit from the front of the device, which can be compared to reading a book in a dark room, with your reading light turned on.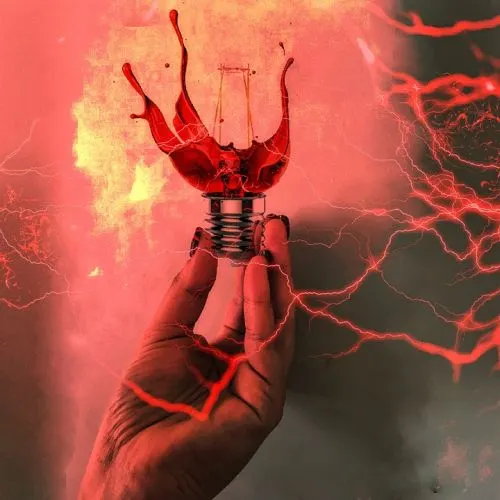 Unlike the reading light, though, the technology used in frontlit displays allows the light itself to be evenly distributed along the entire surface of the screen.
As a result, this doesn't strain your eyes more than reading a regular book in a dark room with your reading light turned on does.
Actually, it might even be a bit better, because the light is evenly spread over the page of the eBook – as opposed to darker areas and shadows that you usually get from using a regular light.
So these frontlit displays are not as bad as you might consider them to be – at least not when it comes to your eBook reader.
Does kindle emit blue light? What about other models?
This is a good question to ask, and I just want to make sure you understand the tech completely.
YES – Kindle does emit blue light, most e book models emit blue light, even the ones with newer technologies, they might emit much less, or almost nothing, but they all emit some sort of blue light that's just how the device work.
Let's see the spectrum of lights
Do you really need an ebook reader with no blue light at all?
An eReader that has absolutely no blue light is always a great choice – especially when it comes to reading your favorite books in a well lit environment and reducing the eye strain to maximum.
However, things get a bit more complicated when it gets dark. Because they have no additional light, they become pretty much useless unless you have another source of light.
And pointing it directly into the device's screen will result sometimes in glare or give you other reading problems or even strain your eyes.
A frontlit display allows you to customize the intensity of the light (at least it normally does with the recommended products above) without causing your eyes the harm that your regular backlit displays do by shooting blue light straight into your eyes.
It's like reading a paper book on your desk, with a reading lamp above it.
And while we can agree that there's no real use to have extra light (even if it's the better one coming from the front) when reading outside or in a well lit room, I would say that there's no longer a need for a reader that really has no light.
The warm light options offered by these front-lit displays are safe, make the display look more paper-like and they reduce eye-strain to a minimum.
I personally never had problems falling asleep after using such a device, nor had I felt more tired than I normally did after reading a regular book.
And comparing this type of lighting with a tablet for example, really shows you how much better it is. If I read on my tablet or my phone, my eyes start hurting and feel tired after 15 minutes. But with a frontlit display, I can read for a couple of hours without problems.
Conclusion
The eBook readers that I have recommended above should fit all budgets and all needs and no matter which one you choose, I am 100% sure that you will be extremely satisfied.
I really believe that you should give those frontlit displays a chance instead of paying the extra dollars for a completely unlit one (which also has a ton of features you most likely don't need).
Frontlit displays will not make your eyes more tired than general reading does (based on reviews and personal experience) and they will not make it harder for you to fall asleep if you read at night (again, based on reviews and personal experience – there is still a small chance that things are different in your case, although I highly doubt it).
If you still don't know which device to choose, remember that our top recommendation for the best no blue light eReader in 2023 is the Kindle Oasis.
What do you think though? Are those readers that use no light at all still the best choice, despite their price – or you plan on getting (or got already) one with a frontlit display?