You can easily create games on a laptop nowadays. You no longer need a large desktop to get access to the best GPU, processor and other peripherals. Laptops have grown a lot and can now handle some serious game development. And today, we're going to look at the best ones on the market.
When choosing the best laptop for game development, you must ensure that it has a solid dedicated GPU, a good processor, but also enough RAM and storage to offer a perfect rounded-up experience. You can find budget options, but expect these laptops to be a bit more on the expensive side.
Basically, a good gaming laptop would also allow you to get some serious game development going on. But let's look at the market today and see what options are available. These are the best game development laptops you can get today.
Please note: Our blog gets commissions for purchases made through links in this article.
Model
Main Specs
Acer Nitro 5

Best Budget Option
15.6″ (144Hz)
AMD Ryzen 5 CPU
RTX 3060 GPU
16GB RAM
512GB NVMe SSD
Check price on Amazon
MSI Stealth 15M

Budget Alternative
15.6″ (144Hz)
Intel Core i7 CPU
RTX 3060 GPU
16GB RAM
512GB NVMe SSD
Check price on Amazon
Asus ROG Zephyrus G14

Amazing Specs
14″ (120Hz)
Ryzen 9 4900HS CPU
RTX 2060 Max-Q GPU
40GB RAM
1TB NVMe SSD
Check price on Amazon
HP Omen 17.3

Best 17″ Budget Laptop
17.3″ (144Hz)
Intel Core i7 CPU
RTX 2060 GPU
16GB RAM
512GB NVMe SSD
Check price on Amazon
ASUS ROG Strix Scar 17

Best overall
17.3″ (360Hz)
Ryzen 9 5900HX CPU
RTX 3080 GPU
32GB RAM
2TB NVMe SSD
Check price on Amazon
What is the best laptop for game development?
Now let's get a bit into the details and find out more about each of the recommended models above!
Acer Nitro 5 – Best Budget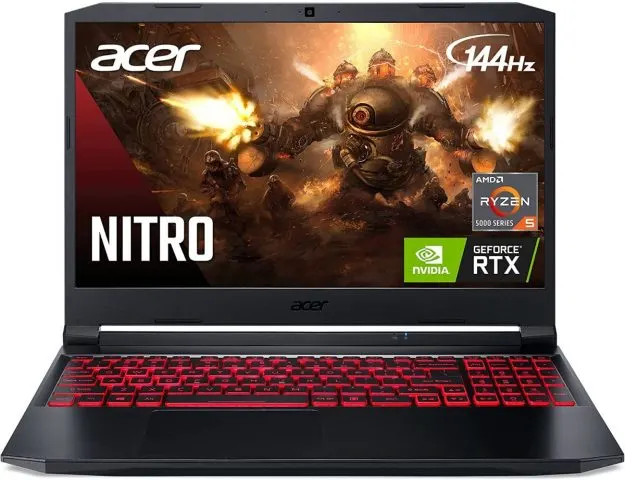 Acer is by far one of my favorite brands and they usually have some great, price-effective products available. Such is the Acer Nitro 5 which is a really good budget laptop for developing games.
This particular model has a display of 15.6″ with fullHD resolution and 144Hz refresh rates, which is pretty much what you need for creating games. Colors and image quality are pretty good too, although in very bright places (outdoors), it will be a bit more difficult to use.
It has some pretty decent overall specs, offering 16GB of RAM and the AMD Ryzen 5 5600H processor, which is a really good choice in my opinion and better than Intel equivalents at the moment. And unless you're working on the next AAA hit, these should be just enough for your project.
The laptop also offers the NVIDIA GeForce RTX 3060 GPU with 6GB dedicated RAM, which is a really good dedicated graphics card that will give you no reasons to complain.
Finally, you get 512GB of SSD storage which is indeed not a lot, but it's manageable. However, you have an easy access upgrade slot where you can pop an additional SSD if you need more storage.
It doesn't have a ton of additional slots, but you can still make it work with the 3 USB slots and one Type-C, as well as a HDMI slot. This should be enough for most people out there.
Battery life is not the main strength of this product, but you will get at least a couple of hours on a single charge – more if you're not performing very resource-heavy tasks at the moment. Do keep the charger around, just in case though.
While it's not offering top specifications overall, it has more than enough for most developers out there and you will surely be able to put it to good use and create some amazing content on it. A good price and great peripherals make this laptop a really good choice if you're on a tighter budget.
Click here to check price on Amazon
MSI Stealth 15M – Best Budget (Alternative)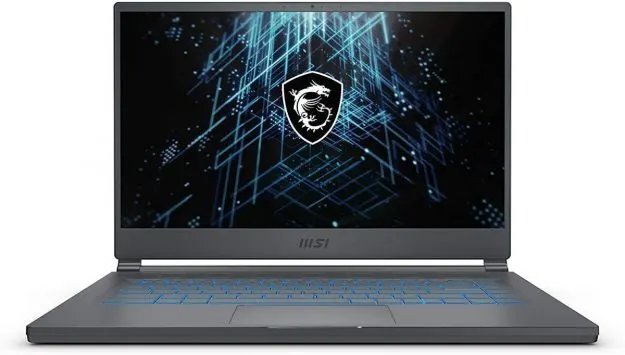 This model from MSI is very similar with the one above. It's almost the same thing, actually, with one major difference: it has an Intel Core i7-11375H processor instead of the AMD-made one.
In reality, the Intel processor is getting way lower benchmark scores than the AMD one above, but I know that some people would still not choose anything than Intel processors. If that's the case, this is your alternative.
But honestly, the first recommended model performs better. And it's a bit cheaper too!
Apart from this, the other specs are identical. This means that you get a 15.6″ processor with fullHD resolution and 144Hz refresh rates and good overall image quality.
You also get 16GB of RAM, the NVIDIA GeForce RTX 3060 GPU and 512GB of Storage. So in terms of general performance, it's mostly the same with the only difference being in processing power.
The design is different also. This model doesn't feature a numpad which could be a con for some. It does make up for this with additional ports and slots: it has an USB-C slot, but also a Thunderbolt one, as well as traditional USB and HDMI ports. It also has a microSD slot which is always nice to have around.
When it comes to looks, I have to admit that the MSI model is the winner in my books (when compared to the Acer above), but I would still pick the previous one just because it offers an increased performance and this is all that matters when it comes to creating games.
But it's definitely a model worth checking out, especially if you're a diehard Intel fan and wouldn't accept a different processor.
Click here to check price on Amazon
Asus ROG Zephyrus G14 – Out of this world specs
I have to admit that I added and removed this model on today's list several times before deciding to just keep it. All because of one important detail: its screen size.
This model has a 14″ display which can be considered a bit too small for game development and gaming in general. However, it's not a 11.6″ model and for this trade-off, you get some truly amazing specs that might just convince you to give it a try.
Because under the small hood, this laptop is a real beast!
It is powered by the amazing Ryzen 9 4900HS CPU which has some amazing benchmark scores and is able to smoothly run any software. To make things even better, the Asus ROG Zephyrus G14 has a whooping 40GB of RAM which gives you even more options.
While the graphics card is not as impressive, we're still talking about the RTX 2060 Max-Q GPU, which is still a really good model offering you no reasons to complain. Especially when you pair it with the CPU and RAM above, you get a truly impressive device.
But small. That is true and only you can decide if you can develop games on a small screen. The image quality is great here, even though the refresh rates are of "just" 120Hz. You still get smooth video and great colors and fullHD resolution.
The laptop looks well and is highly portable, but the keyboard lacks a numpad. In this case, it's a good thing otherwise the keys would've been way too small.
It has 2 x USB 3.1 Type-A, 2 x USB 3.1 Type-C and 1 x HDMI slots which are more than enough. But do have in mind that it doesn't have webcam. While this is not a necessity for game development, you will definitely use the laptop for other tasks so keep this in mind.
Being smaller, this laptop can run a bit longer on battery only, but you will still not get more than a couple of hours on a full charge if you're doing some resource-heavy tasks as you probably will. It's just how all laptops behave though, so not really much we can do here.
Overall, this little fellow is definitely one to consider. It packs a huge punch under the hood and sells for a really good price, so it's up for you to decide if the smaller screen is a complete deal breaker or not.
Click here to check price on Amazon
HP Omen 17.3 – Best Budget 17″ Laptop for Game Development
We're now moving from small to large and entering the 17″ display category. In all fairness, I have to say that I consider this screen size ideal for gaming and game development. The larger screen definitely comes in handy!
And it's not just a large screen that you get from this recommended model. It has some solid specs that will surely make you happy.
This means that you get a laptop powered by a decent Intel Core i7 CPU with 16GB of RAM. It is rounded up by the RTX 2060 GPU and 512GB of SSD storage.
Not anything to really write home about, but a nice mix of features that will keep you happy and let you develop games without a problem. Considering the price, you're getting a really good overall deal so it's definitely worth checking out.
I personally am not a fan of the design, but that's just a personal preference. The most annoying thing to me is the fact that HP decided to add a set of extra keys on the left side of the keyboard – six function keys to be precise, which take away some valuable space from the actual keyboard. But still not a deal breaker.
This laptop has most of its ports on the left side, but at least it offers a ton of them: three regular USB ports, one USB-C , as well as an HDMI port. Different from previous models, it also offers a miniDP port, as well as a SD card reader. These are always nice to have!
All in all, we're talking about a solid, larger screen laptop that sells for a fair price and offers a lot for the money.
Click here to check price on Amazon
ASUS ROG Strix Scar 17 – Best overall option
If you are really serious about game development and want an amazing laptop, this is the one! It is a lot more expensive than the previous models that I've recommended but it's definitely worth the money.
A real beast of a laptop, it comes with 32GB of RAM and offers plenty of storage out of the box: 2TB on a super fast SSD. But that's not all!
It is powered by an amazing CPU as well: the AMD Ryzen 9 5900HX is one of the best options on the market currently with a whooping average benchmark score of over 23,000 on CpuBenchmark. Truly amazing!
It also has a really good dedicated graphics card: the NVIDIA GeForce RTX 3080 which is also one of the best GPUs on the market at the moment.
All on a large, beautiful, 17.3″ display with 360Hz refresh rates and fullHD resolution. I have to admit that I am a bit surprised it's not a 4K display, but even so, the image quality is flawless.
So you are getting excellence here. You do pay a fair amount of money for it, but if you are serious about game development and need the best of the best, this is it.
It has various extra slots (some conveniently located at the back), including USB-C that can be used for charging, as well as as your regular USB and HDMI slots.
Just a word of warning here: this model doesn't come with a built-in webcam. A strange choice, I must admit, but hopefully you don't really need one because this is a really good laptop otherwise.
In conclusion, this is a top laptop that would be perfect for game development. I really have no complaints about it – except for the price. You do pay for top quality, so if you can afford it, you know you're spending your money for an amazing product.
Click here to check price on Amazon
What specs does your laptop need for game development?
If you're already developing or planning to develop games, you probably know all these already. But just in case you don't or if you need confirmation that you are correct, let's talk about the main features a laptop should have if you plan to use it to create games.
A good laptop for developing games will have at least 16GB RAM, an i7 processor (or equivalent) as well as a dedicated, current generation GPU (20 series and above). For game development, it's usually best if you have a larger screen laptop (ideally 17″) with at least 512GB of SSD storage.
Let's get just a bit more in depth and see why the numbers above are correct and it's best to aim for them instead of something less.
Ideal RAM for game development
While it is true that many indie devs can definitely make it work with 8GB of RAM, you will actually do a lot better with 16GB which I personally consider the minimum amount today.
While RAM is not the most important factor when creating games, you still need it for smooth running and being able to multitask and breeze through your apps.
Ideal CPU for game development
The laptop's processor is essential when it comes to developing your own games, so you should opt for an Intel Core i7 or equivalent (at least). The CPU is responsible for rendering and compiling your files, as well as performing regular tasks, so you need one with solid clock rates and ideally 8 cores.
Even though Intel has dominated the processors market, AMD has managed to score a massive comeback and currently their latest generation processors are beating Intel equivalents and are cheaper. So do yourself a favor and at least consider those – you will get more performance for your buck!
Ideal GPU for game development
A solid dedicated graphics card is a must when creating games, even with smaller 2D titles. This is why I recommend getting a GeForce 20 series GPU or better.
Have in mind that the still-solid GeForce RTX 2060 was launched back in 2019, so it's starting to show its age. The GeForce 30 series is a better option as these were launched in 2021, but they are also more expensive.
However, when it comes to GPU, it pays to spend more otherwise you will have a ton of headaches when creating your games.
Ideal storage for game development
The amount of GBs or TBs is not crucial when it comes to developing games and you will most likely do just fine with 512GB.
What matters the most is to make sure that all those are on a SSD, as they are the fastest storage options on the market today. Forget about traditional HDDs – these are simply not suited anymore for anything than backups.
And while 512GB is generally OK, if you know that you tend to create large files or you work on a lot of projects at a time, it might be best to try and go for a 1TB option instead. This is safer and gives you more wiggle room.
Ideal display size for game development
A larger screen is always better. Even if your eyes are in a great shape right now, staring for hours in a small screen will eventually leave a mark. This is why I consider 17″ laptops ideal for gaming and creating games.
You can imagine now, with this in mind, how difficult it was for me to feature a 14″ model on the list. But it was really good and it might still work for some.
Can you really develop games on a laptop?
Gone are the days when you could only get top notch specifications on a desktop computers. Today's laptops can compete with current gen desktops and they can indeed be a great choice for developing games, especially if portability and mobility are a must.
Sure, you can usually get a bit more from a desktop for the same price, but you can't really carry a desktop computer with you all the time. So it all depends on what your needs are.
But to get back to the question in the title, yes you can really develop games on a laptop and do so without any problems. Laptops these days offer great specifications, as you can see in the list above, and they can handle anything from indie to AAA game creation.
Conclusion
Now you know not only how to choose the best laptop for game development, but also which are my recommended laptops on the market today.
The good news is that if you are on a limited budget, you still have some really good options available. But if you have a bit more to spend, you can really get an amazing product that will be capable of handling everything you throw at it.