11-inch laptops are portable, light and generally affordable, so they are a good choice for most people. Today, we're going to answer the burning question: what are the best 11-inch laptops in 2021? We're only going to talk about Windows laptops here, as we've already covered the best Chromebooks in a previous article.
11-inch laptops are great for those who travel a lot as well as writers and anything in between. I'm sure students can appreciate the smaller size too… while the price of an 11.6″ laptop (since that's actually the real size) will always be attractive.
And we're here to help you choose the best product on the market right now by sharing today a list of the best 11-inch laptops with Windows installed, so that you just push the power button and are ready to go.
These smaller laptops are usually considered lower performance products, but that's not always the case! Some of them pack a real punch and can deliver amazing performance even when tasked with more demanding programs, but not current generation games. So don't let their small size fool you!
We have selected the best 11″ laptops running on Windows in 2021 and we're sharing them with you in today's article. We're trying to cover all budget ranges, as well as expectations from the laptop – so you can easily choose one that offers exactly what you need and not pay more for extra features you will never use anyway.
In case you're in a hurry, you can check out the table below, where we have listed the most important stats of our recommended laptops. But if you want to know all the details on what makes them the best 11-inch laptops running Windows, you can scroll down and read the details for each.
Please note: Our blog gets commissions for purchases made through links in this article.
Laptop model
Main features
Jumper 11.6″ Laptop


Best Budget

Touchscreen, 6GB RAM, 128GB Storage
Tablet Mode
Check Price
HP Pavilion X360
Touchscreen, 6GB RAM, 128GB SSD
Tablet Mode
Check Price
Lenovo ThinkPad


Editor's Choice

8GB RAM, 128GB SSD, Business Laptop
Great Processor
Check Price
Dell Inspiron 11
Touchscreen, 16GB RAM, 128GB SSD
Tablet Mode
Check Price
Best 11-inch laptops to buy in 2021
If you want to find out more details about our recommended notebooks, you can do so below. Have in mind that we're listing these Windows laptops from the cheapest to the most expensive (at the moment of writing this article).
Jumper 11.6″ Laptop – Best Budget
If you're on a tight budget, you can still get a pretty decent 11-inch laptop, but without the brand name. Sure, you maybe have not heard about Jumper before, but the laptop is durable and of high quality. As an added bonus, it also looks really good!
It has some really good specifications for its price and it's actually the only full HD laptop on our list. Imagine that!
It is powered by a decent processor (for this size): Intel Celeron N3350, but also has 6GB of RAM and offers 128GB of eMMC storage. In other words, you can expect a decent performance for this laptop. It won't handle any modern games (none on our list will), but you don't get such a small screen laptop for gaming anyway!
It can easily handle watching movies, online work or study, browsing the internet and various other activities that you normally do on a laptop.
It has a 360-degree display, meaning that you can flip it and use it as a tablet thanks to its touchscreen. It is also very light at just 2.3 lbs (1 kg). A really nice find with a solid design, despite the fact that it comes from an unknown brand.
It also allows for additional connectivity thanks to its included ports: one USB-C slot, but also one micro-USB and micro-HD port. It also has a microSD card slot for increasing its storage. But if you're serious about increasing the storage, it also offers easy access to an additional SSD slot on the back, where you can add up to 1TB of extra storage.
Despite the small size, it doesn't have the best battery you have ever seen. You can get a few hours of usage on a single charge, which is still enough. But do have the charger nearby!
All in all, despite its price, this is a pretty good laptop that does a good job for basic tasks. Not the fastest around, but definitely not a bad one – on the contrary!
Click here to check its price on Amazon
HP Pavilion X360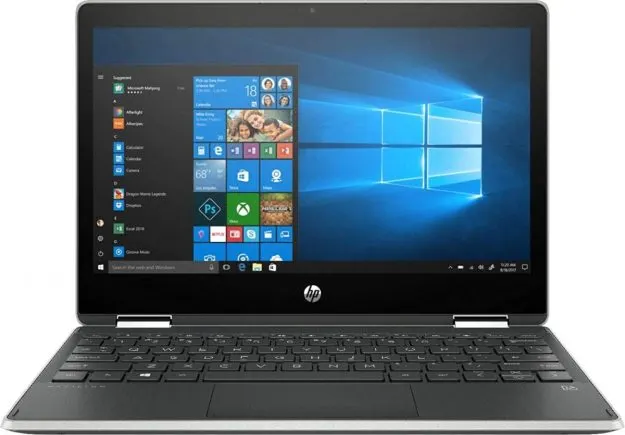 We're moving to a faster laptop – one that also has an easier to recognize brand, but also costs a bit more than our previous recommendation.
But you pay extra for a faster laptop computer, thanks to the Intel Pentium N5000 processor that powers it. Apart from this, it also offers 4GB of RAM, as well as 128 of SSD storage – so also expect faster reading/writing times from it.
Unlike the previous model, this one doesn't support full HD resolution, being able to go only up to 1366 x 768 px (or HD resolution). This isn't a big deal, actually, as everything will still look really good on the small screen of the laptop.
It also has a touch display and you can flip it 360 degrees and use it in tablet mode. The laptop itself looks good and is very durable.
It offers a various set of ports for extra connectivity: 2 USB ports (one of which is USB-C) and a HDMI port. It also has a microSD card slot, so you don't really have any reasons of complaint here. It's a small, portable laptop selling for a fair price and offering a decent performance for the money.
The battery life is similar to the previous model, giving you a few hours on a single charge (this could increase or decrease depending on usage).
All in all, a good small laptop that also has the more recognizable brand name behind it.
Click here to check its price on Amazon
Lenovo ThinkPad – Editor's Choice
We rarely see a Lenovo-made product get our Editor's Choice award and today is one of those days. The Lenovo ThinkPad is, in our opinion, the best choice you have when it comes to solid 11″ laptops.
The main reason why we liked it so much is the ultra-fast processor it has equipped: the 7th Gen Intel Core i5-7Y54 Processor is a rare find on such small laptops, and a welcome surprise since it offers a massive boost in performance.
It also has 8GB of RAM and 128GB of storage on a fast SSD drive, making it a very solid laptop and definitely the fastest on our list.
The small display only offers a maximum resolution of 1366 x 768 pixels (HD), but you can connect an additional monitor or large TV screen via the HDMI port or the USB-C one and you can get up to 4K from it. So really good from such a small device!
It does not have a touchscreen like the other models, so you can't use it as a tablet and I have to admit that it doesn't really have the best design ever (at least in my opinion), but these are just minor details and surely not deal breakers. You can't complain when you get such solid specifications otherwise!
So, somehow, Lenovo managed to pack a really solid business laptop under the hood and based on this, it got our top choice award. So you can safely get this one and we're sure you'll be extremely satisfied!
Click here to check its price on Amazon
Dell Inspiron 11
Last, but definitely not least, we have this bad boy from Dell. There are many great things about it, so you will surely like it.
The processor it comes equipped with is not the most impressive – it's the AMD A9-9420e which still runs at speeds of up to 2.9GHz, but it is still slower than the previous model.
What is actually impressive is the fact that it offers double the amount of RAM than the previous laptop: 16GB of DDR4. Thanks to this, you will see a massive performance boost when using it.
It also offers a decent amount of storage: 128GB on a SSD, which is on par with our other recommendations.
The display also follows trend and is only HD, but the image quality is good and you won't have any real complaints in this area.
Probably the biggest disappointment is the lac of an USB-C port. Instead, it has 2 USB 2.0 and 1 USB 3.1 ports, as well as an HDMI slot and a microSD reader. With USB Type-C cables becoming more and more popular, it is indeed a shame that it doesn't have at least one of those…
It is also a 2-in-1 model, with touchscreen capabilities, meaning that you can also use it as a tablet. It has a beautiful color too and really good quality overall: from the crisp image quality to its decent battery life!
Click here to check its price on Amazon.
So these would be the best 11.6-inch Windows laptops of the year. You have various options here, with the golden rule of thumb being that the more expensive ones offer a better performance, generally. So just decide upon a budget and then pick the laptop that is in the area.
Because no matter which laptop you choose, we're sure that you'll be extremely satisfied with your purchase!
Finally, if you're looking for more budget categories and you don't necessary want a Windows-powered laptop, you can check out the best Chromebooks under $200 here.