In today's article, we are going to find out what is the best phone for seniors in 2021. If you haven't made the switch to a smartphone yet – or if you feel that it's finally time for an upgrade, we're here to help you find the best cell phone for seniors – one that won't break the bank!
We're looking at ease of use when selecting our winners. Large icons, clear image and text and a durable built are also important for us. Finally, a good phone for seniors will have a crystal clear sound that can be set up to be louder if needed.
If you don't care to read the entire article and just want to see our top pick, click the image below to check out our highest recommended phone for seniors (affiliate link):
And as I said already, we're here to help you by sharing the best smartphones for seniors in 2021. These phones will have a large screen so everything will be easier to spot on them, they will have voice control options, they will do everything your old phone did and a lot more.
Plus, you'll get all the extra features for a lower price – because you really don't need the latest iPhone model if you're just making the switch to smartphones or upgrading for an older version. You'll see that you will absolutely love the phones we have selected for you below!
Please note: Our blog gets commissions for purchases made through links in this article.
Phone
Main Features
BLU G91


Best Budget Choice



6.5″ Screen, good battery
128GB Storage, decent camera
Unlocked for all carriers
(no CDMA support – like Verizon, Sprint etc)
Check Price
Motorola Moto G9 Power


Editor's Choice



6.8″ Screen, long life battery
128GB Storage, good camera
Dual SIM
Unlocked for all carriers
(no CDMA support – like Verizon)
Check Price
Umdigi S5 Pro

6.4″ Screen, good battery life
Great image quality, 256GB Storage
Dual SIM
Check Price
Samsung Galaxy S20

6.5″ Screen, Professional design
Top performance & capabilities
More expensive
Check Price
We also have an app suggestion for Android phones before the article ends and it should help turn any of the smartphones listed below into an even more senior-friendly one with just a few taps. So there are a lot of treats for you today!
These being said, let's not waste a single second and let's check out below the best cheap smartphones for seniors and older adults for 2021 (from the cheapest to the most expensive at the moment of writing this post).
BLU G91 – Best Budget
A 2021 model with a large screen and amazing battery life (up to 3 days on a single charge), BLU G91 is our best budget pick: cheap and really well made, perfect for seniors and not only!
BLU phones will often be found on lists of cheap smartphones and they're there for a reason: they are good, reliable, durable and offer great performance for really low costs. The same can be said about the BLU G81 which usually sells for well under $200 and offers a massive 6.5″ high definition+ display that will make everything easier to read on the screen.
In terms of performance, the phone delivers a lot for the money you'll spend on it, but you can't expect it to go head to head against the flagship headphones out there. But you don't need extreme performance for video calls, browsing the internet or using instant messaging apps – as well as for using it as a regular cell phone.
For those more tech-savvy, we can say that it has a 1.6Ghz octa-core processor, 4GB of RAM and 128GB of internal memory for storage, with an extra slot for a SD card should you need more storage.
It has a large battery of 5,000 mAH which is advertised as a 3-day battery – depending on usage, it can last a lot less, but unless you play games A LOT, you should get from it at least 2 days on a single charge. Really good!
This model also has an improved camera setup when compared to previous models. This means that you can take clearer and better photos and videos, but also a better image when in video calls with friends or family.
It has 4 back cameras (including Macro for close-ups and Wide for capturing larger areas), but also a 16MP selfie camera. Finally, a BLU phone with a decent camera setup!
The phone comes with a case for increased protection, as well as a screen protector. It is large and easy to use, with a high quality display in HD+ resolution. While this sounds good, it's not extremely impressive – but all in all, the image quality is good and you'll have no real reasons for complaint.
As a phone for seniors, the BLU G91 is a really good choice, offering everything you need for little money. This model is unlocked and works with major GSM carriers (like AT&T, T-Mobile) but it won't work with CDMA operators (like Verizon, Sprint etc).
Click here to check its price on Amazon.
Motorola Moto G9 Power – Editor's Choice
After failing to make it on our list last year, Motorola managed to surprise us again with the new Moto G9 Power. It is a good, large phone that sells for a low price, making it perfect for seniors and older adults. It's so good that it grabbed our "Editor's choice" award this year!
It has a 6.8″ screen – the largest on our list. A larger screen is always a better choice – not only for the desktop and icons themselves, but also for watching movies, videos and general use.
It has a similar resolution to the model above, so nothing extremely fancy, but it also has a water-repellent design, which makes it safer when it comes to accidental spills.
In terms of actual performance, it is very similar to the previous model: 4GB RAM, 128GB storage (expandable up to 512GB more via SD card), but it also has a better battery: at 6,000 mAh, you will get a lot of usage on a single charge, so you don't have to worry about recharging it daily.
It also has an amazing camera setup, something that until very recently wasn't possible. But from this model, you get a quad-core back camera setup, including a 64MP main camera, as well as a 16MP selfie cam. This means that you will be able to take professionally looking photos and videos with your phone! No more blurry, low quality photos from you!
Just like the previous model, this one works with most major GSM providers in the US (and the world), but it won't work with CDMA carriers like Verizon or Sprint. However, it is a dual-sim model, meaning that yon can use two SIM cards in case you really need them.
All in all, this is an amazing phone for seniors, one that ticks all our boxes: it looks amazing, it has a large screen, it is durable and offers high quality for a more than decent price. A perfect combo for sure!
Click here to check its price on Amazon.
UMIDIGI S5 PRO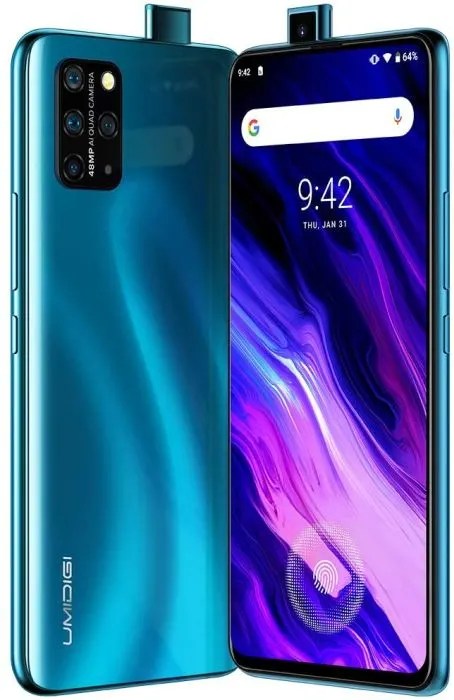 Although this is not a brand to ring many bells, it is one that you shouldn't ignore, because the Umidigi phones are offering a lot for their low price.
These particular model is extremely impressive, and it almost grabbed our Editor's Choice award – but then we found the even more amazing Moto G9 Power recommended above. Still, you should consider this model nevertheless!
Not only that you get a large display – 6.4″ – with full HD resolution and really good image quality, but it also has a really good camera setup, including a fancy pop-up front camera that gives you more screen space since there are no notches present.
It is a powerful phone, with good specifications: 6GB RAM and 256GB of Storage space are more than what the other models offer, but it also has a decent processor to handle the operating system with ease. You will be very pleased with its performance, for sure!
In other words, it's a smartphone that can do anything, from streaming video flawlessly to browsing the internet, video calls and much more.
If you want to really brag that you're using a futuristic phone, you should know that it has a fingerprint sensor under the screen: so you can unlock it just like they do in the movies, with your own fingerprint. No need to remember pass codes and PIN numbers!
It does have a smaller battery – 4,680 mAh, which will still be enough for about two days of usage. Even though it has fast charging capabilities, we found it to charge a bit slower than we'd desire: give it around 1.5 hours for a full charge. Not an awful lot, but it could've been better!
All in all, this is a great phone that will surprise you without a doubt. Definitely consider it!
Click here to check its price on Amazon.
Samsung Galaxy S20
Last but not least, we have this amazing Samsung phone to recommend. It might offer a bit too much than you'd normally require, but for those seniors who really want a powerhouse phone, this is it!
First of all, we're talking about a large phone with a 6.5-inch display. The image quality is absolutely amazing, with an increased resolution and super smooth image and video quality.
It is powered by 4GB of RAM, it has 128GB of Storage and also 5G capabilities, all matched up by a really good processor, the modern Snapdragon 865. In other words, it's really fast and offers great image quality.
But the real ace up its sleeve is the camera setup. This phone comes with a Pro-Grade camera with lots of features, bells and whistles.
It has a three-cam setup on the back, but also an amazing 32MP front-facing camera for selfies. It comes with an amazing 30x Space Zoom so that you can take super high quality photos from a distance, a really good Night Mode and many AI-controlled photography related features, really turning you into a bit of a professional photographer.
As two CONs, we have to mention its high price (driven up by the quality camera lenses, mainly – but also a bit by the brand name), as well as the lower battery. At 4,500 mAh, it has the least performant battery on our list. But still you can get up to two full days of use on a single charge, so it's not really a nightmare!
Do have in mind that since its main focuses are on the cameras and quality of images/videos, you might not really need this.
If you don't really care about these features, then it's really not worth paying the extra money for something you won't use. All the other phones take good photos and videos, so you're still covered. This is for those who want to get to the next level. Your decision – the phone is good either way!
Click here to check its price on Amazon.
How to make your phone even more senior-friendly
I remember that when my mother made the switch to a smartphone, she was confused for a while. From the touch screen controls to the plethora of options, everything seemed too much for her and she told me she wants to switch back to using her old phone.
But after I insisted she gives it a second chance – and a couple of weeks later – she started to see how much more useful a smartphone can be: from voice control to large fonts, from access to Facebook and Skype (we're usually away so now we easily use Skype to see each other) and many, many other things, a smartphone is a great choice for seniors and older adults staying at home and wishing to be in contact with friends and family.
As I promised, I have a big treat for you to make all the Android-powered smartphones listed above even easier to use by seniors. Some – if not all – models above offer something similar, but you might want to try the app as well since it is designed to make things easier for older adults who need larger fonts and icons and less clutter on their screen.
I am talking about the Simple Launcher app (you can download it by clicking here – it's FREE) which makes a few welcome improvements to the interface. The icons are larger, the interface is simple and intuitive, full screen notifications, large SMS interface and much more.
It's like the middle man between using a traditional mobile phone and a smartphone and it's perfect to help you get started and find your new smartphone confusing or intimidating.
Conclusion
I know that switching to using smartphones or even upgrading from an older model seems intimidating at first, but you only need to give them a chance and, just like my mother did, you will end up loving your new phone.
Remember that even though it seems that the younger generation knows everything about them, we were just as clueless as you are when we first got ours.
So don't let frustration kick in! Instead, take your time with your new smartphone, take it slow and steady and you'll see that they're not that difficult to use.
And if you enjoy out list of the best smartphones for seniors, don't hesitate to share it with your friends: they might be looking for a great cheap phone as well!