If writing is your passion or your main source of income (or, ideally, both), you know that you need a great laptop for the job. It has to be reliable, with a good battery and a really comfortable keyboard among other things. And today we're here to check out the best laptops for writers in 2022.
The best part is that a laptop that's great for writing or freelancing (in the writing industry, of course) doesn't have to break the bank. On the contrary, there are quite a few great option of laptops on a budget that will come with no real downsides.
I have many blogger and freelancing friends who make their living writing exclusively on laptops they purchased 5-6 years ago and they don't feel the need to upgrade or change it. So if you make a good purchase, you will be able to use it without any problems for years to come.
And, as I said already, I'm here to help you make that good purchase. Let's check out below a list of the best laptops for writers, editors and freelancers and their PROs & CONs – with full reviews following after.
Please note: We get commissions for purchases made through links in this article.
Lenovo Chromebook Flex 5

Best Chromebook for writing
Low price
13″ display
Light & Thin
Long battery life
Good keyboard (no numpad)
Check price on Amazon
ASUS VivoBook 15

Best budget laptop for writing
Large, good display (15.6″)
Full keyboard (with numpad)
Keyboard is backlit & comfortable
Portable, decent battery
Check price on Amazon
HP 14 Laptop

Cheap alternative for writers / freelancers
14″ Anti-glare display
Very good keyboard
No numpad
Long battery life
Check price on Amazon
Acer Swift 3

Editor's choice – best overall laptop for writers
14″, high quality display
Very good backlit keyboard
No numpad
Great battery life
High performance
Check price on Amazon
Apple MacBook Air

Premium pick – top laptop for writing
13″ Retina display
Very good keyboard
No numpad
Amazing battery & performance
No USB 3 ports
Expensive
Check price on Amazon
Now it's time to get a bit more in depth with each of the recommended models above and see why they made it onto the list. They are all great and even picking one at random would see you owning an amazing laptop for writing, but it's always best to look at all the details and make an educated choice.
So let's find out all the details – as well as my personal opinion – for the best laptops for writers, editors & freelancers!
Lenovo Chromebook Flex 5
Best Chromebook for writing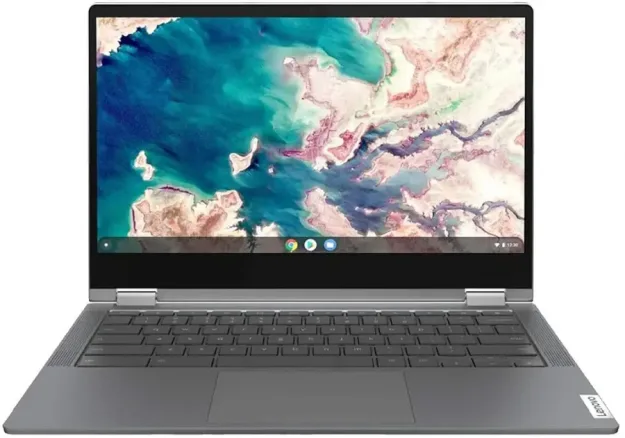 Chromebooks are a great and cheap alternative to traditional Windows laptops and Macbooks. They are perfect for writing, especially if you already use Google's suite of apps like Google Docs, Sheets and so on.
On the other hand, they are not so great if you use Microsoft's Office or Excel, as they are not compatible. Chromebooks are also focused on being used online, so if you anticipate being away from a WiFi connection most of a time, you might want to skip to the other recommendations.
Otherwise, the Lenovo Chromebook Flex is a really good choice – one that won't break the bank and will deliver a perfect environment for focusing on your writing or text editing.
Although small – with a 13″ display – it offers great image quality and a solid resolution of 1920×1080 pixels (aka full HD). The display is vibrant and high quality despite the price.
The keyboard is also very good, with large, comfortable keys that make writing for hours in a row pleasant. It does lack a numpad in order to keep the keys large and comfortable so if you're used to having one, it will be a bit of an adjustment. But it's worth trying to adjust because the keyboard is really nice!
This is not the most high performance laptop you will ever see – on the contrary. It is powered by an Intel Core i3-10110U Processor which is very good for Chromebooks and decent for multitasking (keeping multiple tabs open, for example) but it can get sluggish if you overdo it.
It also only comes with 4GB of RAM and only offers 64GB of internal storage on a fast SSD. This is still plenty for text documents and even some images – but you'll still have to use only storage (your Google account) a lot. That's good, because you can easily switch from one device to another as long as you're signed into the same Google account.
Very light and portable, the Lenovo Chromebook Flex 5 offers a good battery life – around 10 hours on a single charge, which is pretty impressive indeed.
It also has a decent amount of additional ports – 2 Type-C ones, as well as traditional USB 3 port, plus a MicroSD card slot. Unfortunately, it doesn't come with an HDMI port.
Overall, for those who will focus almost exclusively on writing copy and doing most things online, this is a really good, budget friendly laptop. It doesn't offer a lot of internal storage and can get a bit slow when performing multiple tasks, but it's still good.
Click here to check price on Amazon
ASUS VivoBook 15
Best budget laptop for writing & editing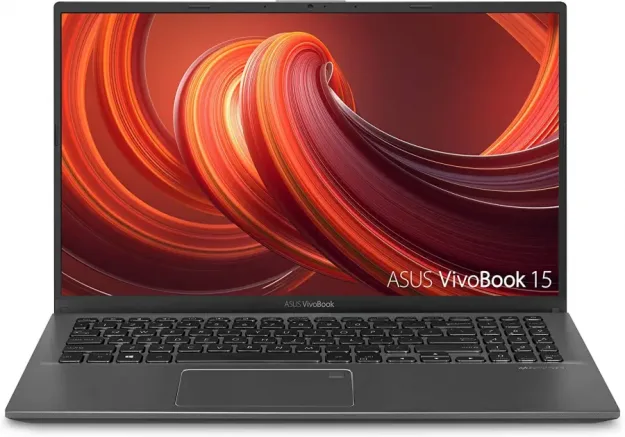 If you want to stick to Windows laptops for a few more options (and a more familiar environment), then the ASUS VivoBook 15 is by far your best choice if you're on a budget.
I absolutely like the fact that it's a large laptop – with a 15.6″ display. I personally prefer larger laptops for writing as they are easier for the eye. And despite the larger size, it is still very portable, with a weight of just 3.75lbs (1.7kg).
The display itself is full HD with vibrant colors and great contrast. VivoBooks always had a very writer-friendly display and this model follows trend.
The best part about it is the fact that it has a special design for the keyboard: called Ergolift, it offers a better position for typing with the top part being slightly higher than the bottom one. Really comfortable, and the keyboard itself is really nice as well and pleasant to the touch.
We're also talking here about a backlit keyboard, which is extremely useful. I would go as far as saying that I would never choose a keyboard that is not backlit for writing. And since it has more space than smaller laptops, it also comes with a numpad – an added bonus for most.
Of course, since this is a budget laptop in the end, it has to have some Cons. And those come in terms of specifications. The performance is not amazing, but acceptable if you only plan to do your regular internet browsing and text editing on it.
Powered by a 10th Gen Intel Core i3-1005G1 CPU and 8GB of RAM, it can get a bit slow if you try to push it too far with too many tabs or programs running in the background. But for writing purposes and maybe Spotify running in the background, there won't be any real problems!
It comes with 128GB of SSD storage and, since the storage is low for a Windows computer, the operating system is in S mode, which is a basic, stripped down version of Windows. It still works well and has no visible limitations for the regular user, but you can upgrade from Windows S to the regular Windows Home without an additional cost if you prefer to.
But this would take up more space and ultimately slow down the laptop a bit more, so no need for that in my opinion.
Now, another important aspect when looking at laptops for writing, is battery life. You can expect 5 or 6 hours on a full charge, which is not bad. You can get more if you don't use the backlit keyboard and keep resource consumption to minimum, but I would say that it's safer to anticipate around 6 hours of battery juice for writing.
Finally, you get a bunch of other goodies, including various ports for increased connectivity (USB-C, USB 3 and 2, as well as HDMI) but also a fingerprint sensor for added security. A lot for the money you spend!
Overall, this is a great budget laptop for writing, but it does have its limitations. Not a lot of storage space and relatively low performance make it less than ideal for multitasking, but if you know you mainly focus on writing and you don't need to keep many tabs and apps running, it will be just fine!
Click here to check price on Amazon
HP 14 Laptop
Solid, cheap alternative for writers & editors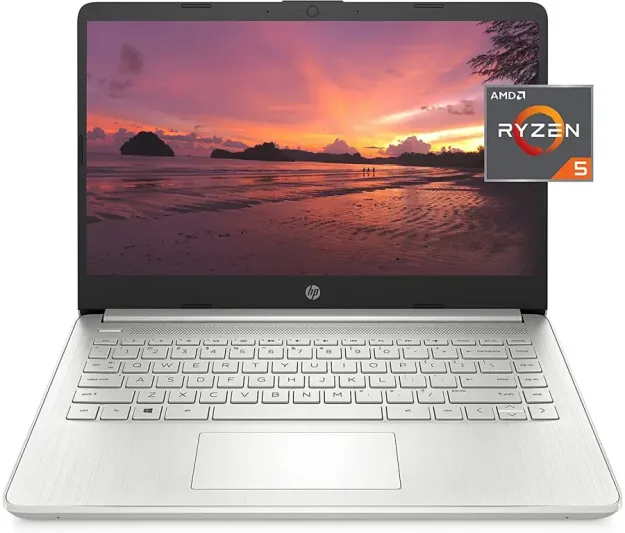 We're still in the budget(ish) category, but we're looking at a laptop that offers a bit more in terms of performance and general specification, even though it's a bit smaller. But not too small to make it uncomfortable to write on it for hours.
On the contrary! The 14″ display is really high quality, anti-glare (meaning it's easier to write outdoors or in rooms with increased natural light) but also Full HD for a perfect viewing experience.
But what makes it a better choice for many is the fact that it simply offers more in terms of performance. It's powered by a really solid processor, the AMD Ryzen 5 5500U, as well as 8GB of RAM. This is a great combination for writing: you can keep multiple tabs and apps open without noticing any lag or sluggishness.
You also have a bit more storage to play with: 256GB on a super-fast SSD. It's still not a lot in today's terms, but for keeping a backup of text documents (which don't need a ton of space) and even a bunch of photos, it should be more than enough. It's definitely a lot better than what the other models offer…
You will surely love the keyboard, too – it's really nice to the touch and comfortable, although it is not backlit. However, the laptop and keyboard are white, which makes them easier to see in lower light environments.
It also lacks a numpad and, at least for me, the design of the arrow keys could've been better. The up and down arrows are tiny and close to each other, requiring a bit of extra care when using them. But not really a deal breaker – you will get used to this relatively fast.
The battery is pretty good too: you can get up to 9 hours on a single charge, but I would generally plan for 7-8, just to be safe. It's still very good, going well in trend with everything else about this laptop.
Overall, we can say that this is a great product for the money you spend on it. No real dealbreakers or major Cons here make it a great choice for most writers out there, no matter if they're just starting their journey or are already more experienced.
Click here to check price on Amazon
Acer Swift 3 – Editor's Choice
An even better laptop in terms of performance and general specifications, Acer Swift 3 is my top recommendation today – an amazing laptop for writers, editors and freelancers. It can easily handle anything you throw at it, except for current generation gaming and super-fast video editing.
Its size is just great for writing, also: at 14″, the screen is large enough and good enough to provide a solid experience for hours. Vibrand display with nice colors as well as a full HD resolution give you no reasons to complain.
They keyboard is also nice and comfortable to type on, while also being backlit and with a slight inclination for even more comfort. Unfortunately, it still has the problem we saw above, that with the arrow keys being a bit too small.
Now you also have the page up and page down keys on top of the left/right arrows to challenge you a bit more. But not a deal breaker for sure – something you can easily adjust to pretty fast.
In terms of performance, you also have no reasons to complain. The laptop is powered by a great processor – the AMD Ryzen 7 4700U Octa-Core CPU which is really, really fast. It also has 8GB of RAM which are more than enough for your word processing apps and regular use.
You get 512GB of storage space on a fast SSD, which is an amount that I consider ideal for writing. It offers you plenty of storage space for all your projects, as well as photos and other programs.
It offers extra protection and privacy thanks to the incorporated fingerprint reader. It has three additional ports (USB-C, USB 3 and USB 2) and also an HDMI port.
Extremely light and portable, it's just 0.6″ thick and weighs only 2.6lbs (1.2kg). It offers a really good battery life – around 10 hours on a single charge, which is also pretty amazing.
Overall, this is a really good laptop for writers with nothing to really complain about. It's not an AAA laptop with out-of this world specifications, but if it's just writing and regular use you need it for, you don't really need extras like a dedicated GPU or more RAM (although the latter would never hurt).
Still, this is by far my top recommendation, considering its price and what you get for the money.
Click here to check price on Amazon
Apple MacBook Air – Premium Pick
You can't have an article about the best laptops for writing and not feature a MacBook! It's true, they are more expensive than the rest, but if you have the budget, you'll quickly learn why everybody loves them so much, especially authors.
These Apple-made laptops are fast, reliable, they have an amazing display (the Retina display is probably the best in the world at the moment) and the keyboard is perfect for writing. You spend a lot of money, but you get a lot in return!
Even though smaller than most on our list, the 13.3″ are enough for a solid writing experience. And as I said, you probably get the best possible image quality in return, so you will have no reasons to complain.
In terms of performance, you will also be really pleased with how fast and reliable this MacBook model is. Powered by the proprietary, octa-core Apple M1 chip, it is blazing fast (according to official data, 3.5 times faster than the previous model).
It has 8GB of RAM to keep things running smoothly even when you're multitasking, as well as 256GB of storage. However if you can afford the larger model, I highly recommend choosing that instead as it offers double the amount of storage, which always comes in handy.
The keyboard is extremely nice to write on, even for long hours. Now sure how and why that is, but it just feels right and comfortable.
Also, many big name authors use a MacBook when writing: Stephen King or Lauren Weisberger are two of them, so you can say you have some things in common with them. Even big name journalists use them – like The Guardian's columnist Chris Cleave (source: Paste Magazine)
Apart from the fun fact above, MacBooks are amazing for writing and daily use. They are reliable, high quality and offer amazing battery life too. This particular model will give you around 15 hours on a single charge – maybe even more, depending on how you use it. That's simply amazing!
The only potential downside is the fact that it only has two Thunderbolt ports (USB-C compatible). So no traditional, USB 3 ports on this model.
Overall, even though pricier than most, it is a really amazing product for writing and editing (and everything in between).
Click here to check price on Amazon
How to choose a great laptop for writing, editing & freelancing
When it comes to the best laptops for writers, one of the most important things to consider is the keyboard. It has to feel right, the keys don't have to be too close to each other and the material of the keys themselves should be soft and easy to press since you'll be doing that a lot.
A good laptop for writers is also light since you'll want to carry it around with you easily. It needs to have a good display, solid battery life and has to be fast so that you don't lose your inspiration waiting for the documents to be saved or a webpage to be opened.
Also, I believe that extremely important nowadays is having a decent screen size. It's true that an 11-inch laptop is very light and easy to carry around, but the screen is too small – just like the keyboard, so you can't really be productive on such a small laptop.
I think that the lowest you should go is 13-inch, although 14 and above is much better – and we have a few great options in all areas above, ticking all the boxes and then some.
I am sure that no matter which one you choose in the end, you will be extremely satisfied and you'll be able to be more productive than ever.