Today, I wanted to look at some photos that I had posted on Facebook back in 2014. I knew the year, not the exact date, but I spent up to an hour trying to find out how to search through my Facebook photos by date or year. And I am here to tell you exactly what to do if you have the same problem.
If you're having a similar problem, this post was created for you. Instead of scrolling through your feed for an hour, maybe try and filter it by year, which is still not super accurate but better than randomly scrolling right?
I will share with you everything you need to do in order to quickly find a photo you published on Facebook in the past and also how to search photos on facebook in general.
As long as you know the year when the photos were published, you'll have an option to narrow down your search and make your life a lot easier.
How to search photos on Facebook
Search photos on Facebook by year – Your own photos
1. Note that this only works on a PC or Laptop (so not on the mobile phone app). It might work if you log in to your Facebook account using a browser on your mobile – but it's a lot easier on PC / Laptop.
2. Log in to your Facebook account and go to your Posts page ( previously called Timeline ) by clicking your name in the upper left corner.
3. Right under your post status on the timeline, there is a bar with various tabs. You can choose to change the view to Grid View instead of List View. This will show you a concentrated look of your posts by year. ( This is not a required step but just makes it easier to view and sort through )

4. Now look just above that, you see a filters button, click that and choose to filter by year. You can also filter by who posted the post and tags.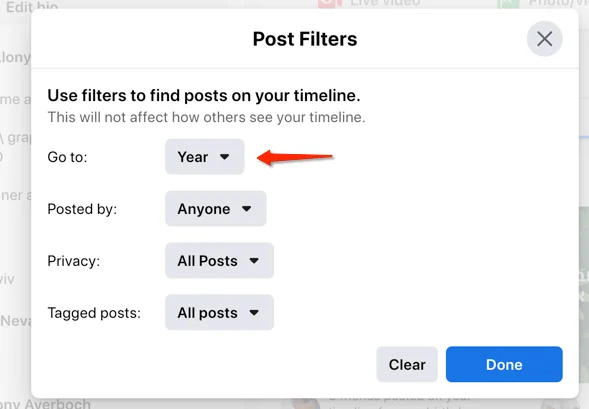 5. Now all you have to do is select the year you know that you have published the photo in and scroll down through your timeline until you find that particular post. It's really easy to navigate through those thanks to the thumbnails you can see.
Is it perfect? No, but it narrow it down quite a bit once you filter by year and sadly, that's the only thing we found that works.
That's the only way we know of searching your photos on Facebook by year that will not take you hours to scroll through.
How to search photos on Facebook – In general
You can search photos on Facebook using their search bar which has improved over the years. Simply open your Facebook profile on a laptop or mobile and enter a search term in the search bar, for example:
Photos of Ice Cream will show me these results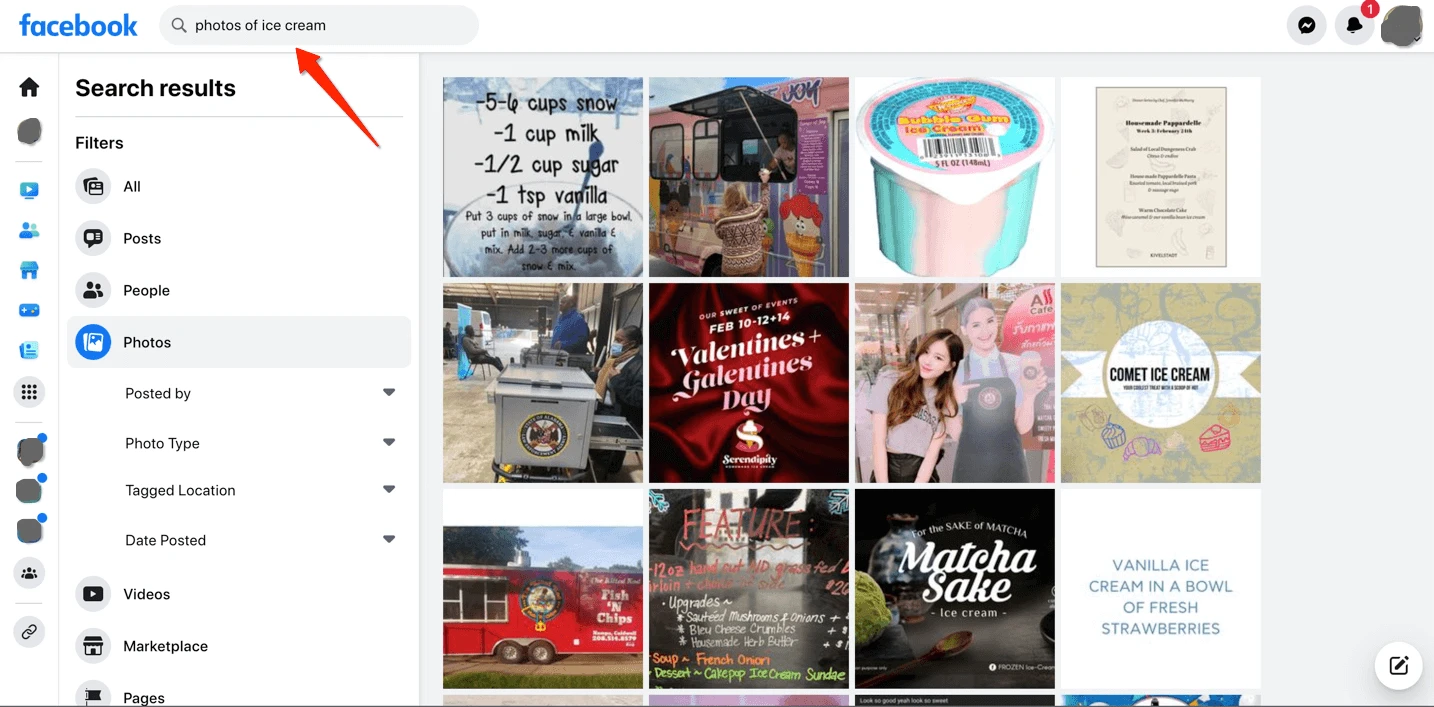 You can also filter the results by who posted the photo to Facebook, for example this is very handy if you are looking for photo on Facebook posted by you. Also, from here you can filter by date and location to narrow your search even further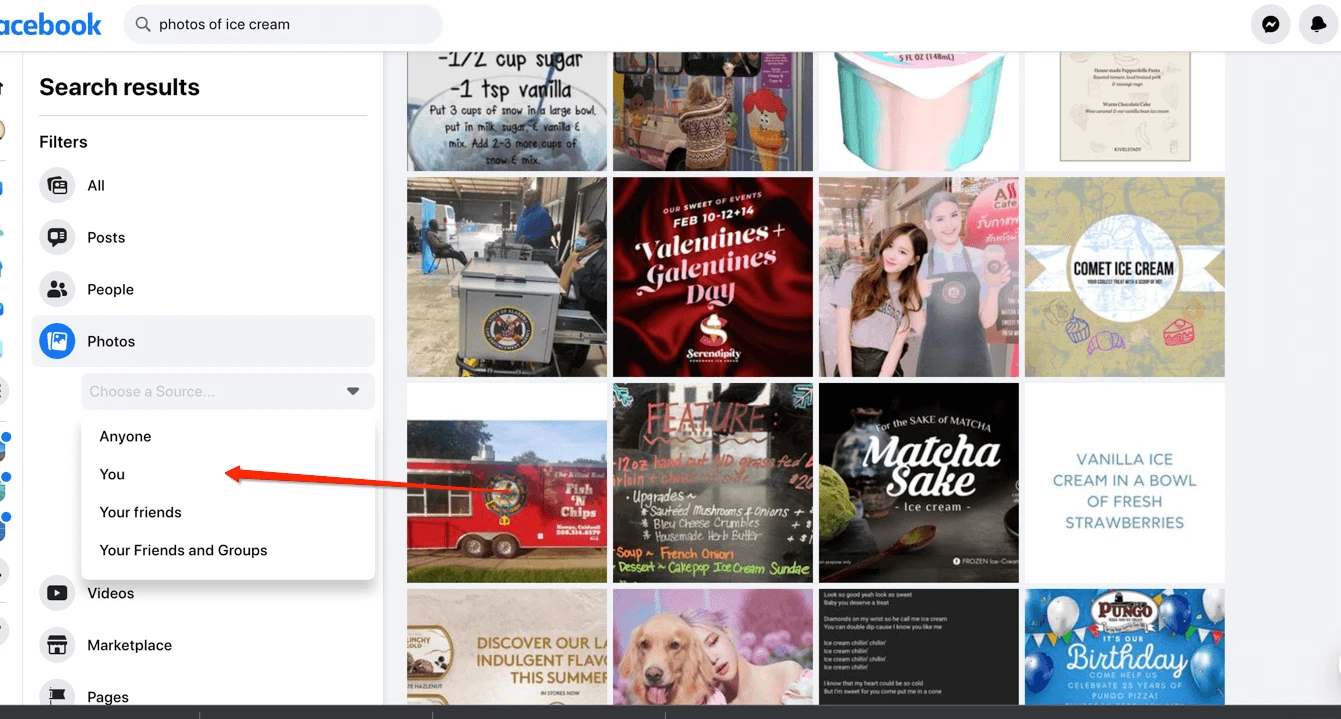 While the photo search bar of Facebook is no where near as good as Google image search, it still returned ok results for us. But I would not trust it for an important search, I would use Google for that.
How to use Facebook image search to find someone
Another thing people want to do is search who posted a photo to facebook, or where it was posted. So a good way of doing it is by using Facebook image search to locate the original poster.
How can you do it? Well, Facebook gives a unique ID number to every photo users upload to the platform. This is also the file name of the photo when you download it from Facebook, and if you know this ID number, you can find the photo on Facebook and see who posted it.
Here's how to do it: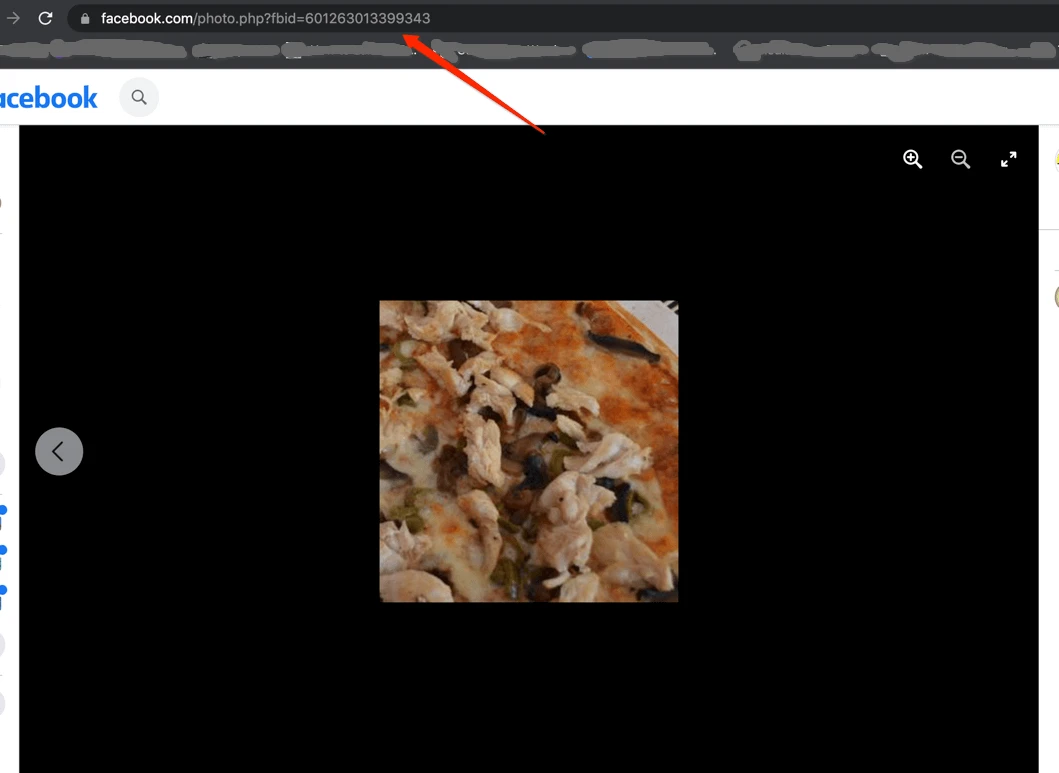 Right click the image you want to search for on Facebook
Select open in a new tab in Chrome browser ( If you're using a different browser it might be called " view image " or something similar
Now look at the address bar in your browser and look for three sets of numbers. These will be separated by underscores.
Look for the middle string of numbers. This is your ID number that you can use to find the photo on Facebook.
Copy and paste https://www.facebook.com/photo.php?fbid= into the browser search bar
Now paste the ID number you have right after the = sign in the browser
Press Enter, and now you will see the picture on Facebook and will be able to see who posted it.
NOTE – depends on the Privacy settings of the photo, if the poster set it to private you will not see it on Facebook.
That's it! Now you know how to use Facebook photo search better and also how to search your own photos based on date. cool right? While you're here, maybe have a look at these other related guides on Facebook:
How to unsnooze someone on Facebook
Because we all did it and than had regrets
How to make Facebook show your first name only
Because, you know, Privacy and what not