Are you upset that Spotify opens on startup even though disabled? This is something that is happening more often than you'd think and today we're here to tell you how to prevent Spotify from launching on startup for good.
In order to do this, you will have to try a few methods – but one will definitely help you solve your problem. Even better, we have the solution of preventing Spotify from opening on startup for both Windows 10 and Mac. So no matter what OS you're on, you can quickly disable it.
Now, the thing is that most people actually enjoy using Spotify and don't mind it opening on start-up. But for those who don't listen to it constantly or have their laptops slowed down by this (or simply want to launch it whenever they feel like), seeing the app disobey the instructions and launching on start-up can be frustrating.
But fortunately, there is indeed a way to fix this and you should try all the options below to make sure that you get it right.
1. Disable it from the app's settings (Windows and Mac)
You have probably tried this already, but in case you haven't, this is the easiest way to do it. Just launch your Spotify app and go to the app's settings by clicking the arrow next to your profile and selecting "Settings":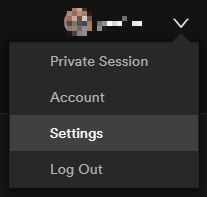 In the new window, scroll down to the bottom and click "Show advanced settings". From there, scroll down a bit more until you see the "Startup and Window Behavior" options:
Click that and select No. Otherwise, Spotify will launch on Windows Start-up either minimized or maximized, depending on your option.
2. Control Windows start-up apps
If Spotify still launches on startup even though disabled, you can easily prevent it from doing so by instructing Windows itself not to allow it to launch. This is easily done as well. Here is how:
First, write into the search box in the Windows task bar "Startup Apps". Click the result that Cortana gives you:
In the new window, look at the list of apps that want to launch on startup and find Spotify. Click the button next to it to turn it off:
And this is it! The app will no longer launch on start-up no matter what the other settings tell it to do!
3. How to Prevent Spotify from Opening on Startup on Mac
If method #1 doesn't fix your problem and the app still launches on a Mac, you have two quick options to prevent it from opening on startup.
1. Easiest way to do it is to launch the app and simply right click it from Dock, then hover over "Options" and untick "Open at Login:"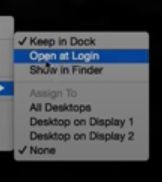 2. Alternately, go to System Preferences – Users & Groups – Login Items and click the Spotify app on that list. Then simply click the Minus button under the list and you're all set!
Why does Spotify still open on startup after a while of not doing so?
There are usually two reasons for that – the most common one is users simply being unaware of the fact that they can turn it off or that it's actually turned on by default. Not everybody is ready to start digging through an app's settings to see what can be done about it…
But also some Windows updates can restore some instructions to their default state. So most likely, you will see Spotify launching on start-up even though it was disabled for a while after a Windows update. Some simply reset these instructions and you will have to reinstate them.
Finally, if you uninstall the app and reinstall it, chances are that it will once again begin launching on startup simply because its settings are reset as well.
Either way, it doesn't matter much now because you do know how to completely prevent Spotify from launching on start-up. You have full control over the app and the times it launches.
If you're curious about more things related to this popular music app, we wrote a guide on how to export your Spotify playlists easily.