Sometime, you just want to stop receiving messages from a specific person on Facebook's Messenger. However, if you are in that situation, you probably know already that it's not as easy as you might've hoped to just delete someone from Messenger.
Today, though, I am here to share with you everything you need to know about removing a contact from messenger and blocking them from sending messages your way.
If you only want to delete a conversation without actually blocking a person and deleting them from Messenger, we have a guide for that as well – make sure to check it out!
How to delete someone from Messenger
The easiest method to delete somebody from Messenger is to block them. This way, they will no longer be able to send you messages. It's very easy to do it. Here is how:
1. Launch the Messenger app on your phone and tap the "People" button in the bottom right side of the screen, then tap the "All People" icon in the upper right side of the screen, as seen in the image below: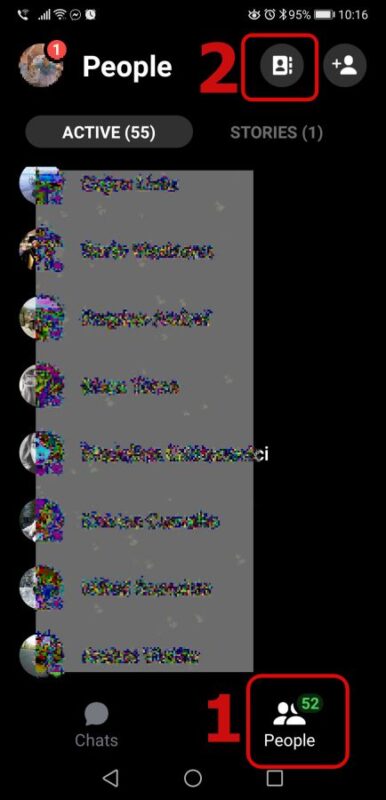 2. Now scroll down in your list of friends until you find the person you no longer want to receive messages from, then tap their name. This will bring up the conversation screen.
3. In the new window, tap the "I" button in the top right corner and in the new screen, scroll down until you see the "Block" option. Tap it and you will have some options:
4. In the new screen, select the appropriate action that you need:
Block on Messenger (you will still be friends with the person on Facebook and they will still be able to message or call you in shared groups )
Block on Facebook (this removes them as friends on Facebook and blocks them on Messenger too, meaning that they will no longer be able to contact you).
And this is it! You have now deleted the person from Messenger (or Facebook).
If you want to remove the conversation that you had with them (if any), there are a few extra steps you need to take.
From the "All People" menu (see step #1 above), scroll down to their profile and tap the "I" button next to their name.
A new window like the one below appears. Simply select "Remove contact" and confirm. This will remove the archived conversation.
If you have blocked the person before this, they will also disappear completely from your list.
However, you don't necessarily have to remove the conversation if you don't really want to.
You can simply let it exist in the archives and it will slowly be pushed back by newer ones. Or you can simply remove it if you want to – your choice.
Wrapping up
As you can see, even though not very intuitive, removing a contact from Messenger isn't extremely difficult.
Now you know how to do it and how to get rid of their chat archive as well, if that was something that bothered you.
If you want to learn even more about Facebook and how to do things that aren't extremely simple to do, why not check out our previous guides on how to search Facebook photos by Year / Date or how to hide your last name on Facebook?
If you still have questions about removing people from Facebook's Messenger, don't hesitate to let us know by commenting below.