If you want to delete a specific message on Facebook Messenger or even delete entire conversations from Facebook's instant messaging app, it is possible and really easy to do, as you will see in today's article.
You can also archive your conversations if you don't want to go the drastic route of completely losing them and we're here to teach you how to do it easily.
So in today's article we are going to learn how to delete individual messages on Facebook Messenger, as well as how to delete entire conversations on Messenger or archive them.
We'll start with the first thing on our list, as there are different methods to achieve your goal, depending on what you want to do.
1. How to delete individual messages from Facebook Messenger
You can do this either on the mobile app Facebook Messenger, or from the desktop version of the application.
Since everybody's using their mobiles mostly, we'll start with the steps you need to follow to delete a single message (or more, but not entire conversations) on mobile:
After launching the Facebook Messenger app on your device, navigate to the message you want to delete, then tap and hold it.
In the bottom bar of your screen, you will find a few option, and in the bottom right corner, you will have "Remove". Tap that button.
Now, you will be presented with two options, as seen below: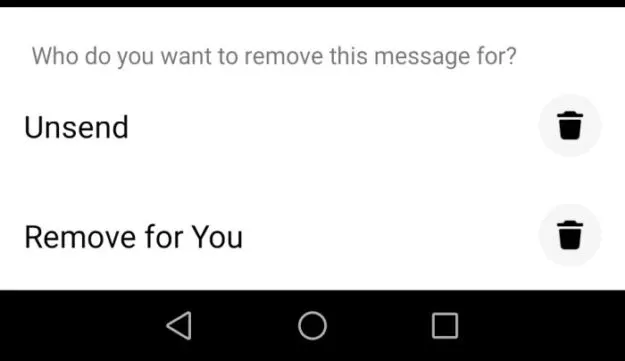 The first one will delete the message BOTH on your device, as well as from the chat history of the person you were chatting with. It doesn't matter if they already saw it or not – the message will be removed on both chats.
Alternately, you can select to remove it from your chat history only. This means that the other person will still see the message and won't know that you deleted it.
Now, if you want to do this on your laptop or desktop computer, here's how to do it:
First, navigate to the conversation and message you want to delete.
Then, hover your mouse over the message and two options will appear: the option to react to that message (a smiley face) and additional options (three dots)
Click the dots and simply select "Remove" from the new tab:
As in the case of the mobile conversation, you will be asked if you want to remove it from your chat only or also remove it from the chat of the person you were talking to: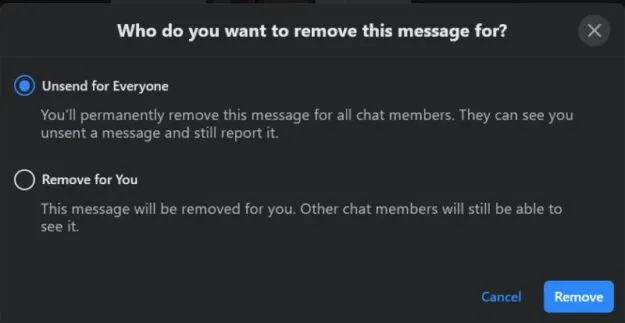 And this is it! You have now deleted a message from your conversation on Facebook messenger.
You can do that with sent messages (yours) or received messages (from the person you were chatting with) but have in mind that once deleted, the messages can't be recovered.
Also, messages you have received (sent by the person you were talking to) can only be erased from your chat history, not theirs.
How to delete entire conversations on Facebook Messenger (or Archive them)
This is also an easy thing to do and deleting entire chats or archiving them can also be done on the laptop or computer version, when you are logged in to Facebook.
The benefit of archiving a conversation over deleting it is that you can still access it at a later time, while deleted conversations are gone forever.
Archived conversations disappear from your messenger history, but come back whenever a new message is sent to that person or received from them.
In order to delete or archive an entire conversation on Facebook for desktop or laptop, follow the next steps:
1. Click the Messages button in the top bar and then click "See all in Messenger" in the bottom left corner
2. Hover your mouse to the left side of the screen, over the conversation that you want to delete and click the three dots next to that person's name to see the menu:
3. From there, simply select the option that you want to go for: Hide (which will Archive your conversation) or Delete – this will make permanently remove it.
If you go with the latter, you will have to confirm deletion once again. And this is all you have to do!
How to archive or delete a conversation on Messenger App
It's also extremely easy to achieve the same thing on Facebook Messenger for mobile. So launch the app on your phone and tap and hold the conversation you want deleted or archived.
The menu seen above will appear, and all you have to do is to select either "Archive" or "Delete". It's that easy!
When you either delete or archive a conversation on Facebook, your friend won't be told that you have done this, but as we said earlier, the conversations or specific messages won't be deleted on their devices as well, only on yours. Still better than nothing if you have some secrets to keep!
But if you don't want to speak with that person anymore, or you simply want to block them and remove them from your list of contacts, this can be done as well.
We wrote an article on how to delete someone from Messenger – make sure to check that article out if that's something you're interested in knowing how to do.