Everybody wants to be part of the Bitcoin & cryptocurrency revolution today, after a massive recent boost in prices of all coins on the market.
And even though BTC, ETH and other currencies are at all time high numbers, there is still a lot of room for them to grow. If you already missed the train for the past few times such boosts happened, you shouldn't let it slip again.
In today's article, we're going to guide you through all the steps you need to follow in order to get into the cryptocurrency game. I'm sharing the best and easiest method to buy Bitcoin or other coins with a credit card or debit card instantly.
This is by far the easiest way to get into the cryptocurrency game: buy Bitcoin instantly with your credit or debit card. Any method that doesn't buy the amounts instantly can result in major losses due to price fluctuations.
But using our recommended service – Cex.io, things will be different as you can buy cryptocurrency instantly using your credit card or your debit card.
We're going to learn how to do this, but first let's find out why you should choose Cex.io.
Is Cex.io good for buying cryptocurrencies?
The main reason to go for this exchange and not another is the fact that this is one of the oldest, most trusted exchanges in the world.
It was launched back in 2013, before cryptocurrencies were as popular as they are today and they kept growing and improving their services since then.
They have tradition and are respected in this business, so you shouldn't worry about being scammed.
Also, they have 0% theft on their users' money, meaning that since they have launched, no breaches or hacks saw their customers lose their funds, as it happened in so many other cases. This is extremely important to me and it should be to you too!
The security of your assets and money is vital when dealing with cryptocurrencies and you should always go for the best known, most trusted exchanges.
Otherwise, you will most likely get scammed and you will lose your money.
Remember: if an exchange or website promises things that seem too good to be true, then you're most likely about to get scammed!
Instead, avoid all these traps that and choose an established, trustworthy exchange.
And as I said, Cex.io is that exchange: it's easy to use, it offers instant transfers with a credit or debit card, but also other methods like Skrill, Bank Transfer, ePay or AdvCash.
I am personally using their services since 2017 with absolutely no problems. They are absolutely amazing, extremely fast and have solid pricing for all trading options.
It's also worth noting that it doesn't matter what currency your card is using.
So even though the transactions on Cex.io are made in USD, EUR, GBP and RUB, you can have your card in any currency and still be able to buy cryptocoins as the website will automatically exchange your local currency into one of the supported ones.
With these in mind, let's find out how to buy Bitcoin and other Cryptocurrencies with your card, instantly, using this top exchange!
1. First of all, you must visit the official website of Cex.io and create an account by clicking the "Create account" button in the upper right corner: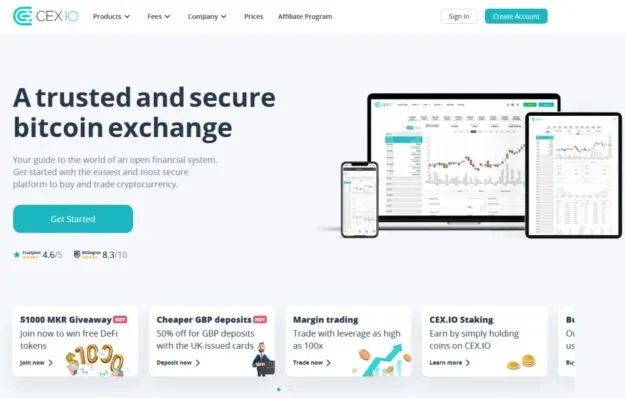 Since we're talking about your money, make sure that you choose a password that is unique, long and can't be guessed by anybody.
Write it down and save it in multiple places that nobody but you will be able to access it.
Also enable the two-factor authentication method in order to increase the security of your account. We're talking about your money here, so play it as safe as possible!
2. Next, comes one slightly annoying part that has to be done on any respectable exchange: verification. The company has to verify your information in order to keep the system secure.
You can do so by following their instructions or by clicking your profile name in the upper corner, then "Verification":
There, you will have to complete simple steps like verifying your identity by submitting a photo of your ID card and of yourself holding your ID card, as well as a photo or scan of an utility bill, electricity bill, bank statement or such which prove that the address you're using is a real address.
This is annoying and many people frown upon this, but this is the only way to keep things secure and avoid identity theft, money laundering and so on.
All respectable exchanges will require this from you, so you can't avoid this no matter what. And you shouldn't because this increases the security of your assets and money!
3. After your account is verified (which can take up to a couple of days, but usually happens a lot faster), you can start buying Bitcoin or other cryptocurrencies using your credit card or debit card instantly.
First, you will have to add your card to the system. Simply click the "Cards" menu on the main screen, then select "Add new card". This will take you to a page like the one below, where everything is pretty much self-explanatory.
At the moment of writing this article, they support a massive list of major cryptocurrencies you can buy (BTC, ETH, XRP), but also a ton of other smaller or medium-sized altcoins (like BCH, BTT, DASH, LTC, NEO, OMG, TRX and much, much more).
Even if you want to buy a different cryptocurrency not supported here, it will still be possible (and I have the guide at the bottom of this article).
But first, you need to get your hand on some BTC or ETH or another major currency supported by Cex.io.
In order to do so, you need to initiate the exchange and use your card to deposit money into your Cex.io account in order to be able to instantly buy any of the supported coins.
So click the green "Deposit" button in the upper right corner and you'll be taken to a page like this:
Since we are talking about buying Bitcoin with a credit or debit card instantly, we're going to choose Payment card as a payment method, select the card in the options menu below, then select the amount of fiat currency (USD, EUR etc) we want to deposit.
Simply hit the "Deposit" button after adding (for security reasons) the CVC code on your card and the transfer is made instantly.
4. Now that you have money in your account, go to the Buy/Sell area by clicking the button in the upper left corner.
You can turn your deposited money into BTC, ETH and a set of other major altcoins instantly.
Simply select the option that fits you (note that you can write a custom amount near the pre-defined transactions) and hit the Buy button.
The transaction is made instantly, so you don't risk getting a lower amount than what you were hoping to get. Notice that there's a timer on the blog which updates the prices constantly so you're always getting the best possible deal!
Congratulations! Now you are the proud owner of your first cryptocurrency!
You can now move to the Trade section of the website and exchange your recently purchased BTC or ETH into any of the supported coins on the platform: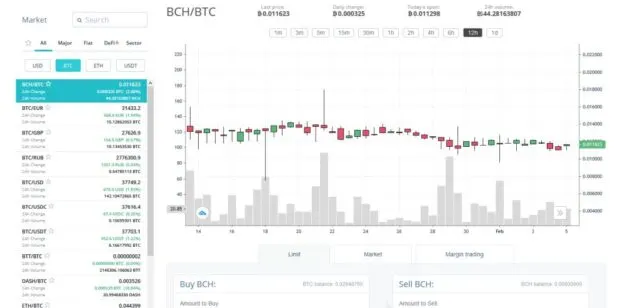 NOTE: You don't have to do these trades if you don't want to. If you prefer holding the cryptocurrency you have bought, simply keep them in your Cex.io account or create your own wallet for safekeeping at on a website like Blockchain.
How to buy any altcoin on the market?
With over 1,000 different cryptocurrencies available on the market and with the numbers rising, you might want some extra diversity.
However, most of these coins can't be purchased directly with fiat currency (like USD, EUR etc) but can be instead purchased with BTC or ETH. Fortunately, we just learned how to get those!
Next, you will have to find an exchange that sells your favorite coin. Again, it's extremely important to always do your trades on the large exchanges out there that have tradition and offer security for your funds.
My recommended ones are Poloniex, Bittrex and Bitfinex.
These cover a huge variety of cryptcoins. But if they still don't have the coin you want to purchase, you can always visit CoinMarketCap, search for your coin there, and then select the "Exchanges" tab to see where your wanted coin is sold – then simply create an account there.
After getting your account on your preferred exchange, you will need to transfer the BTC or ETH from Cex.io (or your wallets).
On Cex.io, simply click the "Finance" button and then select the "Withdrawal" option near your cryptocurrency.
You will need the wallet address from your exchange – read the documentation of your favorite exchange in order to find it (it's very easy to do so from your account).
And this is it! You are now officially part of the cryptocurrency revolution. You can instantly buy BTC or ETH with your card and you can instantly make transfers and buy any other cryptocurrency on the market.
That's a huge accomplishment, so good luck with your trades on Cex.io or any other platform you choose!
And if you want to take things a step further, why not check out our list of the best laptops for mining cryptocurrency?