With Black Friday just around the corner, we decided to look at the best selling laptops on Amazon in November 2016 (right now). Why would we want to know which are the best selling products on Amazon? It's simple! Because these are usually cheap and high quality laptops that people are buying because they are good and they offer a great price/quality ratio.
Even more, since these products are already selling a lot of units per day, chances are that the Black Friday and Digital Monday discounts will be applied to them and you would be able to buy them for even less dollars. And even without any added discounts, you will see that the best selling laptops on Amazon in November 2016 are still fairly priced as we have 3 out of the top 5 best sellers at around and under $200! Now that's what I call a sweet deal.
So check out below which are the best selling laptops on Amazon in November 2016 and, if you're looking for a laptop, one on the list might be the best choice for you. Please have in mind a few things: first, the list of best selling products changes every hour so the rankings might change eventually; also, these cheap laptops should be considered good options for everyday use, internet browsing and streaming movies and movies, but not more intense stuff like gaming, video editing or streaming live to an audience. We're also sharing our opinion on the laptops below so overall, this should be very useful.
Without further ado, here are the best selling laptops on Amazon right now (November 21), laptops that should be considered a very good purchase option for a fair price:
Please note: Our blog gets commissions for purchases made through links in this article.
Samsung Chromebook 3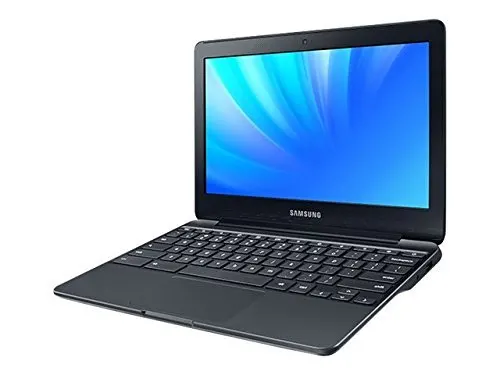 Considered one of the best Chromebooks ever made, the Samsung Chromebook 3 is very cheap and serves its purpose really well. Have in mind that unlike traditional laptops, a Chromebook can't run Windows and instead it runs the Chrome operating system, which is focused on internet navigation and accomplishing your tasks online. So this might not be a great choice if you don't plan on having a constant internet connection when using this laptop.
But if you do, this might be a great choice as it has really good specs to serve its purpose: 4GB of RAM, a 1.6 GHz processor and a super fast SSD that only has a capacity of 16GB. This is also a small screen laptop, having a 11.6-Inch Screen. Rated 4.1 stars out of 5 on Amazon, this is definitely a good choice for those who don't want to do more than browse the internet, write or stream movies.
Click here to check it out on Amazon
HP 14-an013nr
This month, it was usually a battle between HP's model and Samsung's Chromebook, so don't act surprised if you visit Amazon and find this model at the top of the bestselling list! It packs a solid punch under its hood and I would consider it as an improved Chromebook (without being a Chromebook since it runs on Windows): it has a larger screen at 14 inches, a slightly better 1.8GHz processor and offers more storage space at 32GB. All in all, this won't accomplish much more than Samsung's Chromebook, but if you want a slightly larger laptop with more storage space and an operating system you're probably more accustomed to, this is a great choice!
Click here to check it out on Amazon
Acer Aspire E 15 E5-575G-53VG
The most expensive laptop on the list (but still available for a great price), the Acer Aspire E 15 is actually a really good laptop! It has the standard display size at 15.6″ and a great battery for its price. It's also the best performing laptop on Amazon's bestsellers list, having some impressive features: 6th Generation Intel Core i5-6200U Processor, a very good dedicated graphics card (NVIDIA GeForce 940MX), 8 GB of RAM and 256 GB of SSD storage. It also has an optical drive, which rounds up a surprisingly good and extremely cheap laptop for what it offers.
The Acer Aspire E 15 is a great choice for people looking to get more from their laptop. It can even be considered a good cheap gaming laptop as it will surely handle even some of the current generation games. A great deal – I'd call it a steal, actually!
Acer Aspire E 15
Although it almost has the same name, this laptop is very different from the one recommended above. Although a bit cheaper, it is inferior in most areas: it comes with an Intel Core i3-7100U Processor, 4GB of RAM and an integrated graphics card instead of a dedicated one. It has more storage – 1 TB, but it has a slower HDD instead of the fast SSD of the model above. It's still a good laptop available for a great price if you don't want it to perform very demanding tasks (including gaming), so go for it if you want a traditional laptop without any extra bells and whistles!
Acer Chromebook CB3-131-C3SZ
And we have another Acer product to round up our top. This time, we're talking about a new and impressive Chromebook. It has a solid 2.16 GHz processor, and the rest follows the "norm": 16 GB SSD, great battery life, a 11.6-Inch HD screen… but only offers 2GB of RAM, so I'd really go for the 4GB of the Samsung Chromebook 3. But it works great and has some solid ratings on Amazon, so it definitely is a good product!
So these would be the top five best selling laptops on Amazon in November (data accurate at the moment of writing this article). They are all great entry laptops that the everyday user would find extremely solid and a good purchase. So this is a great place to start your search for a new laptop!