Listening to music via Spotify is part of the regular daily routine for many of us. But nothing is worse than having to listen to poor quality music. Or, better said, switching to some high quality headphones or earbuds will really change the way you listen to music.
Choosing a high quality pair of headphones is essential for Spotify fans, as the overall quality of the music will increase by a ton. And with so many options out there, in all price ranges, it's difficult to decide which is good and which is not.
Today, I'm here to help you with that and offer a full guide to help you choose the best headphones for Spotify this year. We'll be looking at all possible options, from wireless earbuds to large, wired headphones and everything in between.
I'll also make sure to offer you options both in the lower price range, but also more expensive and truly awesome products that will really blow you away. Because good music becomes better if you have good headphones too.
So without further ado, let's quickly take a look at the list of recommended headphones for Spotify, before going in to read more details about each of the recommended products below.
Please note: Our blog gets commissions for purchases made through links in this article.
Model
Details
Soundcore by Anker

Best Budged Earbuds
Wireless, noise cancelling
Decent sound quality
Excellent battery life (8 hours)
Check price on Amazon
Sony WH-1000XM4

Best Noise-Cancelling Headphones
Wireless, over ear, noise cancelling
Amazing price/quality ratio
Great sound quality
Amazing battery life (30 hours)
Check price on Amazon
Bose QuietComfort

Best overall Earbuds
Noise cancelling earbuds
Very good sound quality
Decent battery life (just around 6h)
Check price on Amazon
SENNHEISER HD 660S

Best wired headphones
Best sound quality
Not noise-cancelling
A bit expensive (but worth it!)
Check price on Amazon
AKG N700NC M2

Budget Headphones for Spotify
Foldable wireless headphones
Decent sound quality
Active noise cancelling
Good battery life (around 10 hours)
Check price on Amazon
I'm sure you want to know more details about each of the models above, so let's get started. This will help you find the ideal pair for you when it comes to listening to music on Spotify.
Soundcore by Anker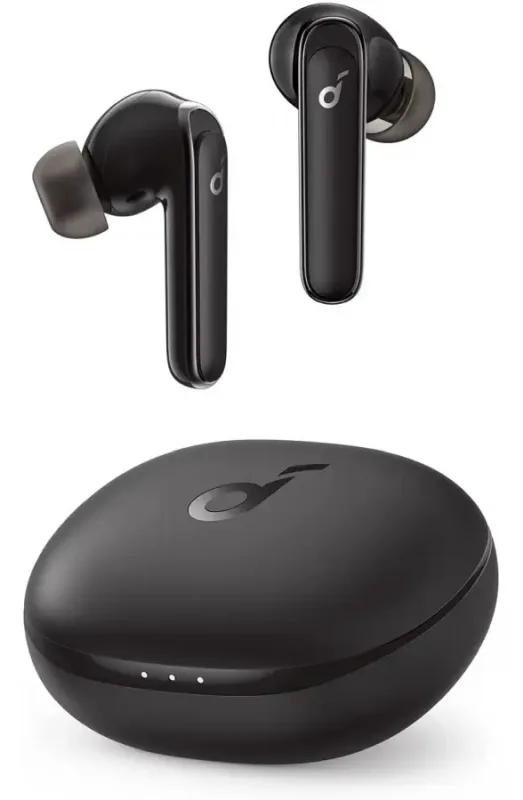 Best budget earbuds for Spotify
If you're on a budget, but still want top quality music playback, then the Soudcore wireless earbuds by Anker might be your best choice. They offer some AAA features at just a fraction of the price of your regular high end headphones.
They come with various music profiles (like Hip Hop, Rock etc) that you can activate with one tap in order to boost the sound quality when you listen that particular genre.
I am not extremely satisfied with the quality of the bass – lows in general – but you can't expect a lot more for this price range. Overall, the sound quality is still pretty good, with the earbuds really scoring high in the mid and high ranges.
But if you prefer those big bass songs, you will be a bit disappointed. But again, I have to repeat that for the price you pay, you still get a lot more than you would from other similarly priced earbuds.
Still, turn on the Bass Up feature on the Soundcore Signature setting in the mobile app and you're good to go.
They come with an active noise cancellation feature that generally works well. It does sacrifice a bit of the overall sound quality, so I usually try to keep it deactivated, but sometimes you just need it.
There are three ANC modes (Transport, Indoor & Outdoor) and out of them all, the Transport one is the most useful is that's where I usually want complete silence. Using them without the ANC mode otherwise will still result in a solid sound quality in my opinion – better than with it turned on.
I'm only talking here about Spotify music quality. If you use them for audiobooks, for example or anything else, the noise cancelling will definitely come in handy.
The design and build of the earbuds is very solid. They fit well in one's ear out of the box, without the need of changing the silicone ear tips. I always have problems with earbuds fitting well and I can't say that these stick like glue, but they're much better than most I have tried.
One surprising feature of these Anker earbuds is the battery life. It's absolutely incredible, lasting around 8 hours straight. Make sure to put them back in the case when not using though, so that they recharge and you won't have to worry about running out of battery for a long while!
All in all, these are really good budget earbuds for listening music on Spotify. These are not $500 headphones, so you can't have that price-point expectations. But they do surprisingly well with all types of music, are comfortable and offer great battery life, so you really have no reasons to complain here.
Click here to check price on Amazon
Sony WH-1000XM4
Best Noise Cancelling Headphones for Spotify
These are by far my favorite wireless headphones for listening to music on Spotify (or anywhere else, actually).
These large, overhead and over-the-ear headphones are wireless and come with amazing noise cancellation features.
They are large – but not huge – and comfortable, without causing discomfort even if wearing them for a few hours straight. I don't wear glasses, so I haven't tested them on that, but heard no complaints from people who wear them.
Comfort is not the only thing you'll get from these headphones! The sound quality is absolutely amazing too. The moment you put them on and play your music, you just want to close your eyes, take a deep breath and just enjoy the moment. It sounds flawless!
It's true that you do need to play a bit with the settings and tune things up and down a bit, as well as deactivate some features like the useless Action Detection one, but once everything is properly set-up, you will have no reasons to complain.
Yes, the UI and controls are very unintuitive and it's like they were built to challenge you before you enjoy the actual greatness of this pair, but once you get past this, it's pure heaven.
I am one who prefers high bass music and I know how difficult it is to find headphones that deliver in this category. As you might have guessed, these Sony-made wireless headphones don't fail in this category. And this matters a lot to me.
The battery life is also excellent here – you get a whooping 30 hours of playback on a single charge! You can really go on a weekend break and not have to worry about recharging these.
Another nice feature is that you can pair them to two devices, not just one. For example, you can connect them with your bluetooth TV or laptop and your mobile phone. A nice feature for sure that saves you a lot of time.
Overall, when it comes to the quality of music, I don't really have any complaints. The price is also fair all things considered, and I am sure you will also love these headphones. Do check them out!
Click here to check price on Amazon
Bose QuietComfort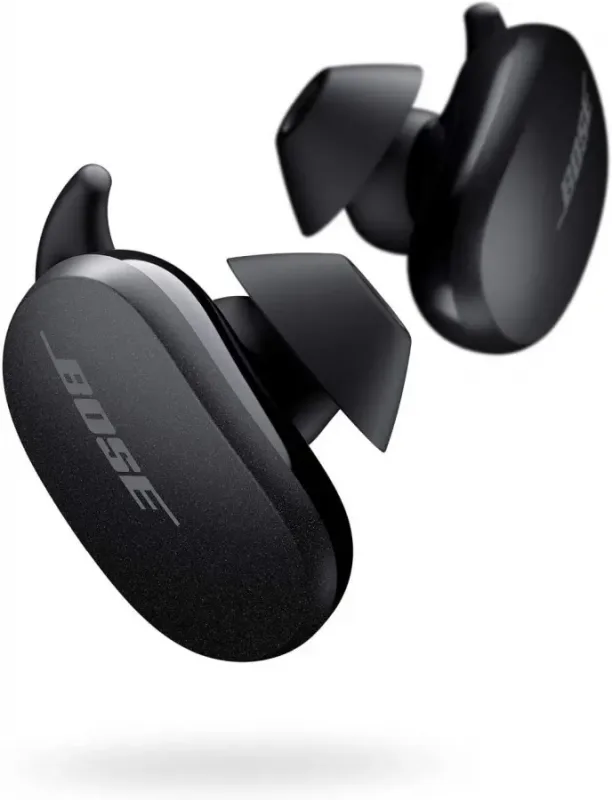 Best overall earbuds for Spotify
I will start by saying that when I saw them, I was 100% sure that they will be a horrible fit for my ears and I'll have to constantly adjust them. But they do fit surprisingly well, although I do believe that my ears are not built for earbuds.
You have high expectations when you see the brand (as well as the price), and you do get what you're paying for. In other words, the quality of music these tiny little earbuds can offer is surprising and outstanding.
The sound remains clear and well balanced even if you increase the volume. And the active noise cancellation feature is absolutely amazing as well. I was surprised, actually, to see such a solid performance from earbuds. They can easily compete in this category with large over-the-ear headphones and still come up on top.
Really, the ANC is what truly sets them apart and makes the entire listening to music experience anywhere so much more pleasant.
One thing I have to complain about here is the battery life. With earbuds so large, you would believe that the battery will be much better than it is. However, they only last around 6 hours which is still decent… but not a lot.
Overall, if you prefer earbuds over the traditional headphones, I don't think you can do any better than this. The sound quality is amazing, the buds themselves are really comfortable and fit well despite their large size and you get amazing ANC straight out of the box.
Click here to check price on Amazon
SENNHEISER HD 660S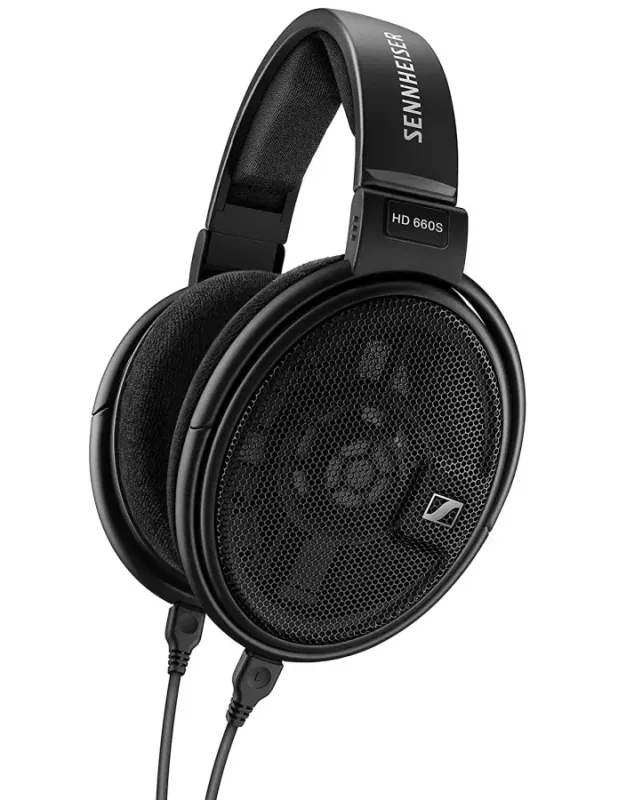 Best wired headphones for Spotify
If you have a bit more moolah to spend, these wired headphones are definitely worth investing in. They're as premium as it gets and they offer excellent sound quality, despite the fact that they're not actually noise canceling headphones.
Light and comfortable, the headphones are built for being worn for hours. They allow the air to circulate well so overheating and sweating won't be a problem, while comfort will be the same even after a few hours.
And while I could still complain – at least a little bit – regarding the bass quality delivered by any of the other products recommended on this list, I have absolutely nothing to complain about when it comes to the Sennheiser HD 660S. It's absolutely perfect!
And they do deliver this impressive sound quality without sacrificing anything – the mid and highs are also perfect. Truly flawless when it comes to sound quality, there's just no other way to put it.
What might come in as a con for many is the fact that these are wired headphones. With more and more phones ditching the 3.5mm jack, these might not be instantly compatible with your phone. You can solve the problem with an adapter, but it's something that is worth mentioning.
Plus, wires are not cool especially if you're not at home. I personally prefer wired headphones because they have no latency and the sound quality is generally better, but I do understand that wireless is more convenient.
But we're talking about amazing sound quality here, so you should at least consider these as an option. When it comes to listening to music, these are premium headphones delivering premium quality.
Click here to check price on Amazon
AKG N700NC M2
Good Budget Headphones for Spotify
If you don't have a ton of money to invest in your headphones, but you still want some large and nice over the ear ones, this AKG pair will keep you very happy.
They're not the lightest wireless headphones you will ever wear, but they are still generally comfortable and easy to wear for hours. Not the best, I repeat, but not bad either.
The sound quality is what matters the most, because we're looking at these headphones for playing music through Spotifiy, and this is up there with the higher priced products. Sure, the bass is not as deep as you'd like it to be ideally, but you're also paying less and there's that much these smaller cups can offer compared to a subwoofer.
I do have to admit that the sound quality is really good, bass included though. You just have to adjust your expectations to the technology you're using. And AKG does a really good job here.
They also have a surprisingly well active noise cancellation feature. Not as customizable as with other models, but does a really good job out of the box without losing a lot in terms of music playback quality.
The battery life is decent, although these headphones do need some 3 hours for a full charge. Depending on how you use them, you should get at least 10 hours of playback time, although the official numbers are 23 to 32 hours. Very good numbers for the money you spend.
Overall, this is a solid pair to choose if you don't have a lot of money to invest in your headphones for Spotify. They deliver great sound quality with decent bass, good ANC and are comfortable and nice.
Click here to check price on Amazon
Are good headphones worth it for Spotify?
A good pair of headphones can do wonders to your overall music-listening experience via Spotify. Cheap headphones won't deliver high quality sound, but more expensive/ good ones will. If you really want to enjoy your music, you'll get better results from a good pair of headphones.
You don't need to be an expert or audiophile to tell the difference between a cheap pair and a good, more expensive one. It's obvious and so much better!
Of course, you should still make sure that the quality of the music you're listening to is the highest possible. Good headphones can't improve the quality of the sound – they just playback the quality you're feeding them.
For Spotify, make sure that you always select the highest available music quality to make sure that your listening experience is as good as it gets and as good as your headphones allow it to be.
To do so, go to the settings tab of your Spotify app on mobile. Makes sure that the first "Audio Quality" option under "Data saver" is off. If it is on, you will only get 24 kbit/s music, which is very low base quality and won't sound great even on better headphones.
Next, scroll down to the Audio Quality section and make sure you have both the WiFi Streaming and Cellular streaming set to "Very High":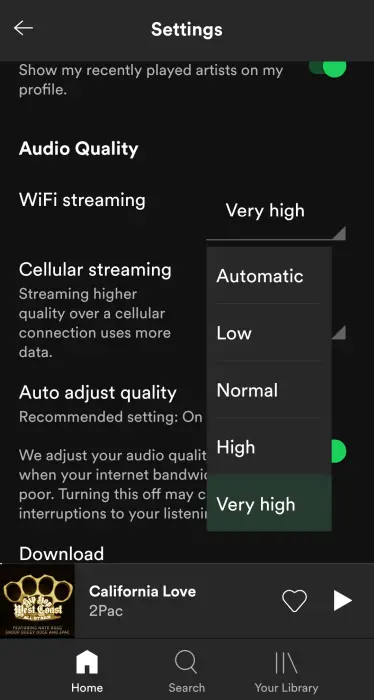 Also, make sure that the download quality is set to the highest level in order to have the best quality available at all times.
Have in mind that setting the quality to "very high" on cellular data will consume a lot more of your data. So if you have a limited data plan, you might want to download your playlist instead to reduce data consumption or set it to lower values.
Earbuds vs over-ear headphones for Spotify: what to choose?
Over the ear headphones will usually be able to deliver better sound quality than earbuds when listening to music. They usually come with better noise cancellation features, are more comfortable to wear and have longer battery life. So over-ear headphones are the better choice based on these facts.
This is also a matter of personal preference, though. Many prefer earbuds because they are smaller and easier to carry around.
I personally find it very difficult to actually make most earbuds stay in my ear too so I end up having to adjust them constantly, especially when exercising or even moving around more. If you don't have such problems, you'll already have an extra reason to choose earbuds.
But simply because the over hear headphones offer better sound quality, I think that they are the best option if your main goal is listening to music on Spotify or from other sources.
Conclusion
A good pair of headphones for Spotify requires you to spend a bit more than you'd probably like, but if you choose one of my recommendations above, you will surely be satisfied.
All the products above are really good – maybe the best for their price range – so make your choice based on your personal preferences and budget.
Do choose an over-ear model if you don't want to worry about the earbuds not being a perfect fit (and for a slightly better sound experience) – the Sony WH-1000XM4 is really good and grabs my "Best of" award without a doubt.
But the truth is that no matter which one you pick from the list above, you will be impressed with the quality and performance and your music-listening experience will be taken to the next level.