We live in an era where back pain seems to become more and more common so we have to do everything we can to prevent it or improve the problems. If you use to carry your laptop around, investing in a well designed laptop for back pain.
The laptop backpacks that we're recommending below can be fitted perfectly on your back, reducing extra pressure on your back and helping you ease the pain.
You still have to wear them comfortably and use them as instructed (so no wearing on just one shoulder) but you will see that they are generally better than your regular backpack.
If we were to pick just one from our list, that would be this one:
SWISSGEAR 1900 (affiliate link)
But we're here to offer you more options to choose from. All these laptop backpacks are ergonomically built, they are a great fit on your back and can help with back pain. Let's check them all out it the table below.
Best Laptop Backpacks for Back Pain
Please note: Our blog gets commissions for purchases made through links in this article.
Backpack
Main Features
Tigernu Laptop Backpack


Best Budget



Anti-scratched Oxford cloth,
Anti-theft pockets.
Laptop size: up to 17″
Check Price
Lekesky Laptop Backpack

Feminine design,
waterproof and tear resistant.
Laptop size: up to 15.6″
Check Price
SWISSGEAR 1900


Editor's Choice



Durable, weather-resistant,
lots of compartments.
Laptop size: up to 17″
Check Price

Osprey Farpoint 55



Large capacity,
waterproof, highly durable.
Laptop size: up to 15.6″
Check Price

Incase ICON



840D Ballistic Nylon material,
3 main compartments,
airflow enabled back panel.
Laptop size: up to 16″
Check Price
Now let's get a bit more in depth and learn everything about our recommended laptops for back pain.
Tigernu Laptop Backpack – Best Budget
Our budget entry is actually a really solid laptop backpack, with an average rating of 4.6 stars (out of five) on Amazon, at the moment of writing. This is a really good score!
Built from waterproof and tear-proof Oxford fabric, this backpack is durable and also easy to clean.
What matters the most to us is the fact that it's built to ease back pain. It has ergonomic-designed padded shoulder straps and back with sponge insertions so they are as comfortable as possible.
This is a large backpack, both tall and thick, offering a lot of storage room. Its manufacturers claim that it won't hold laptops larger than 17″ but we tested it with an ASUS ROG gaming laptop (17.3″) and it was a perfect fit.
All in all, for such a cheap backpack, it is really good. Have in mind that it is pretty large, so if you want something smaller, this one is not it. Instead, this is a large, high capacity laptop backpack that gives you the chance to carry lots of items around.
Lekesky Laptop Backpack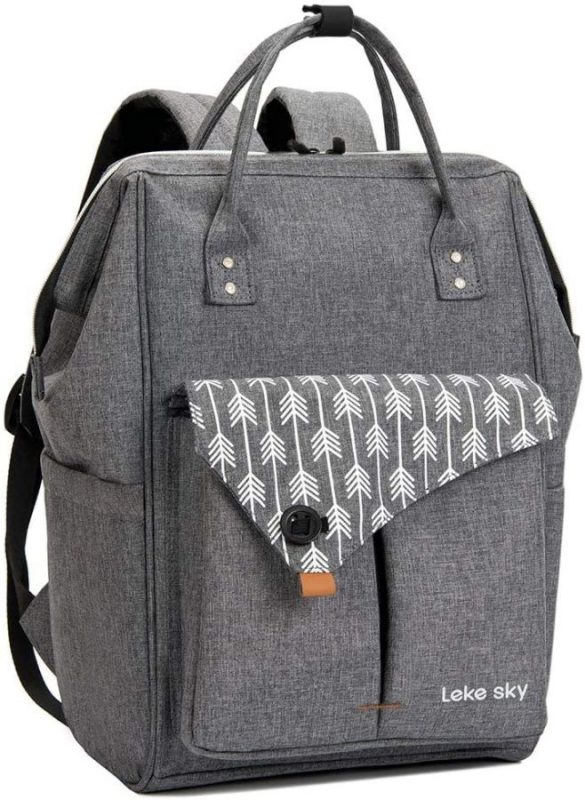 With a feminine design, the Leke Sky laptop backpack is perfect for ladies.
It has a single, huge mouth opening, but it has various pockets inside, ready for some extra organization of the things you carry around – including your laptop or tablet. It also has a large front pocket for extra, smaller items.
Have in mind that this backpack will only fit a 15.6″ laptop (or smaller).
It has a nice design, it is built from a high quality, waterproof material and its smaller size make it a perfect choice for those suffering from back pain – also thanks to the padded back straps that make it more comfortable, even when heavier.
A nice feature is the small anti-theft pocket for your valuables, without sacrificing anything in the design department.
All in all, a perfect choice for all women and those looking for a more feminine laptop backpack.
SWISSGEAR 1900 – Editor's Choice
Our top choice is the SWISSGEAR 1900 – not necessarily because it's better than all the others, but because it offers an amazing set of features, high quality and the price is just right. Plus, SwissGear is a well known and reputable manufacturer.
Made from an extremely durable, 1200D ballistic polyester, this backpack can easily handle extreme weather: it is waterproof, tear-proof and very durable.
It is designed to offer easy access to its various compartments and can fit a laptop up to 17″ in the back pocket.
Designed to offer a lot of room despite its smaller size, this backpack is flawlessly optimized. It has a smartphpone pocket (with headphone port), a padded laptop compartment (and additional tablet slot) and is built, in our opinion without a flaw.
This also includes extremely comfortable shoulder straps, a rugged grab handle and, also very important, a heavily padded back panel using airflow technology which increases air circulation and reduces sweating.
All in all, this laptop backpack is sold at a perfect price and offers all the features you need for daily use. It looks good, it is very durable and has a space dedicated to all your items. A top choice for sure!
Osprey Farpoint 55
This is a more travel-oriented backpack with some amazing features. We initially wanted to offer it the Editor's Choice award, but decided against only because it offers too many features that we don't really need on a daily basis.
But for travel – including airplane travel, but also hiking and all sorts of travel, it is an amazing choice! It's so good that calling it just a "laptop backpack" seems like injustice. It's much more than that!
It is actually a 2-in-1, with a detachable daypack which has the laptop and tablet sleeve as well as the scratch-free stash pocket.
Again, this is advertised as being suitable for laptops up to 15.6″ but you can still fit most 17.3″ laptops inside it.
With a 55l capacity, this one is a really big backpack that is also extremely durable, waterproof and with an amazing design. We've seen people who traveled to very humid countries – like Thailand – and had absolutely no problems with this backpack.
As we said though, for regular daily use it is a bit too much. You can use the daypack only, but in that case it wouldn't really make sense to spend money for the entire product.
But if you do travel often, this 2-in-1 system becomes the ideal choice for you.
Incase ICON
Last but not least, we have this smaller – yet capacious – laptop backpack with a perfect design and comfortable straps to ease back pain.
It is divided into three roomy areas – one of which can hold your laptop (up to 16″ – so you can easily fit your MacBook Pro inside). It has all sorts of pockets and areas for various items, so you will always be organized and able to avoid getting everything inside the backpack turn into a mushy mess.
The backpack itself is built from heavy-duty, durable 840D ballistic nylon that is tear-resistant and waterproof. The biggest con is that its side pockets are built in such a way that it's nearly impossible to carry a water bottle.
While this is not necessarily a deal breaker, it's something worth considering. But all in all, this is a comfortable, minimalist laptop that offers a lot of storage space despite your first impression which might have you thinking it's the other way around.
Conclusion
Investing in a good backpack is equal to investing in your own health. Especially if you already have back pain and problems, you should pay close attention to the type of laptop backpack you purchase.
The recommendations above cover all price ranges and offer everything you need from a solid, ergonomically built, laptop backpack. Remember that you still have to wear them correctly (and make sure they're not too heavy) in order to enjoy all the benefits.