If you have small hands, you know how difficult it is to play your favorite game with a large laptop. It gets uncomfortable after as little as 30 minutes of play, but it's also imprecise and hinders your movement and therefore in-game performance.
Fortunately, there are some high quality gaming mice that are smaller and perfect for small hands. We've tested them thoroughly and we're here to share the results with you: the best gaming mouse for small hands in 2022.
Although on the smaller size, these gaming mice are extremely precise and of high quality. There's nothing a larger mouse can do that they don't, especially when it comes to sensors and button clicking capabilities.
We're listing our findings in the table below in case you're in a hurry – but if you want the full reviews, read on!
Please note: Our blog gets commissions for purchases made through links in this article.
Mouse Model
Main Features
Redragon M602

Best Budget gaming mouse for small hands
DPI: 7,200
7 programmable buttons
Nice backlight feature
Still a bit on the larger side
Check price here
HyperX Pulsefire Haste

DPI: 16,000
Extremely light
6 customizable buttons
Customizable backlight
Dustproof switches
Check price here
Razer Viper Ultimate

Best Wireless gaming mouse for small hands
DPI: 20,000
8 programmable buttons
RGB charging dock &
Ambidextrous Design
3-day battery
Check price here
Razer Basilisk V2

DPI: 20,000
11 programmable buttons
Customizable scroll wheel resistance
Minimal Backlight
Right handed use only
Check price here
Corsair Nightsword

Best Overall gaming mouse for small hands
DPI: 18,000
10 programmable buttons
Adjustable balance
Extremely precise
Right handed use only
Check price here
What is the best gaming mouse for small hands in 2022?
We already revealed that our top pick this year is the Corsair Nightsword, but let's see why we consider it the best gaming mouse for small hands – as well as check out the other products that made it on our list, each with its own Pros and Cons.
Redragon M602 – Best Budget
Our best budget entry is a solid mouse from Redragon, a brand known for manufacturing cheaper products (but which are of really high quality).
I am actually using this model when traveling – it's light, small and fits my hand perfectly, but it's also cheap so if I lose it or anything happens to it, I won't shed too many tears.
While comfortable for small hands, the Redragon M602 is definitely not the smallest mouse you will ever see. But it's small enough to work flawlessly in more petite hands, and that is all that matters.
It offers a decent performance thanks to its 7,200 DPI sensor that actually works really well. Sure, it's not anywhere near the DPI values of our other recommended products, but it also costs just a fraction of their price.
It comes with seven programmable buttons which are generally enough for most games and its scroll wheel is nice and comfortable, but offering a bit too much resistance when scrolling.
This makes it great for precision scrolling, but not so much for super fast scrolling. But it works just fine.
One area where the Redragon M602 will win prizes is the design. It looks really well, with a solid backlit feature and seven color modes to keep you entertained. Really no flaws here!
It's not eSports quality, but for this price you can't really expect for more. It is light, durable and works well so if you're on a really tight budget, this is your best choice!
Click here to check price on Amazon.
HyperX Pulsefire Haste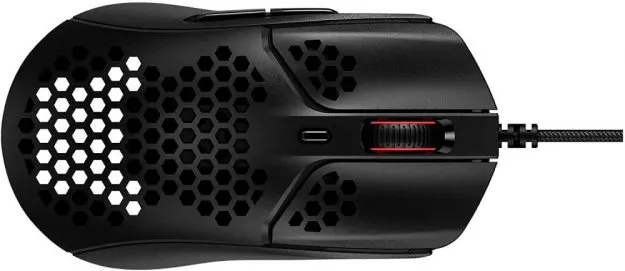 While this one doesn't have your regular gaming mouse design, it is actually a really solid option for those with smaller hands. As a bonus, it has an ambidextrous design, meaning that left-handed users can get the same experience from it.
It has an extremely light build (just 59 grams / 0.13 lbs) and it feels pretty strange at first, but you get used to it quickly. However, it doesn't really offer a lot of grip due to its design, but at least it is very stable.
Also, don't let the seemingly feeble design fool you: this is a durable mouse, with those holes basically created to keep the weight as low as possible. Fortunately, it comes with extra skates included, which is useful for the two main buttons which otherwise feel a bit strange.
With a maximum DPI of 16,000, this is an extremely solid mouse that will help you hit your target with maximum precision during your gaming sessions. It also comes with dustproof switches so again nothing – not even a microscopic grain of dust – will stand in the way of your aiming.
It's not very loud either, with both the buttons and the scrolling wheel being comfortable and pleasant to click – but it's also not the most silent mouse ever.
It comes with six programmable buttons which is enough for most games – except for maybe MMOs. I personally don't use the programmable buttons on my gaming mice too much, so I won't really complain about this. But if you use to – keep in mind that there's just 6 of them.
Finally, it's worth noting that only the scrolling wheel is backlit and it doesn't emit that much of a light to begin with. I consider it a missed opportunity to build a really impressive lighting system since it already has so many holes… but probably they decided against it to keep the weight low.
All in all, this is a really good gaming mouse perfect for those with smaller hands. It doesn't offer the same incredible grip of other gaming mice, but it works well at the end of the day.
Click here to check price on Amazon.
Razer Viper Ultimate – Best Wireless Mouse for Small Hands
Even though the technology is advancing quickly, I still prefer wired gaming mice to wireless ones since they are faster and more precise, with minimal latency.
But if you want an extremely solid wireless gaming mouse that is also well suited for those with small hands, the Razer Viper Ultimate is a good choice.
And I have to admit that it's pretty fast, with minimal latency and it is even used by eSports professionals, so it's definitely a good choice even though it's wireless.
It does come with impressive specifications, especially the 20,000 DPI optical sensor it has equipped. This makes it extremely precise and is probably one of the reasons why it doesn't feel as clunky and laggy as other wireless mice.
It has an ambidextrous design and provides a good grip for either hand. It also comes with 8 programmable buttons and is extremely durable, as well as light.
It has minimal backlighting, with just the logo being backlit and doubling up as a battery indicator (green is OK, orange is depleting and red requires charging). However, during your gaming sessions, your hand will cover the logo so you won't really see the light.
However, things change when you charge your mouse (every 70 hours or so), as it comes with a really cool looking backlit charging dock. That really makes your gaming setup shine – even if we're talking about a laptop only.
All in all, the Razer Viper Ultimate is a really solid gaming mouse, selling for a pretty high price though and coming with some minimal limitations mostly from the fact that it's a wireless mouse and not a wired one.
But at this level of precision, most gamers shouldn't really feel a difference anyway, so you will be extremely satisfied with it. Bonus points if you already are set on buying a wireless model!
Click here to check price on Amazon.
Razer Basilisk V2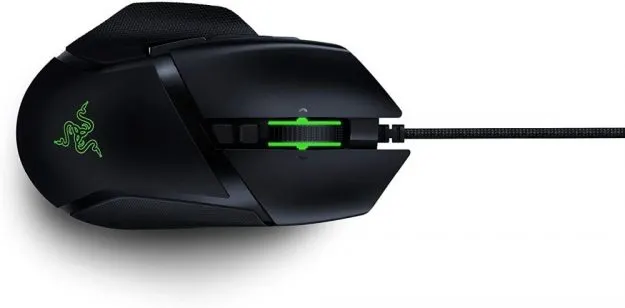 Razer's got you covered if you prefer a wired mouse instead and the Basilisk V2 is an amazing choice – also selling for about half the price of the Viper Ultimate.
And it's still a really good mouse, with a DPI of 20,000 (just like the Viper), but with more customizable buttons: 11 (but three of them are on the scroll wheel and pretty uncomfortable to use, in all honesty).
The main disadvantage of the model is that it doesn't have an ambidextrous design, so it is only suitable for right-handed users.
An interesting feature is the customizable scroll wheel resistance. This way, you can control how easy or difficult it is to turn the scroll wheel, which helps a lot for maximum control over your mouse.
It offers a bit more in terms of backlight also, as the scroll wheel is also backlit. When gaming, these touches matter a lot and it's a good bonus to have them, even though they don't really have any impact on the product's performance.
It is worth noting that, although it's suitable and comfortable for gamers with small hands, it's not a very small mouse. So if your hands are really tiny, a different model on our list would be a better fit.
All in all though, we have a really solid, durable and high quality gaming mouse here, with amazing precision and increased comfort.
Click here to check price on Amazon.
Corsair Nightsword – Editor's Choice
Last but not least comes our top choice of the day, the Corsair Nightsword, an extremely solid and comfortable gaming mouse that's perfect for people with small hands.
Its biggest con is the fact that it is only built for right-handed users… but apart from that, we have absolutely nothing to complain about.
Even though it has a slightly lower maximum DPI compared to the previous two models – at "just" 18,000 – it is still extremely precise so you'll have no complaints in this area.
It comes with 10 customizable buttons, which is definitely enough for most games out there, including more hardcore MMOs, so you're covered in this area as well.
A very interesting feature is its adjustable weight which allows you to fully customize your mouse based on the real center of gravity in order to get maximum performance and excellent grip.
It actually offers 120 different weight and balance configurations, ensuring that you will be able to fully personalize it based on your own hand size and way of holding the mouse. Really good stuff, especially for those who are more serious with their gaming sessions and for whom even a fraction of a second counts.
With a good design, nice backlighting and being extremely comfortable, it is our top recommendation this year.
Click here to check price on Amazon.
Conclusion
Now that you know our recommended mice for small hands, make sure to also check out our article about the best gaming keyboards for small hands.
Pairing up these two will help you perform at 100%, giving you the chance to enjoy the games you're playing and also play them as well as you can with no peripherals standing in your way.