Get ready to embrace the dark side and feel the Force! The Darth Vader portable battery charger is here and it not only looks absolutely amazing, but also keeps your smartphone or other devices charged with pure energy.
You probably know that I am a fan of portable battery chargers and nowadays you can't leave home for several hours without having one with you.
We've already talked about the cool wearable charger – the amazing Wristband Powerbank – but today we have the Lordest (yes, that's a word!) in the galaxy with this Darth Vader themed charger.
It doesn't breathe heavily, but it does charge your phone, tablet or any other 5V mobile devices on the go as well as MP3 players, cameras, GPS, handheld gaming systems, etc.
Basically, if it can be charged with an USB cable (which comes with the package), the Darth Vader Portable Battery Charger will be able to handle it.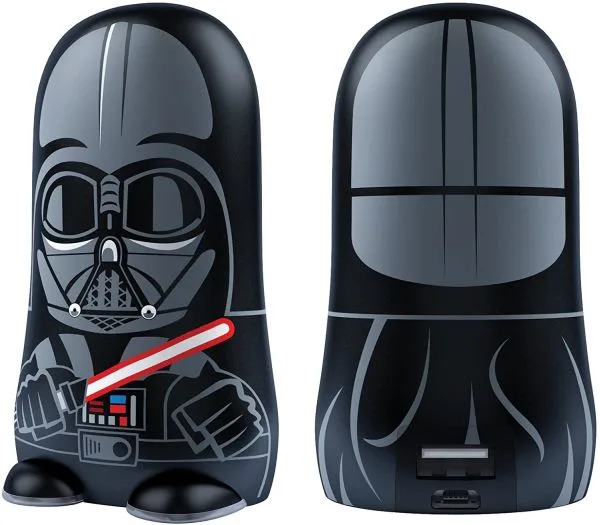 It has a solid capacity of 5200mAh. Yes, it's "solid" but not absolutely impressive, and you do have portable chargers that offer a lot more than that. But few (if any) are as cool!
Plus, it's not often that you get the chance to have a real Sith Lord charge your phone. Pure power, that gives! (Oops, wrong character!)
It works really well and it's decently prices. I also love the fact that it actually gives you solid battery power – most Star Wars themed portable chargers I've seen only hold about 2,200 mAH and this one has more than double the amount.
This means that it holds two extra recharges for an iPhone, for example and there will still be some extra juice left. The same goes for most modern phone models out there: you will be able to recharge them twice with the help of Darth Vader.
So yes, give it a try if you are looking for a portable battery charger. This Vader-themed one is available on Amazon (affiliate link) and I am sure you won't regret it. Just make sure you don't join the Dark Side afterwards!