If you want a secure but especially extremely fast portable data storage unit, then you definitely have to look into a portable SSD or Solid State Drive. Even though a lot more expensive than the regular HDDs, external Solid State Drives have many advantages, the main one being reading and writing speeds (meaning that you can get data transferred a lot faster), as well as the fact that they are lighter, smaller and seem to be more durable.
And in order to make things a lot easier for you, we've gone through a ton of external SSDs and we're here now to share with you the best external Solid State Drive (SSD) for the money in 2018.
In order to keep prices under control – but also offer decent amount of storage – we're listing below 1TB portable SSDs. However, most of these products have higher capacity options available, so you can simply choose those if you want to. Because, in the end, you get the same quality no matter what storage capacity you go for if you pick one of our recommended products below.
So let's not waste a second and let's check out below the best external SSDs for 2018! The products below are listed from the cheapest to the most expensive.
Please note: Our blog gets commissions for purchases made through links in this article.
VectoTech Rapid 1TB External SSD
Don't let the fact that this is the cheapest SSD on our list fool you! Despite its price, this external SSD is really good: fast, reliable and durable, it offers you safe keeping of your data for one of the lowest prices on the market at the moment of writing this article.
Although not as small and light as other portable SSDs, it's still pretty small at 3.2 x 4.5 x 0.5 inches and weights 5.6 ounces, meaning that it's still easy to carry it around. It also has really good writing / reading speeds that can go up to 450 MB/second. However, upon testing, we usually got writing speeds of between 350 – 400 MB/second and reading speed of 400 – 420 MB/second. Really good values!
Click here to learn more & get yours
Shadow Mini
Extremely small and fast, the Shadow Mini from Oyen Digital is charming and reliable. Using USB 3.0 technology, it can reach incredible speeds of up to 572 MB per second. You can expect it to average around 400 MB/second writing speed and around 420 MB per second reading – although getting to the advertised speeds wouldn't be unlikely either. All in all, it's really fast!
It's also very small: 2.3 x 4 x 0.4 inches. It's lightweight and the package also comes with a padded pouch for easy transportation, as well as the USB cable it requires. All in all, this is a high quality and extremely reliable SSD!
Click here to learn more & get yours
Samsung T3 Portable SSD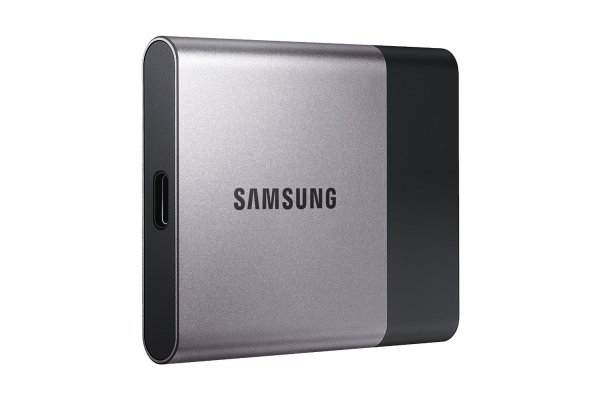 In my opinion, this is the best option on our list. This external SSD works flawlessly and has been tested over and over again by thousands of people, getting great reviews and feedback. On Amazon alone it has an amazing rating of 4.6 stars out of 5 based on over 650 reviews. That tells a lot about its quality!
Compact and very light, Samsung's external SSD is highly portable: its measurements are 2.28 x 2.91 x 0.41 inches and weights just 1.8 ounces (for the 1TB version). It is also extremely fast, reaching speeds of up to 450 MB/second. Multiple tests show this actually getting past the 400 MB/second margin on numerous occasions. So, as I said already, I'd consider this the best choice: it's been tested by many other people, so you shouldn't expect it to offer some unpleasant surprises.
Click here to learn more & get yours
Lacie 9000602 Rugged Thunderbolt
If you anticipate that your portable SSD will have to withstand intense pressure, like drops and items falling over it, then you should choose the Rugged external SSD from LaCie. Made to survive even the most extreme conditions: it has been tested and proved to survive drops from 1.5 meters high and it even remained functional after a 1 ton car drove over it. So if you're an adventurer, traveler or tend to drive cars over SSDs, this one is for you!
Its increased durability and shock resistance comes at a higher price compared to other models, even though the writing and reading speeds are lower (expect something around 250 MB/second). It's also heavier, but if you're looking for something more durable, then this is the best choice for you!
Click here to learn more & get yours
These would be our recommended external SSDs – all these are just amazing and you will love yours, no matter which one you pick. If you're interested in regular Solid State Drives for your computer or laptop, you should click here to see our recommendations as well!