When it comes to extremely fast, secure and durable but also portable storage, then you definitely must get a portable SSD. They are the fastest and best options around, even though they are a bit pricier than traditional external HDDs.
External SSDs have many advantages though, the main one being their incredible speed both when writing and reading from the disk.
This means that anything that needs to be read from the disk itself (or written on the disk) will be done much faster – up to 10x faster than with traditional HDDs.
External SSDs are lighter, smaller and more durable when compared to regular external HDDs which tend to have a shorter shelf life. SSDs handle drops and shakes much better than HDDs because they don't have any moving components.
If you want to invest in an amazing SSD this year, we've got you covered! We've gone through a ton of external SSDs and picked up the best of the best. And we're now here to share with you our list of the best external SSD for the money in 2022.
In other words, we're keeping budget in mind as well – so don't expect a list filled with products that cost thousands of dollars. No, you can find budget-friendly external SSDs that are really, really good. You will see them all on our list.
The main difference when comparing them with the more expensive ones is the amount of storage they offer. But worry not, we still found SSDs that offer a lot of storage – our minimum being 1TB.
Even more, if you want more storage than what our recommended products below have, you can get that as well since most of them have higher capacity options available.
So without further ado, let's check out below the best external SSDs in 2022! The products below are listed from the cheapest to the most expensive at the moment of writing this article.
Please note: Our blog gets commissions for purchases made through links in this article.
If you don't want to read our in-depth reviews of each of the recommended SSDs, you can just look at the table below to choose your favorite:
Now let's get into the details and find out why each of these Portable SSDs has made it onto our list!
SanDisk Extreme Portable External SSD
Best Budget Choice
At the moment of writing this article, this is the cheapest external SSD on the list. But this doesn't make it a poor choice, on the contrary!
This is the best selling external SSD on Amazon at the moment. With a rating of 4.7 Stars out of 5, from over 11,600 reviews, it's clear that everybody loves it.
The best part is that you are getting the new generation SSD which makes the actual Amazon reviews you will see (or most of them at least) outdated.
The speed of this drive is now simply amazing, upgraded from around 400 MB/second to up to 1,000 MB/sec both when reading from and writing on the disk. That is insanely fast!
It is also extremely safe. It is really small and has a ruggedized design, making it dust and water resistant. It is also able to withstand shocks, including drops from up to 2 meters high (6.5 feet).
It also offers password protection to make sure that your stored data is always safe.
Our recommended model offers a decent amount of storage: 1TB at a really low price. But if you want more, you can always get the upgraded, 2TB version which is just a bit more expensive.
It is small and light and has a really pleasant design. It comes equipped with an USB Type-C cable, but also an USB Type-A adaptor that works with older computers and ports.
However, have in mind that the transfer speeds will be lower if you're not using the USB Type-C – so make sure that the device you're planning to use it with also has such a slot.
This external SSD works on PCs and Mac computers, but also with modern consoles like the Xbox and PlayStation for extra storage. It is also a perfect option for those who travel constantly.
With all these in mind, we can safely say that the SanDisk Extreme Portable External SSD is a perfect choice it the 1TB capacity range, grabbing the best budget award from us.
Click here to check it out on Amazon.
Seagate Barracuda Fast SSD
Very similar to the previous recommendation, the Barracuda Fast SSD from Seagate is charming and reliable. Using USB 3.0 technology, it can reach incredible speeds of up to 540 MB per second.
You can expect it to average around 450 MB/second writing and reading speeds based on our testing. You might get to the advertised speeds as well, but even if you don't, you still get an incredibly fast portable drive for the money.
It has a really nice design as well, with a green LED stripe making it really unique.
It is very thin and light, but needs to be handled with more care than the previous product, as it is not ruggedized. That's not a problem, though: SSDs are still generally more durable than regular HDDs.
The model we're recommending also offers 2TB of storage. It connects to your computer with an USB-C cable, but it also has an included USB Type-A adapter to ensure maximum compatibility.
(Again, remember: you need the USB-C port to get to the higher speeds as older USB ports can't handle the higher transfer speeds).
It also has Seagate's proprietary back-up and mirroring software in case you want to use automated backups and not do everything yourself. We prefer the latter for full control, but it's still a nice option to have around.
All in all, this is a high quality, durable external SSD with a really nice design that literally makes it shine. A really good price too if you're on a strict budget.
Click here to learn more & get yours.
WD My Passport External SSD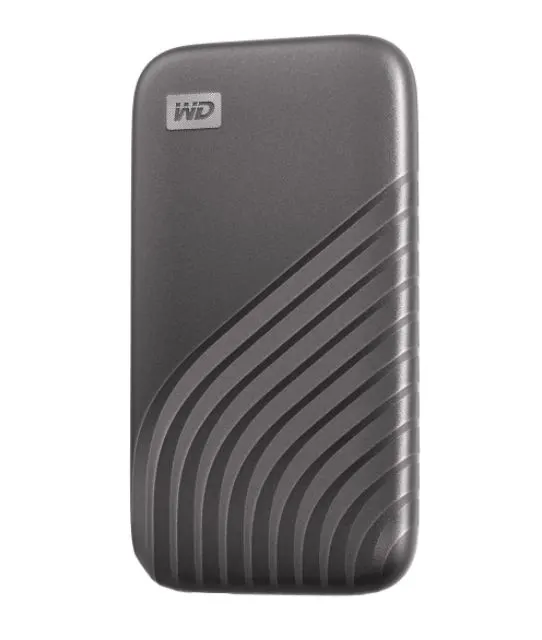 We're now moving up in terms of storage and checking out the first budget friendly external SSD that offers 2TB of storage.
You will love this little fellow (it really looks good in my opinion) even though it does tend to get a bit hot when in use for a long time. But at 3.94″ by 2.17″, it sure packs a lot under the hood.
Apart from the impressive 2TB of storage it offers, it also comes with incredible transfer speeds of up to 1050 Megabytes Per Second (reading and writing).
We actually managed to get to these top speeds, but we could say that on average, you should expect from it something around 850 MB/s write and 910 MB/s read speed. Totally awesome!
The WD My Passport is also shock and vibration resistant, being able to handle drops from up to 6.5 feet (2 meters). It also offers additional safety to your files with its password enabled 256-bit AES hardware encryption.
It uses an USB Type-C cable, but also comes with a Type-A adapter in case you don't have a type-C port on the device you're planning to use it with.
All in all, this is a really good external SSD that offers a ton of storage, new gen transfer rates and a durable product, all packed in a really nice design.
Click here to check its price on Amazon.
Samsung T7 Touch SSD – Editor's Choice
This is our top choice! An external SSD that works flawlessly and comes to replace the equally awesome Samsung T5 (which was our top pick in the past).
It's perfect when it comes to transfer speed, price/quality ratio, storage, security… everything you want basically. Plus, a really nice minimalist design.
Just have in mind that on Amazon alone it has an average rating of 4.6 stars out of 5 based on over 1,700 reviews. N ow that's a lot of happy customers!
Compact and very light, Samsung's external SSD is highly portable, even though it has a solid capacity of 2TB and incredible speeds: up to 1050MB/s when reading and writing.
We had great deals of success with it, recording writing speeds of around 900 Mb/second when writing and 1,000 MB/second when reading during various tests.
It comes equipped with a Type C to Type C cable, as well as a type C to Type A adapter, making it backwards compatible with older devices (but which would also lower transfer rates considerably).
It is shock resistant and can withstand drops from up to 6 feet. It comes with a nice LED status indicator, but also increased security for your files. It not only offers password protection, but also fingerprint security.
As I said already, I'd consider this the best option for you this year, even though it is the most expensive on our list. It is still fairly priced and really, really good.
Click here to learn more & check price
Conclusion
These would be our recommended external SSDs, all of them being budget friendly but also products that offer incredible speed, high durability and nice designs. You will be satisfied with your choice, no matter which one you choose.
In case you still haven't decided, remember that the best option in our opinion is the Samsung T7 with 2TB of Storage.
If you are on a lower budget, then you should choose the SanDisk Extreme with 1TB of Storage.
Next, if you're interested in internal Solid State Drives for your computer or laptop, you should click here to see our top recommendations as well!