Writers need a great keyboard – your laptop's default one or a generic keyboard just won't do. If you spend a lot of time writing in front of your computer (or laptop), then you definitely need to invest in a solid keyboard.
And we're here to share that with you: the best keyboard for writers in 2022. We are going to help you choose the perfect one for you, one that will make writing a pleasure.
These keyboards offer complete ergonomics, amazing precision and response times and are silent, so that nothing interferes with your thoughts.
You can easily use them on a desktop computer or your laptop.
We'll have multiple options too: if you want to hear the keys that you press or if you need a backlit keyboard, we'll have that for you as well. Anything you need will be covered below and we're sure that you will find your perfect keyboard below.
We're going to have some extra details on each keyboard in our complete reviews, but if you are in a hurry and just want to pick your favorite quickly, the table below is what you need.
Please note: Our blog gets commissions for purchases made through links in this article.
Model
Details
Store Link
Periboard 512
Split key design, ergonomic, large (no backlight)
Buy on Amazon
Microsoft Sculpt
Split key design, ergonomic, cushioned palm rest, separate num-pad (no backlight)
Buy on Amazon
Razer BlackWidow Elite –

Editor's choice

Mechanical keyboard, backlit, plush palm rest, amazing precision, programable macros
Buy on Amazon
ROCCAT Vulcan PRO
Mechanical keyboard, extremely fast, backlit, detachable palm rest
Buy on Amazon
Cloud Nine Keyboard
Mechanical, Split design, ergonomic, backlit, extremely fast typing.
Buy on Amazon
If you want to know why all the keyboards above are so great, let's get in depth and find out more about the best keyboards for writers below (listed from the cheapest to the most expensive).
Periboard 512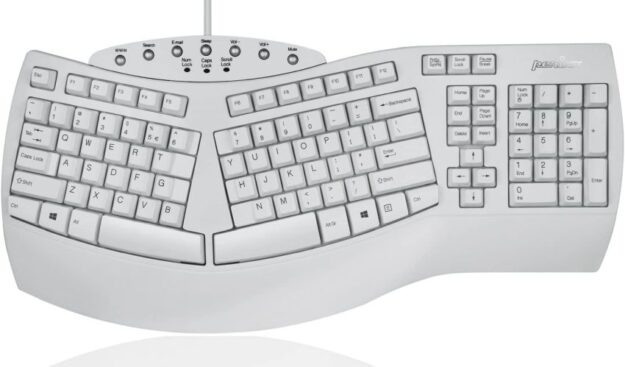 If you're on a really low budget, but you still want to get a solid keyboard for your writing, the Periboard is your best bet.
Even though it's really cheap, it offers a highly comfortable writing experience thanks to its ergonomic design and also comes in a fairly large size. (Have this in mind if you have limited space available!)
The thing with ergonomic keyboards is that they take some time adjusting to. They have a slightly different design than traditional keyboards, but they are created to better mimic the natural position of our hands.
As a result, when using an ergonomic keyboard – once you get used to it, that is – your hands and fingers will be in a natural position, reducing fatigue and pain. Also, your shoulders will be less tense as long as you have set up your desk at the proper height.
Back to the keyboard, it's worth nothing that it has all the features you can wish for from a keyboard – including the much needed num-pad (numeric pad) and all sort of shortcut buttons to simplify your writing experience.
I will admit it – it will probably never win any beauty contests, but it gets the job done and that's all that matters (plus, it's dirt cheap!)
I have actually selected the white model instead of the better looking black one because it is not a backlit keyboard. Therefore, the white color makes it easier to use when the light is low. But if you like it black, you can choose that color as well.
It's not a silent keyboard, but not too loud either. You hear the keys when you press them, but they travel up and down smoothly, so you don't have to force your fingers when pressing them or miss typing a letter because you haven't pressed hard enough.
It's a very solid budget option which is not perfect, but still a huge improvement over a traditional keyboard or your base laptop one.
Click here to check it out on Amazon
Microsoft Sculpt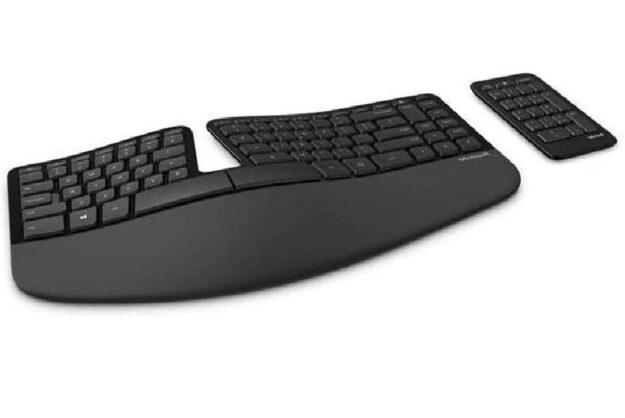 We're sticking to ergonomic keyboards for a while and recommend this high quality keyboard for writers created by Microsoft.
This one looks a bit better in our opinion and is smaller – but without being too small to become uncomfortable to write on. It also has a detachable numeric pad, which is a bonus since you can place it anywhere you wish (or remove it completely if you don't need it).
If you haven't used ergonomic keyboards before, it will take a bit to get used to since the design is different than that of traditional keyboards.
This particular model also features some very small function keys (F1 – F12) as it was created to be a compact keyboard. No real problems from that in our opinion, but it's something you should have in mind.
The ergonomic desing is not the only thing that will make your hands feel better when using this keyboard: it also has a cushioned palm rest which is nice and amazing – you never knew you needed one until you try it out!
The keyboard itself is pretty silent and highly portable, with keys that are pleasant to the touch and higher quality overall than the previous recommendation (but also more expensive).
Unfortunately, this is not a backlit keyboard, so you will have to use it in a better lit room if you can't type without looking. The white paint on the keyboard itself is pretty bright and visible, but not if the room is too dark!
But if you want to get an ergonomic keyboard and you don't want to spend a little fortunate on one, this is your best choice!
Click here to check it out on Amazon
Razer BlackWidow Elite – Editor's Choice
Don't be discouraged by the fact that this keyboard is labelled as a "gaming keyboard". People who play games also need very high quality keyboards, meaning that they are perfect for writers too.
And the BlackWidow Elite from Razer is definitely a top choice – our favorite keyboard, actually when we consider the price/quality ratio.
This is a mechanical keyboard with a traditional design (so not ergonomic). We personally prefer these because we're simply more accustomed to using them and the typing experience itself is much better than on non-mechanical keyboards.
And even though the design of the keyboard is not ergonomic, it still has an ergonomic palm rest made of a soft plush leatherette which is simply perfect!
The best part is that this keyboard comes in two variants: a silent one if you prefer your typing to be as quiet as possible or a regular one if you want to hear that "Click!" when you type. Just make sure to select the option you want when you place your order.
The keyboard is backlit and extremely durable, but also insanely fast. You can't really believe how much faster and more comfortable a mechanical keyboard is for gaming until you try one. One that's of high quality, like the Razer BlackWidow Elite.
And this particular one is faster than most – up to 20% faster than its competitors, according to its manufacturers. The perfect sauce for a prolific writer!
In terms of customization, you also have heaps of options here with tons of macros ready to simplify and optimize your work as much as possible.
A really high quality product that is extremely durable, fast and reliable. You will love it, guaranteed!
Click here to check its price on Amazon
ROCCAT Vulcan PRO
We're sticking to mechanical keyboards because they are best, actually. And the Roccat Vulcan offers a nice alternative to the recommendation we made above.
While this is definitely not made for Star Trek fans only, nor out of this world, it is a really high quality keyboard that writers will absolutely love. It is insanely fast, accurate and the keys just feel right when you press them.
This is an award-winning keyboard, actually with incredible speed. It has an amazing design too with a detachable palm rest. You will most likely need that on at all times – but if you don't like it or need to reduce the space used, you have that option.
This is a backlit keyboard, so you can easily use it in all lighting conditions. It's also extremely durable, made with aircraft-grade aluminum. Light, soft and extremely durable!
And, the good news for those who prefer silent keyboards – they are not loud at all. Mechanical keyboards are usually noisier due to the way they are built, but this one isn't too loud (while not completely silent either)
The biggest con of this amazing keyboard is its price. It's definitely not affordable – but if you get it, you know that you're spending for really high quality and a keyboard that will last for years and years.
Click here to get it on Amazon
Cloud Nine Keyboard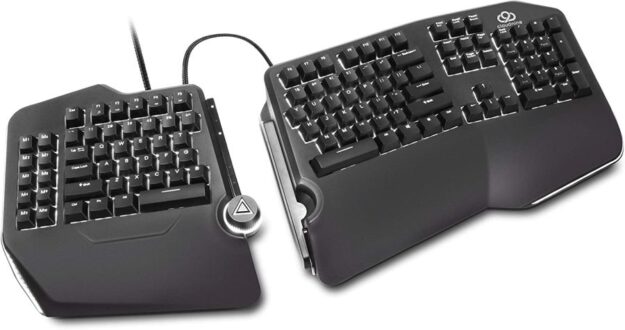 We're rounding things up with a nice keyboard that offers a nice mix of increased ergonomics and the top features of a mechanical keyboard.
It definitely has a truly innovative design, one that is promoted as extremely helpful for those who have problems like RSI Symptoms, Carpal Tunnel Syndrome, or Arthritis. This makes it a good choice for those who want to prevent their hands getting too tired, also!
The unique design can basically split your keyboard in two with a distance of up to 8 inches between the two sides, making it highly customizable for any body type and posture. And, as we already found out, extremely friendly for your hands and shoulders.
Being an ergonomic keyboard, it has that funky design that needs a bit of time to get used with. Looking at the benefits is enough to make us understand that it's time well spent.
This is also a mechanical keyboard, meaning that it is extremely fast and pleasant to type on. It's not very silent, but not that loud that you won't hear your thoughts when typing, so it's still a great choice for writers.
As a bonus, it also comes with a set of 10 Macro keys on the left side, so you can easily set up some shortcuts that are available to you with a press of a single button. These really come in handy!
All in all, this is a surprisingly good backlit keyboard that you will surely love. It's not the cheapest keyboard around, but it has all the features you need (and some you probably didn't even know you needed!) and we're confident that you will absolutely love it once you get used to its unique design.
Click here to check it out on Amazon
Conclusion
If you are a writer, you will definitely appreciate switching to a better keyboard. It will not only help you become more productive, but also keep your hands pain-free for hours.
You have various options above and, based on your needs, you can find the best keyboard for you easily.
I know that they might not be the pretties, but we'd definitely recommend going for a mechanical keyboard in case you still don't really know what to choose.
These are the highest quality keyboards on market at the moment and you will be very happy with them.