You can view someone's Instagram story anonymously with the swipe method
You can use third party apps that allow viewing stories anonymously.
Using the block/unblock method
Creating a ghost profile
Using airplane mode
There are moments in our lives when we just want to watch someone's Instagram story without them knowing.
It doesn't matter if it's an ex, a friend or a total stranger: Insta Stories have that special appeal, they make us want to watch them – but not always let the creator know that we did see it.
So, is it possible to watch an Instagram story anonymously? With a bit of tinkering, it sure is! And that's exactly what we're going to learn to do today! All these methods for watching someone's Instagram story without them knowing are tested and work.
How to view instagram stories anonymously
There are 4 main ways to view Instagram stories without the other side knowing, let's go over them now
1. The Swiping Method
The easiest way to watch an Instagram story without them knowing is by using the "swiping" method.
This consists in you starting to watch an Instagram story of a person you don't mind knowing that you do, then pause it by holding your finger on your phone's screen, and finally slowly swiping left or right to take a peek at the other stories.
Here is a screenshot of how it would look like in action:
Using this method won't register the previews as seeing the stories, meaning that the swipes to the left and right will be anonymous. But it does come with limitations:
For starters, you will only be able to anonymously see the stories to the left and right of the actual story you're currently seeing. So seeing the exact one you want to see will require a bit of planning.
Second, you will only get a "preview" of the stories to the left and right – if it's a video or multiple photos, they won't play. Still, it is a lot better than nothing, right?
If you disagree and this is still not enough for you, it's time to bring out the big guns with other options to see Instagram stories without them knowing.
We're going to use external websites that watch the Instagram stories for us, therefore keeping ourselves anonymous. Let's see how to do this instead!
2. View Instagram Stories Anonymously with third party apps
We will have to use an external application or website for this. There are various Android and iPhone apps that allow you to watch stories without the original authors knowing, but today we're going to use a very simple and straightforward website called iganony.
All you need, in order for it to work, is the username of the person you want to see the story of.
Simply write that username (without adding @ or anything like that) in the dedicated area on the website and you will see their latest photos and stories anonymously.
The only catch in this case is that the user needs to have their stories set to public – which is what most people don't do.
But if the user you're following has their stories publicly available, then using Stories Down or any other similar app for Android or iOS will work flawlessly and the good thing is that you don't even need an Instagram account to see them!
Important note – most of these type of sites and apps come and go fast, and they don't normally last long, so use them at your own discretion
3. The block/unblock method
This is a relatively risky method since Instagram changes their rules regularly and you can end up either forever blocking the person you want to anonymously see stories from or just being registered as a view anyway.
However, at the moment of writing this article, this is a method that works well and gives you complete privacy and control. It's probably the best to use at the moment since it's so easy and works like a charm.
But have in mind that there's a bit of a risk involved – that of your view being recorded – if it doesn't work well.
All you have to do is this: watch the story you're interested in as you would do with any story by tapping it on Instagram.
Then, immediately after watching, go to the profile of the person you just saw a story from and tap the menu button (the three dots in the upper right corner), then block them: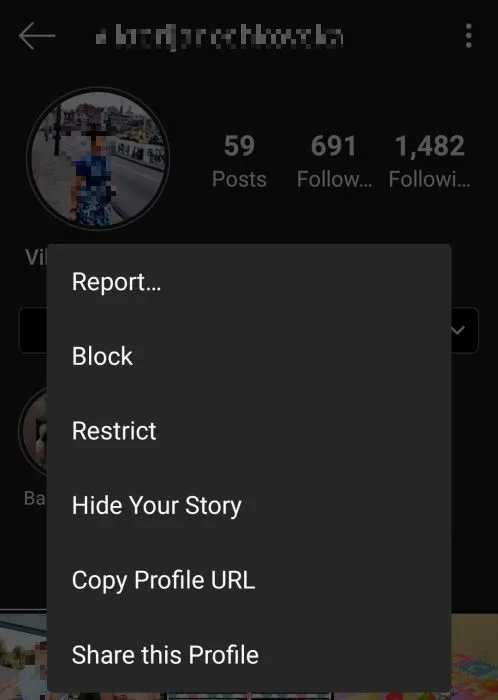 Once you block a person, they will no longer see you in their reports of people who have seen their Insta Story.
Next, let 24 hours pass and go to the user's profile to unblock them. They will not receive any sort of notifications that you did this and you can always do this over and over again without worries (as long as things won't change – which they might).
As a result, it's always a good idea to test this method before with a close friend: have them post a story, watch it and block them, then wait to see if your view is reported on their side.
Then make sure you wait 24 hours before unblocking the person. This is enough time for their story to expire and they will never know you watched it.
4. Creating a second profile
Or using a friend's profile or something like this. Use your imagination here, you will surely be able to figure something out!
Using this secondary profile, simply start following some people and add them as friends, including the user(s) you want to watch Insta-stories anonymously from.
Then simply enjoy your newfound freedom, watching those stories whenever they are published. This won't work in most cases, but people nowadays just accept friend requests from everyone so it's worth trying at least.
5. Using airplane mode
Instagram pre-loads posts and stories when you load up the app for better user experience, this gives you an option to view stories without anyone knowing for a brief moment.
What you need to do is load Instagram and let it load for a few seconds, maybe even scroll the stories widget left and right without clicking on any story yet.
After a few seconds, enable your airplane mode on your phone.
Now that you are offline, you will still be able to view a few stories that were pre-loaded without the view being registered in the app.
Conclusion
As you can see, watching somebody's Instagram story without them knowing is not the easiest thing to do and there are Pros and Cons with each of the methods described above.
But if you really want to do this and you simply can't watch the said story the regular way – with the user knowing that you did – it might be worth going through all this trouble. It's your decision to make for sure!
And if you want to learn more Instagram tips and tricks, why not check out our article on how to download your Instagram photos in high resolution?
If you find additional ways to do this, don't hesitate to let us know by commenting below.