While the days of burning DVDs and CDs may seem long gone, Blu-Ray discs still have their advantages in 2023. Many Windows 10-based Blue-Ray burning software are available, but we'll zero in on the best free options for our readers on a budget.
When it comes to burning Blu-Ray discs, you don't need an arsenal of tech know-how—just the right hardware, including an optical drive that can read and write on Blu-Ray discs.
Below are the top five best free Blu-Ray burning software for Windows 10:
True Burner
Active ISO Burner
ImgBurn
DVDFab Blu-Ray Copy
Express Burn
A note before installing:
Ensure that you apply Advanced Install settings for all the software listed above. Avoid using a Basic Install, as some programs may try to install unnecessary software and add-ons.
Quick Summary
The top five free Blu-Ray disc burning software are True Burner, Active ISO Burner, ImgBurn, DVDFab Blu-Ray Copy, and Express Burn.
These free software can burn DVDs and CDs. Some have advanced features that enable users to customize menus and chapters, or pull other types of media from original Blu-Ray discs.
Only DVDFab Blu-Ray Copy can surpass encryption.
Only ImgBurn can produce playable Blu-Ray discs from BDAV/BDMV folders.
1. True Burner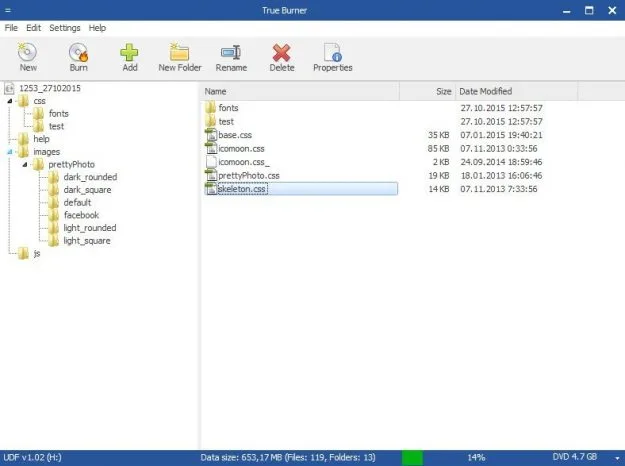 A lightweight but extremely powerful free Blu-Ray burner for Windows 10, Glorylogic's True Burner is the epitome of reliable burning software. It burns Blu-Ray data and multimedia on bootable discs and is highly intuitive.
Its user interface is familiar to most Windows 10 users, and you'll feel right at home exploring it.
While it doesn't boast additional bells and whistles, it's perfectly satisfactory and gets the job done. We highly recommend it – click here to download it for free.
2. Active ISO Burner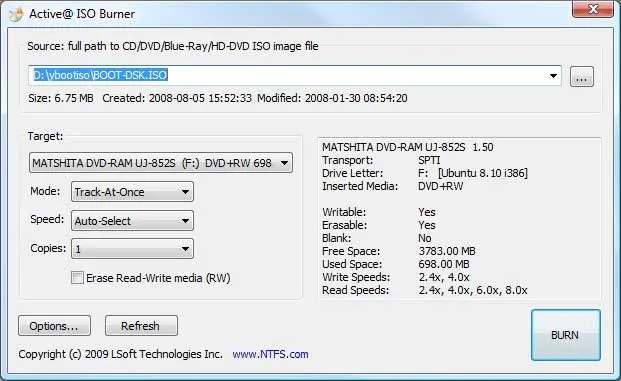 With Active ISO Burner, users can enjoy more advanced burning options, like creating multiple copies, transport and cache capabilities (with SPTI, ASPI, and SPTD support), and customizing burning speed.
Its interface is straightforward and free of complex features most users don't need. It's also highly reliable.
Active ISO Burner can be downloaded for free here.
3. ImgBurn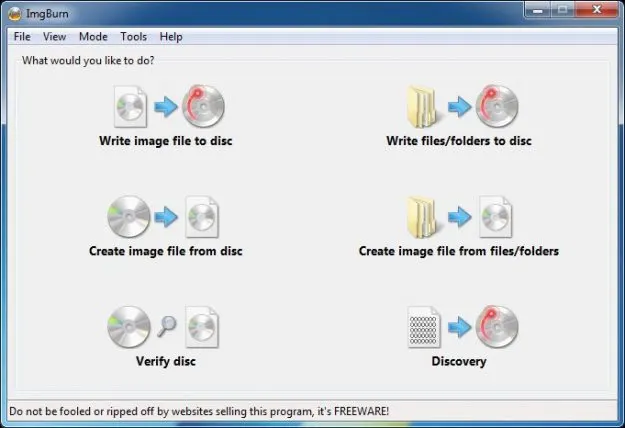 ImgBurn functions similarly to the two previously mentioned software, though it boasts the added capability of producing playable Blu-Ray discs from BDAV/BDMV folders.
This software is lightweight, fast, intuitive, and straight to the point. Give it a try here (free download).
4. DVDFab Blu-ray Copy
DVDFab Blu-Ray Copy is a feature-packed burning software with free and paid options. While its best features are hidden behind a paywall, you can go a long way with its free version.
One of DVDFab Blu-Ray Copy's best features is its built-in decrypter, which removes tricky protections on original Blu-Ray discs. It remains the only software that supports the new encrypted Blu-Ray disk.
DVDFab Blu-Ray Copy has five burning modes:
Full Disc
Main Movie
Customize
Merge
Clone Burn
You can give it a try here.
5. Express Burn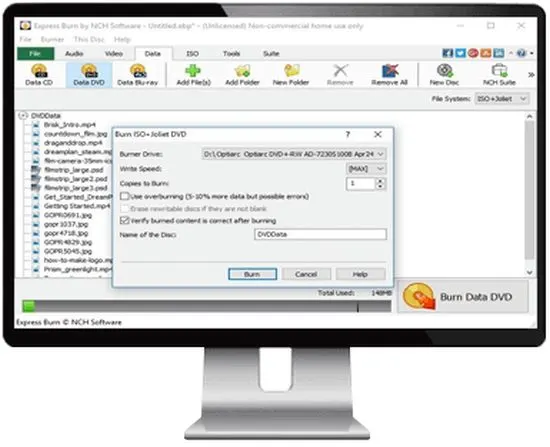 Express Burn is another simple and free Blu-Ray burning software. This program can burn DVDs and CDs in the following formats:
Among its more advanced features include chapter creation and management. While not as versatile as DVDFab Blu-Ray Copy, Express Burn provides other impressive features, such as audio CD recording, DVD authoring, and Blu-Ray writing.
Quick, fast, and easy to use, you can download it for free here.
Conclusion
When it comes to Blu-Ray disc burning programs, most of them do the job just fine. If you don't need to tweak your CD or DVD's contents tremendously, the abovementioned software should suffice perfectly.
Whether you're on the market for software to create a back-up of your favorite photos and videos, burn a bootable OS disc, or create a high-quality video disc, the options above and provide what you need quickly and intuitively – all for free.