If you really want to make a laptop your own, you have to decorate it. And this is what we're going to talk about today: how to safely decorate your laptop, in such a way that it becomes unique and reflects your personality.
We have already touched this subject in our recent article on how to make your laptop look cool, but now it's time to focus on decorating your laptop only.
Because, as you will see once you're done with this, you feel like your laptop a lot better after decorating it properly. Now, let's see how to do this!
How do you decorate your laptop?
The easiest method nowadays is to use some sort of a sticker or decal in order to decorate your device. You have lots of options available, from smaller ones that you can arrange as you feel like to entire laptop covers and sleeves.
1. Laptop skins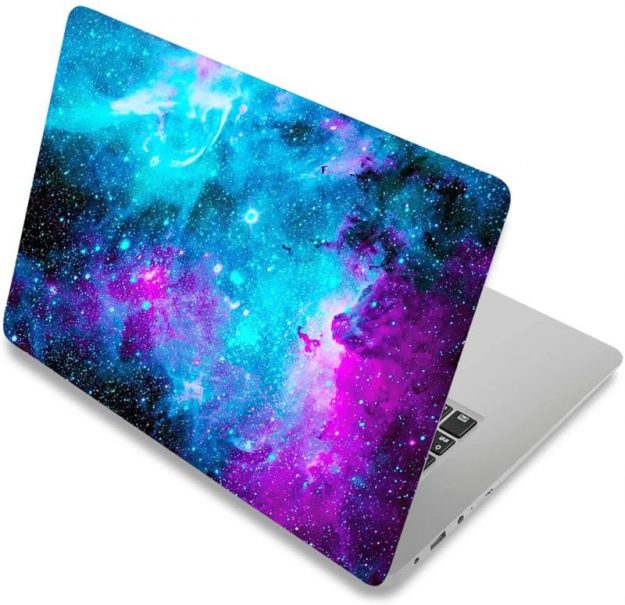 If you don't want to worry too much about mixing and matching various stickers on your laptop, getting a laptop skin is the way to go.
These offer the quickest way for you to decorate your laptop: you simply get one that matches the size of your laptop and apply it on the chassis entirely. Easy as pie – just make sure you apply it slowly, so that no air bubbles remain under the decal.
There are hundreds of laptop skins available to purchase online – which is a good thing, because every person prefers a different thing. So we won't recommend our favorites since it's simply a matter of taste, but we will invite you to browse a little bit by following the link below and choose your favorite.
Click here to check some laptop skins on Amazon. (Affiliate link)
2. Laptop stickers
If you really want to make your own design, or you like various things that you'd like featured on your laptop, then choosing various stickers is the way to go.
These vary in design and size, ranging from very small to pretty large ones. You will find stickers related to anything, from video games to anime and movies, plants and animals, as well as all sorts of messages and anything in between.
The advantage of stickers is that you can place them no only on the back of the laptop, but around the keyboard too or to the sides of the touchpad. You have unlimited options here – just pick and choose your favorites!
Click here to check out some laptop stickers on Amazon (affiliate link)
3. Use Washi Tapes
While I have to admit that I am not personally the biggest fan of using Washi tapes to decorate a laptop, you could still get some pretty cool results if you try. Bonus points for those who actually like the traditional designs of washi tapes.
Just like with stickers, you can use washi tapes to decorate the area around the screen itself (if there's enough room as some laptops offer a very thin bezel) but also the keyboard area.
Click here to check out some Washi tapes. (Affiliate link)
4. Paint your laptop
While you could definitely use acrylic paints and/or spray paints to paint your laptop chassis directly, we actually recommend a different approach in case things don't go just as planned (or you want to change designs).
First, get a small transparent laptop case (affiliate link) that fits the size of your laptop. These are usually silicone-made and you can paint over them. In case things go wrong or you get bored with the design, you can simply remove the case.
Now, you can paint directly on the case. This is something that only those with an artistic sense should do, otherwise the results will be pretty bad. But if you are good at this, you can truly get an one of its kind design and have a unique laptop.
I've seen some truly amazing designs created from scratch and painted directly on laptops so indeed sky's the limit here.
But do take our advice and paint a transparent case instead of the laptop directly to avoid any unwanted damage to your laptop – including paint spills or corrosion.
Wrapping up
Although we only have four major ways to decorate a laptop, the end results are endless. You can even combine those methods above to really make your laptop your own or stand out.
And if you ever get bored with your design and want to try something new, worry not! We have shared a guide on how to remove stickers from your laptop – so we've got everything covered.