It often happens for laptop owners to purchase a surround sound system only to find out that they can't really connect it to their laptop due to a lack of ports.
There are ways to connect your surround sound system or home theater system to your laptop, and that is exactly what we're going to talk about today.
The good news is that laptops can indeed be connected to a surround sound system in order to get better sound quality and enjoy a home theater experience at home. But how to do this? Without further ado, let's check the options available!
How do I connect my laptop to my surround sound system?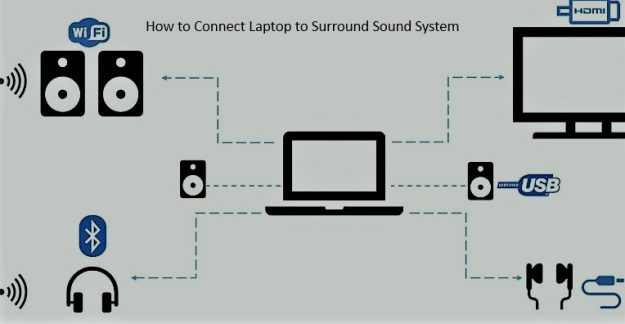 There are different ways to do this, but the easiest method is using HDMI cables. We'll talk about all options available below!
Connect your sound system via HDMI
If your laptop has an HDMI port (most of them do), then you are in luck. You can connect your device to your surround sound system via an HDMI cable.
Simply plug in one end of the HDMI cable into your laptop, then the other end into the HDMI IN port on your surround sound system. It's as easy as that!
Check prices for HDMI cable on Amazon. (affiliate link)
You might have to do some additional setting up and activate the input settings of the stereo system and also activate it via Windows to set up the HDMI as an audio output device.
In order to do so, write "Sound Settings" in your Windows search bar and open it. In the new window, under "Output" choose the output device as HDMI (or whatever name it will show you there, as they could vary from model to model).
What if you don't have a HDMI port on your laptop?
If your laptop doesn't have an HDMI port (some don't), you should get an adapter based on the slots you have available on your laptop.
Most likely, your laptop will have an USB Type-C port, in which case you should get an USB-C to HDMI adapter (affiliate link).
If you only have a regular USB (USB 3) port available, then you will need an USB to HDMI adapter (affiliate link). In this case, though, you will still need an additional HDMI cable and the sound quality might not be ideal. Better than nothing though!
Similarly, you can read our guide on how to use bluetooth speakers with non-bluetooth TV.
Use RCA cable
Also known as the 3.5mm jack, an RCA cable is the easiest method of connecting your surround sound system to your laptop – as long as the sound system itself can handle it and doesn't require multiple cables.
But if it doesn't, almost all laptops will have an RCA port (aka the 3.5mm port) where you can plug the cable in, then connect the other end to your home system.
Check prices for RCA cable on Amazon. (affiliate link)
If your surround system will require more than one connection, you can buy an RCA cable splitter like this one (affiliate link). You will plug in the single jack into your laptop, and the two ends into your sound system.
Alternately, if your sound system required 3 cables, you will need a Stereo Jack to 3 RCA adapter like this one (affiliate link).
How to configure your surround sound system on your laptop
Now that you have managed to connect your laptop with your surround sound system using any of the methods above, you should double check to make sure that the laptop properly set up your surround system for proper use.
It's very easy to do and I will guide you through the entire process.
1. First, in the Windows taskbar, search for "Sound settings" and open the app:
2. In the new window, under "Output" click on "Device properties". Then, in the new window, scroll down to the bottom and under "Related settings" click on "Additional device properties":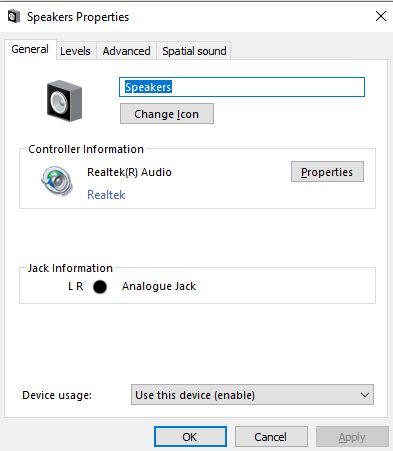 3. Select Properties once more and make sure that you enable surround sound or 5.1 surround.
Tips and precautions
When connecting your surround sound system to your laptop, you have to keep some things in mind.
The most important is that the quality and type of connection you use will influence the sound quality. In other words, if you only have traditional USB and you use an adapter, you will have a lower sound quality than if you were to do it through HDMI.
But even so, it's usually better than using the built-in speakers of your laptop.
Conclusion
Hopefully this guide helped you understand how to connect your sound system to your laptop. If you still have questions, don't hesitate to let me know by commenting below.