If you're looking for girly laptops that are of high quality, you will notice that you don't have a lot to choose from. But we did the heavy lifting for you and found the best laptops for girls in 2021. You will be extremely satisfied!
While laptops are not created with a gender in mind – and most come in the traditional colors of black and grey, if you want a vibrant, colorful laptop, you will see that most options are in blue and dark purple shades. While these are definitely fine, you might want something that's a bit more… well… girly.
We're sharing today some cute laptop for girls, some of which come in pink or red colors, but we also have some extra surprises and recommendations for those looking for the best laptops for girls.
We're also covering all price ranges – from really cheap to a bit more expensive (but also offering a lot more in return). So, based on your needs – from regular internet browsing, to getting a laptop for school or even doing some serious editing or other intensive tasks, we've got you covered with the recommended models.
We'll list them from the cheapest to the most expensive at the moment of writing. We'll start with a comparison table below that pits them against each other, but we'll have more in-depth reviews afterwards as well.
Please note: Our blog gets commissions for purchases made through links in this article.
List of the 5 Best Laptops for Girls
Product
Features
Store link
2021 HP 15


Best Budget Laptop


Decent performance & storage
Not Full HD
Check price
ASUS ZenBook S

Highly Portable
Great performance, ultra thin
Lower storage
Check price
MacBook Air

Stylish & Light
Very fast, Solid Battery
Amazing Image Quality
Check price
ASUS ExpertBook B9

Be Different!
Thin & light, advanced privacy
protection. Great battery.
Check price
VAIO SX12


Editor's Choice


Extremely portable, high
performance & solid SSD storage
Check price
Best girly laptops 2021 – In-depth Reviews
Now let's find out more about each model that we picked and why we consider them worthy of the inclusion on our list of the best laptops for girls this year.
2021 HP 15 – Best Budget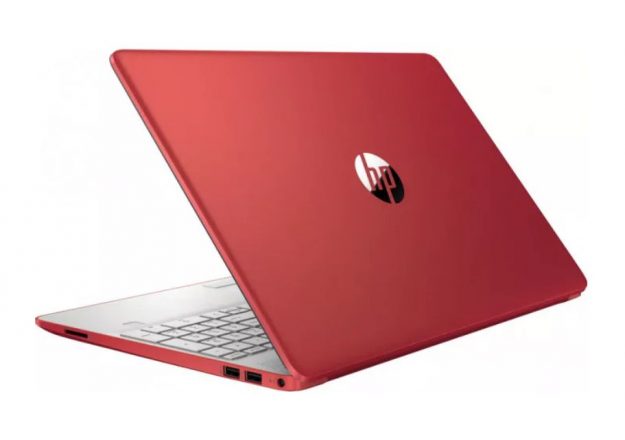 If you want a splash of color in your life, then this is the laptop you should get! Coming in a beautiful Scarlet Red color, this model is released in 2021 and offers some impressive specifications despite its extremely low price.
Yes, this is a cheap, but good laptop that is perfect for school & uni, internet browsing and streaming, remote learning or chatting… basically all daily activities you can think of.
If you want to get technical, you should know that this model is powered by an Intel Pentium 6405U processor, it has 8GB of RAM and offers 256GB of super-fast SSD storage.
It is a larger laptop, with a 15.6″ display, but still easy enough to be carried around without breaking your back. The image quality is good, although you will only get an HD resolution from it and not full HD. But it is a very cheap laptop, so you should accept that some concessions had to be made.
But even though this isn't a model with the latest generation specs, it still operates well and does a good job running basic tasks like the ones mentioned above. It also comes in a beautiful color, making it a perfect laptop for girls who love the color red and want to have a more vibrant laptop instead of the regular, dull black or grey ones.
It has various ports (including a modern USB-C port), as well as a microSD reader. It has a solid battery life, allowing up to 9 hours on a single charge and overall, it is a good laptop for its price.
If you are on a budget but want a good, girly laptop, this one should be your top pick!
Click here to check its price on Amazon
ASUS ZenBook S
Now this laptop is so thing that you won't believe it when you'll see it. This also makes it extremely portable and light. It's a perfect laptop for girls and not only – light, thin, great color and solid performance.
This is a smaller laptop at 13.3″, but this helps to make it even more portable. And even though it's small, the display offers full HD resolution (1,920 x 1,080) and an amazing image quality.
It is also powered by a very strong 8th Gen Core i7-8550U Processor, it has 8GB of RAM and offers 256GB of storage. The latter is a bit disappointing as it is a bit on the low side, but you can still make it work pretty well unless you plan to store locally a lot of photos and videos.
A very interesting feature of this laptop is the exclusive hinge built by ASUS, on that tilts the keyboard, making it a lot easier to use.
It has three USB-C ports (have in mind that it doesn't have USB 3 ones!) but also lacks an HDMI port. Chances are slim that you'd ever want one, but take this into account if you do.
With a burgundy and rose color, this laptop looks really good and is a perfect choice for girls all over the world. It's not as in-your-face as the previous model, but still remains extremely feminine thanks to its slimness and minimalist design.
It is a really good laptop too, being able to handle any task that you throw at it (as long as it doesn't require a dedicated graphics card – so no modern day games on it!). But for business, school or simply regular daily use, it is a perfect, cute laptop.
Click here to check its price on Amazon.
MacBook Air
Macbooks manage to be perfect choices for any situation (well, except for those when you really need the Windows OS). And a MacBook Air is the perfect choice for any girl out there.
Smaller and cheaper than its bigger brother (or sister) the MacBook Pro, a MacBook Air still offers an amazing performance and Apple's traditional minimalistic approach to building things. And that works well with all genders!
A 13.3-inch laptop, the MacBook Air offers truly amazing image quality thanks to the proprietary Retina display. A resolution of 2560-by-1600 pixels backs my words up. You just have to look at its screen once and you'll fall in love with it forever.
There's a saying: "Once you go Mac, you'll never go back!" (no, there isn't, I just made that up, but it could be true!)
The performance of this little laptop is also pretty impressive. Sporting a current-generation, 8-core, M1 CPU and paired with 8GB of RAM, it will be up to 3.5 times faster than previous models. That means its lightning fast!
You also get a decent amount of SSD storage: 512GB. That's not a lot, but it's more than enough for the regular user.
We're recommending the Gold color in order to make it stand out, but the truth is that even the traditional Space Grey or Silver colors go well with girls. You can always add stickers to customize it – or just leave it as it is.
With its ultra-slim built and fantastic minimalist, all Macbooks are perfect choices for girls, no matter if you plan to work on them, take them to school or do any sort of online activity.
And the cherry on top here comes from the amazing battery that this model has equipped. You're getting up to 18 hours on a single charge, which is more than most laptops on the market can offer.
All in all, a Macbook Air is always a great choice if you don't specifically need Windows.
Click here to check its price.
ASUS ExpertBook B9
If you don't think that a laptop for girls must be pink or red, why not choose a regular laptop (at least when it comes to colors)?
Yes, this laptop is your basic black laptop, but still looks really good. Plus, it opens up the door to making it your own by applying a sticker or two or more. Really, that's all you need to make that perfect girly laptop: any laptop and your favorite stickers!
But back to the ASUS Expertbook! We chose to feature it on today's list because it has a lot of goodies to offer. It's a really fast laptop with a solid design, it has added privacy features and you will simply love it.
Let's go through the specifications first! The laptop is powered by a really good Intel Core i7-10510U processor, with 16GB of RAM and 512GB of Storage space on a SSD . It means that this one is lightning fast and you will really have no problems with its speed!
It is a smaller laptop, which a 14″ display that still offers full HD resolution. It has a nice screen with really good image quality and also offers a really solid battery in that thin body: up to 24 hours on a single charge!
It also has a nice hinge behind the keyboard to raise it a little bit and make it even more comfortable when writing. It comes with various ports, including one USB 3 port and two USB-C ports, but also an HDMI one and a micro HDMI to RJ45 Cable. Plus a microSD card reader.
But for those who care a lot about privacy, this model's got you covered. It comes with a webcam privacy shutter, but also a Kensington lock, IR camera and fingerprint sensor. This way, you will know that people won't manage to easily get into your stuff.
The ASUS ExpertBook B9 is a perfect laptop for girls: it's light and thin, but also beautiful and offering a solid performance.
But despite its seemingly feeble build (0.6″ thick and just 2.2lbs), it offers military-grade durability, offering a spill-resistant, backlit keyboard and is panel pressure, shock, and drop tested. Pretty cool.
Like many ladies out there, it looks really nice and cute, but is extremely tough and packs a lot of power under the hood. Yes, it's not pink or red or excessively girly, but it is a great looking laptop that moves really fast.
Click here to check it out on Amazon
VAIO SX12 – Editor's Choice
Our top choice is a blazing fast, small and beautiful laptop. It's perfect for girls out there thanks to its vibrant red color, but also offers a solid performance because… well… you need a great laptop!
While it is true that this one is the most expensive on our list, it has some amazing specifications and features that you will surely appreciate.
Powered by an Intel Core i7-10710U and 16GB of RAM, it also comes equipped with a 1TB SSD for storage. This is a lot of storage under the hood so you should probably never have any problems. Plus, the CPU and RAM ensure smooth running in all programs that you throw at it.
IT also has an interesting – and I would say complete – selection of ports, including three USB ports, an USB-C one, but also an HDMI port and an older VGA port. Interesting choice to have one installed – I wonder who really needs that. Either way, it doesn't hurt to have it.
A small laptop with a display of just 12.5″, it is extremely light (2 lbs) and thin (0.59-inch), making it very portable. The small display is full HD too, so you will get ideal image quality out of it.
It also offers additional protection methods, including a fingerprint sensor and the possibility to log in using your face & Windows Hello.
The red color makes it a perfect choice for girly girls, but it also packs quite a punch and delivers amazing performance. A must buy if the price is not a complete deal breaker.
Click here to check it out on Amazon.
Conclusion
Even though our favorite remains the Sony Vaio SX12, you have four other models to choose from if you're looking for a solid laptop for girls. We have covered all the price ranges in this article, so you have a budget version available, and various others to be able to choose the best one that matches your budget.