Fashion designers and design students need a good laptop that can run their go-to software (Photoshop, Illustrator, Autodesk and so on), but also one that has a good screen with clear, life-like colors.
Fortunately, good laptops for fashion designers don't have to be extremely expensive, so if you're not at Ralph Lauren levels yet, you can still a good laptop to help drive your career forward.
But enough talking! Let's just check out the best laptops for fashion designers and design students below. We'll have more details afterwards, highlighting all the features of the recommended laptops.
Please note: Our blog gets commissions for purchases made through links in this article.
Model
Features
Acer Aspire 5
Check price
Good CPU, Solid FHD display.
Mediocre RAM and GPU.
Lenovo Legion 5
Check price
Great specs: solid CPU, RAM & GPU
Bulkier and with average battery life
Good overall laptop for a fair price
ASUS TUF A15
Editor's choice
Check price
Great specifications, no real CONs
Best Price/Quality ratio
Dell Inspiron 17
Check price
Good specs & Large Screen
Disappointing dedicated GPU
MacBook Pro
Check price
Good specs. Display is truly amazing.
Expensive
If you need more details to make a completely educated choice, we've got them for you below. (Listed from cheapest to the most expensive at the moment of writing)
Acer Aspire 5
A really good model if your budgets is tight. It is able to run your design software without hiccups – albeit a bit slower sometimes, but without really driving you crazy.
It has some pretty solid specifications. To make it easier to follow, I will list them below – then talk a bit more in depth about what this means in case you're not very tech savvy.
Processor: Intel Core i5-1035G1
RAM: 8GB
GPU: GeForce MX350
Storage: 512GB NVMe SSD
OS: Windows 10
The biggest Pros of this model are the really good processor (can go up to 3.6GHz when turbo-boosted), as well as the SSD, which is very fast and offers a decent amount of storage.
The rest is not as impressive. Don't get me wrong! You can still get the job done with 8GB of RAM and the dedicated graphics card (the MX350), but these are a bit last gen.
A RAM upgrade is relatively easy to do though and not too expensive, so you should look into that.
But even without the upgrade, you get a fairly priced laptop that can handle your design tasks without any real problems.
The model also has a good 15.6″ IPS display with accurate colors and good brightness. It doesn't need any real tweaking to get the most out of it, which is always a good thing. It is a full HD display, so you can get native resolutions of 1,920 x 1080 px easily.
Finally, you have a nice amount of ports, including an USB Type-C port in case you have external peripherals requiring this connection type. It also has an integrated HDMI port.
The laptop is light and portable – but also has a decent size so that you can actually do your work without straining your eyes too much. It has a decent battery too – around 8 hours of regular use, which is not bad either.
All in all, this is our budget find and we're really happy with it. There are much better laptops on our list – but if the money is tight, this one will do the job!
Click here to check price on Amazon
Lenovo Legion 5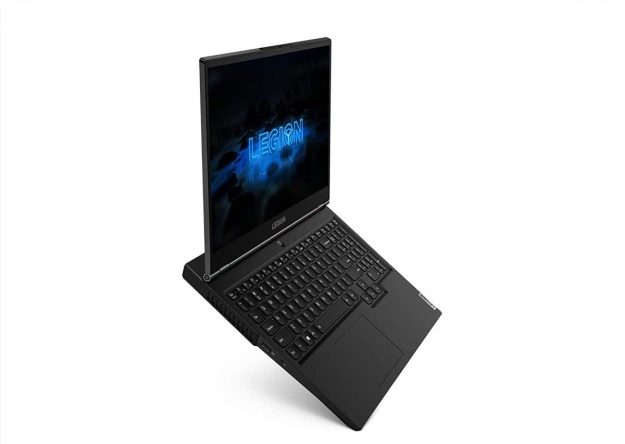 This Lenovo model manages to keep the budget relatively in check, while offering a lot more than the previous model:
Processor: AMD Ryzen 7 4800H
RAM: 16GB
GPU: NVIDIA GTX 1660Ti
Storage: 512GB NVMe SSD
OS: Windows 10
This is actually intended to be used as a gaming laptop, which means that it was built for speed and doing well under heavy usage. In other words, it will have no problems multitasking and running your top design software.
It has a good screen with an improved refresh rate (144 Hz), which results in a clearer image and crispier colors. The display itself is 15.6″ with Full HD resolution.
I do have a problem with the fact that it has a 5ms response time instead of what I prefer – 3ms, but these are very minor details that don't change the visual game too much.
The processor is really good – even though not the "Common" Intel i5 or i7. We've tested it with various apps and modern games and had no problems with it.
Pair it up with a good amount of RAM and a pretty solid graphics card, and you get a product that offers all the goodies that you need for all your designs – and much more.
In terms of storage, things could've looked better, but I'd rather have a bit less storage and awesome specifications instead of otherwise. This laptop is built for speed and offers it without a problem!
In terms of ports, it also offers everything you can ask for: four USB 3.1 ports, one USB Type-C port, as well as an HDMI port and an audio jack.
The battery isn't the best one you have ever seen – but it does last around 5 hours on medium to high usage, so it's not too bad either.
Lenovo's laptops are generally bulkier than most, but they do get the job done – and this particular model does it really well for the money you have to spend on it.
Click here to check price on Amazon
ASUS TUF A15 – Editor's choice
Our top recommendation is the ASUS TUF A15 gaming laptop. It has, in our opinion, the best price/quality ratio, offering some great specifications and high quality for a fair price.
This is actually the laptop that my wife is using for a few months ago. She's an aspiring fashion designer, but also dabbles with your regular photo editing and character design and she's extremely satisfied with the TUF A15.
Here are its specifications at a glance:
Processor: AMD Ryzen 7 4800H
RAM: 16GB
GPU: NVIDIA GeForce RTX 2060
Storage: 1TB NVMe SSD
OS: Windows 10
This is also a 15.6″ laptop, but with a good refresh rate (144 Hz) which makes everything look better on screen. The images are nice, colors crisp and correct. It is a full HD, IPS display that you will have no reasons to complain about.
It also offers amazing specifications, allowing it to run resource-intensive programs without a problem. It doesn't really matter which design software you use, this model will have no problem breezing through it!
The graphics card is the one that really can be considered the cherry on top. It's a really modern, current generation GPU, with 6GB of dedicated RAM and amazing performance.
Combine it with the 16GB of RAM and the solid processor (goes up to 4.2GHz!) and you have a killer combo that will keep you really happy.
You also get a 1TB SSD drive to store all your designs and much more, but also a good battery that allows up to 8 hours on a single charge.
This laptop also has a military-grade build, meaning that it's extra durable. Fortunately, this doesn't make it bulkier and uglier. On the contrary, it has a nice design that you will surely appreciate.
Finally, it has a fair amount of ports (USB-C included), with a native HDMI port, but also an extra Kensington lock for extra safety.
The best part about it is that it can be easily upgraded, with easy to access SSD and RAM slots if you decide that you need more. But even as it is right now, you'll have no problem running your programs on it!
A really good choice that offers a perfect balance between budget and performance. Our top pick!
Click here to check price on Amazon
Dell Inspiron 17
If you want a laptop with a larger screen, we found a good model to recommend (without breaking the bank). Here are it's main specs first:
Processor: Intel Core i7-1065G7
RAM: 32GB
GPU: GeForce MX230
Storage: 1TB NVMe SSD
OS: Windows 10
The biggest difference compared to our previous recommendations is the screen size. This is a 17.3″ laptop, with Full HD resolution and anti-glare capabilities. Good colors and good performance overall.
It starts really well, with some very solid specifications. As you can see, it has the highest amount of RAM on our list, with a whooping 32GB available. It also has a very solid CPU (although "just" quad-core, it is really good) and offers a lot of storage on a SSD.
The biggest problem here is that is has a pretty average graphics card. The GeForce MX230 GPU does hold it back a little and is the reason why we can't consider it hte perfect choice.
However, it is a laptop with a fairly large screen and there are always Pros and Cons. It still is able to run, without problems, any design software and apps, so things are not really bad. But not excellent either.
Unlike all other models, this one also comes with an optical drive. So if you plan to use CD's or DVDs, this is a bit bonus as most laptops nowadays don't feature optical drives anymore.
The extra drive doesn't eat up any additional slots – it still offers USB 3 and USB C ports, a HDMI slot and a microSD card reader.
All in all, this is really a good laptop whose main advantage is the larger screen size. This makes it a bit less portable, but if you don't plan to travel a lot carrying it around, it might be better to go for the larger screen.
Click here to check price on Amazon
MacBook Pro
Now, if you want to go wild and have a bigger budget available, you can always opt for an amazing MacBook.
This latest model offers top specifications and jaw-dropping performance:
Processor: 9th gen Intel Core i9
RAM: 16GB
GPU: AMD Radeon Pro 5500M
Storage: 1TB SSD
OS: macOS
These might not say a lot, but in reality, this is a laptop that really ups the game in terms of performance and quality. But has a price to match that!
I want to start by praising the display. Sporting a 16″ Retina display, the MacBook Pro is by far the best in this category. You haven't seen anything until you looked at a MacBook's pro. Hats off to Apple for creating such an amazing display, one that is perfect for fashion design (and not only).
The laptop's general specifications are also very solid. A current gen CPU is paired with 16GB of RAM and a decent GPU, resulting in blazing-fast performance with any software that you might be using.
It has an amazing battery life too: up to 11 hours on a single charge, which is simply amazing!
If you are using a lot of peripherals that need USB-C ports, then you are in luck! You get 4 slots on your MacBook Pro (but just one USB 3 port).
We chose this more expensive model over the MacBook Air mainly because it has a larger screen. The MacBook Air is also very good, but at 13.3″, its display is a bit on a lower side for design purposes.
So better go with the larger model – or one of our other top recommendations if the price is too high.
Click here to check price on Amazon
How to choose the best laptop if you're a fashion designer
As a fashion designer, you will have some particular needs – make sure that the laptop you're getting can easily fit the bill. Especially when it comes to the external peripherals you will be using (drawing boards and such).
The recommended models above should fit all needs – but double check based on what you know you'll be using just to be 100% sure. There are adapters and other options available if you don't get all the ports required from the beginning, but it's a lot easier if you do.
Another important thing is the screen size. We don't recommend anything lower than 15.6″ because you do need a larger screen to better see what you're designing. Good colors and contrast are also a must. A normal resolution of 1920x1080px and above is also required.
If you think that you can still make it work with a smaller display, you can check out our list of the best 14-inch laptops.
Finally, you round up a good laptop for fashion design with solid specifications in terms of CPU power (consider i5 processors or equivalents as a bare minimum), but also RAM and dedicated GPU.
You will need at least 8GB of RAM (although 16 and up is much better), as well as a dedicated Graphics Card to run your design programs like Illustrator, Photoshop, Corel Draw or whatever you're using.
All models recommended above are great choices, so pick one based on your budget. Or just trust us that the ASUS TUF A15 is a great choice and get that one!