SSD storage is becoming the norm when it comes to laptops nowadays, but finding a great laptop with a SSD drive that sells for under $1,000 – now that's a bit of a challenge!
It's a challenge we've accepted though and after countless hours of research, we're here to share with you an updated list of the best SSD laptops under $1,000 in 2021.
Until recently, these ultra-fast SSD laptops were extremely expensive – or just offering tiny amounts of storage that you really couldn't put to good use.
But lately, thanks to the evolution of technology, more and more companies started to deliver these SSD laptops at much more affordable prices.
While storage still isn't on par with what you could get for the same price from a traditional HDD installed on the laptop, things are definitely looking better.
And getting lower storage, but much, much faster (as SSDs are when compared to HDDs) it's really worth it.
In the end, even 128GB of SSD storage could be right depending on what you need your laptop to do.
But we'll try to find as many options as possible, offering all sorts of models that would be suitable for various activities – from regular internet browsing to remote work, gaming or video editing and everything in between.
So here are the best cheap SSD laptops under $1,000 for this year. We'll start by just listing them in the table below for a quick glance, but we'll have more details about each model afterwards.
Please note that all the laptops were selling for under $1,000 at the moment of writing this article, but prices can always change. Do your own due diligence and personally check all the prices – don't just take them for granted. We don't think that the prices would ever go up, but you can never be 100% sure.
Without further ado, here are the best cheap SSD laptops of 2021, listed from the cheapest to the most expensive at the moment of writing:
Please note: We get commissions for purchases made through links in this article.
Model
Details
Dell Inspiron 3000
15.6″, 512GB SSD, Intel Celeron N4020 CPU, 16GB RAM
No dedicated GPU, no USB-C port, HD-only
Check price
BROAGE 15.6″


Best Budget

15.6″, 512GB SSD, Intel i5-8250U CPU, 8GB RAM
No dedicated GPU, no USB-C port
Check price
Lenovo IdeaPad 3


Best Deal

15.6″, 1TB SSD, i3-1005G1 CPU, 20GB RAM
No dedicated GPU, no USB-C port, HD-only
Check price
Acer Nitro 5
15.6″, 256GB SSD, Intel i5-9300H CPU, 8GB RAM, GeForce GTX 1650 GPU
CONs: Low storage
Check price
Asus TUF


Editor's Choice

15.6″, 512GB SSD + 1TB HDD, Intel i5-10300H CPU, 16GB RAM, GeForce GTX 1660Ti GPU
Check price
If you want more details about each of the models recommended above and what they are good for, keep on reading our in-depth reviews.
Dell Inspiron 3000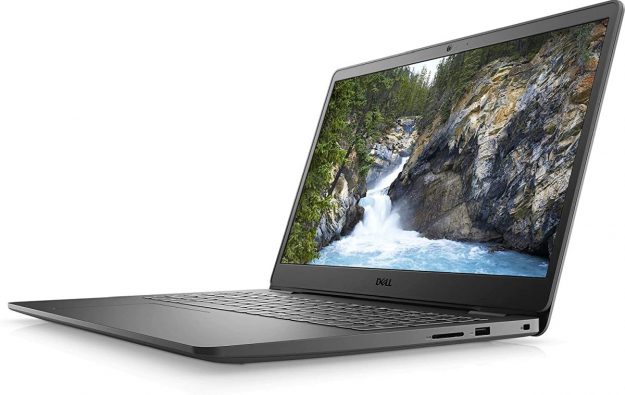 If your budget is VERY tight, then this model will have to do. It's not the best you can get, but it might just be the best for the money.
Usually available for under $500, the Dell Inspiron 3,000 offers decent performance for a casual user. It can't handle very demanding tasks, but it is good for internet browsing, watching movies and even some online work/learning.
One of its biggest problems comes from the processor: we're talking about an outdated Intel Celeron N4020 CPU which only has 2 cores and can't really handle very demanding tasks.
However, it is paired with an impressive amount of RAM – 16GB – which will keep things running as fast as possible. A nice bonus for sure, greatly improving this laptop's speed.
The SSD also offers a decent amount of storage – 512GB, so all in all, things are not very bad. They're not great, but if you only need it for casual use and online working / browsing or learning, it gets the job done.
This is a 15.6″ laptop, but it's display only offers HD resolution (1366 x 768px). It does have a good, anti-glare display, but the image quality is nowhere near those full HD options out there.
Finally, it offers a solid battery giving you up to 8 hours on a single charge. It has multiple ports for additional connectivity, including an HDMI port, but no USB-C port on this one.
All in all, this is a fair laptop for those on a shoestring budget. If you need it for online activities (browsing, streaming movies, learning or working), it can do that pretty well!
BROAGE 15.6″ – Best Budget
Our best budget award goes to a model coming from a relatively unknown brand, Broage. But, as you will see, it's a really good deal for the money!
We're talking about a nice looking 15.6″ laptop with a solid display (full-HD resolution at 1920*1080 pixels) and a backlit keyboard.
It has some good specifications, being powered by the solid Intel Quad-Core i5-8250U Processor, 8GB of RAM and offering 512GB of SSD storage.
These are some really solid specifications (especially for its price) and they are enough to breeze through all activities that don't require a dedicated graphics card.
So while you can't play modern games on this model, nor do any serious video and photo editing (although it still handle some minimal editing), it remains a solid options for general use.
From simply browsing the internet, working remotely or online learning to watching movies, chatting with friends and everything in between, it can handle it all and handle it well.
Even if the brand is not as well known as the others on the list, you're not paying a premium to have a well-known name stamped on your laptop's chassis. And this is a good thing as you get better specs for less money.
The only real problem I have with it is the fact that it offers very few additional ports: just 2 USB 3 ports and one HDMI one, as well as a 3.5mm jack for headphones and a microSD slot.
So we're still not getting an USB-C slot, nor more traditional USB ones. But if you don't have a lot of peripherals to connect at the same time, it will do.
Lenovo IdeaPad 3 – Best Deal
What's the difference between "best deal" and "best budget"? Well, the former costs a bit more, but overall offers the best specs for the money. Unless you need a dedicated GPU for gaming or more resource-intensive programs.
If you need that, check out the next two laptops – especially the Editor's Choice which has some jaw-dropping specs as well.
But back to the Lenovo IdeaPad 3! It's a beast of a laptop with some truly impressive specifications!
It is powered by a 10th Gen Intel Core i3-1005G1 CPU, it has an impressive 20GB of RAM and a whooping 1TB of storage on its SSD. Pretty amazing!
Don't be fooled by the i3 processor either! This is a really good one, outperforming better known competition in the i5 and i7 range. So this is a really fast processor!
The only real drawback is the resolution of the 15.6″ display: it only goes up to HD (1,366 x 768 pixels) which is a real bummer.
A full HD resolution would've been so much better, but in all honesty, unless you get it exclusively for watching movies, that's not such a bad deal.
You get a laptop that performs its tasks really well, you have a HUGE amount of storage (most on the list) and you also get a pretty good looking laptop, too.
While it still doesn't feature an USB Type-C port, it offers three USB 3 ones, as well as an HDMI port plus a micro SD slot.
It has a good battery life of around 8 hours and for those concerned about privacy, it also features a webcam privacy shutter.
All in all, a very good model that is perfect for all online and offline activities, except for modern gaming (or any other activity that requires a dedicated graphics card).
Acer Nitro 5
I am a big fan of Acer and even though I had a bit of a scare with my Acer Aspire shutting down randomly, it was an easy fix. One that you will probably not even have to worry about if you get this model we're recommending today.
This model is actually gaming laptop, meaning that it is faster and better, offering you the option to perform some more resource-heavy tasks, like playing games, editing videos and more thanks to its dedicated graphics card.
The Acer Nitro 5 is powered by a solid 9th Generation Intel Core i5-9300H Processor (Up to 4.1 GHz), it has 8GB RAM and 256GB of SSD storage. The storage is its biggest problem, but you're trading it off for some improved performance.
This means that this model has a dedicated GPU – and a pretty good one, too.
It is powered by the NVIDIA GeForce GTX 1650 Graphics Card with 4 GB of dedicated GDDR5 VRAM. This means that this nice laptop can handle more modern games with ease, as well as other resource-demanding tasks.
Yes, it won't play the latest releases on the highest settings, but it will offer a great overall experience!
It is a regular sized laptop too, at 15.6″ offering full HD resolution and other nice bells and whistles. For example, it comes with Alexa built in, but also has a good sound quality which is always appreciated.
Gamers (but not only) will appreciate its backlit keyboard, as well as the dedicated NitroSense Key which highlights the WASD and arrow keys – a nice touch, although I doubt any gamer has any problems locating them.
It also has an improved cooling system – which is good not only for the resource-intensive tasks, but general use also. High temperatures will shorten a laptop's life, so having extra cooling power is always good.
All in all, this is a good choice even for those who don't plan on doing any gaming on it (although never say never!)
It has a nice, large screen, it has a very good performance ratio and offers a decent battery life: all the ingredients that we need from a cheap, solid SSD laptop. Plus, it has an USB Type-C port, which is always a bonus!
ASUS TUF – Editor's Choice
This is, without doubt, the best laptop on our list. It gets closer to the top of our budget (but still well under $1,000 generally). So if you're not on a lower budget, definitely get this one!
This SSD laptop is a real beast: 16GB of RAM, a really good 10th Generation Intel Quad-core i5-10300H CPU, as well as an amazing dedicated GPU, the NVIDIA GeForce GTX 1660 Ti with 4GB RAM.
Absolutely amazing specifications, making it a really, really good laptop for gaming and anything else you can think of.
It also has a generous amount of storage – a base 512GB SSD, but also an additional 1TB on a traditional HDD. Great for storing files and backups!
It's a 15.6″ display laptop, with full HD resolution, but the cherry on top comes from the fact that it has a refresh rate of 144 Hz, meaning superior image quality and less blur in gaming and video.
This is a really, really good laptop and I've been using the slightly larger A17 model for several months now and I am 100% satisfied with it. I am sure that you will be too if you choose this model.
Extremely fast, reliable and with solid battery, this laptop has everything you need for a flawless experience, no matter if you're just browsing the internet or playing the latest games.
It has a lot of extra goodies, too, like the self-cleaning fans, a military-grade construction, backlit keyboard and even a HDMI port in case you want to link it up via cable to your TV.
Plus, it also has an USB-C port. Yay!
This is a laptop that will probably remain relevant and high performance for the next couple of years – and it will most likely work good for many more years after… so this is definitely THE product to consider if you can go to the top of your budget.
Why Choose an SSD Laptop?
A SSD is an ultra-fast storage unit. Compared to the higher capacity, but older HDDs, the speed of reading and writing on the disk are 10 times or more higher when it comes to SSDs.
This makes your Windows 10 operating system to load in seconds, and everything else to move and run as smoothly as possible: from file transfers to any writing/reading operations, everything is much faster.
They are also a bit more durable and very hardy, especially when it comes to shocks and drops. Since there are no moving parts in a SSD, they can take more of a beating than traditional HDDs.
This doesn't mean that you can just throw them around like baseball balls, but they are indeed hardier than not.
Combine this added speed with some solid specifications, like the ones that the laptops recommended above offer and you have supreme speed at your fingertips.
Definitely choose a SSD laptop instead of a traditional HDD one, even though you'll get a bit less storage.
While just a few years ago, SSDs were pretty expensive and a rarity in laptops, they are now widely available, and for lower prices also.
Things will probably improve over the years, becoming more and more affordable, while the traditional HDDs becoming nothing but obsolete pieces of equipment.
With all these in mind, you now have all that you need to choose your best SSD laptop for 2021. You have options for all price points under $1,000 at the moment of writing, so choose the one that is closest to your budget and suits your needs.