If you're just starting to learn how to code, you don't have to invest a fortune in getting a good laptop for programming.
Instead, you can choose a cheaper laptop that can still do the job well and upgrade after a few years if it's needed. And we have a list of the best cheap laptops for learning to code to help you get started!
The truth is that, unless you're also looking to play the latest games on your laptop during your coding breaks, you will be able to find some very good options out there.
If you want to code games, things are a bit more difficult if you're on a budget – but we have options for you! Just go through our list and you will surely find a cheap laptop that fits your needs flawlessly.
Below, we have a list of the best cheap laptops to learn coding on in 2021. We'll just list them in the table below, along with their most important specs – but if you need all the details, we also have the full reviews afterward.
Please note: Our blog gets commissions for purchases made through links in this article.
Laptop
Specs
ASUS VivoBook 15
(Check price)
i5-1035G1 CPU, 8GB RAM, 512GB SSD, 15.6″ Display, Ergonomic Keyboard (no dedicated GPU)
HP Business
(Check price)
i7-1065G7 CPU, 16GB RAM, 512GB SSD, 15.6″ Display, HD-only, no dedicated GPU
Lenovo Legion 5
(Check price)
AMD Ryzen 7 4800H CPU, 16GB RAM, GeForce GTX 1660Ti GPU, 512GB SSD, 15.6″ Display (144Hz refresh rate)
Acer Predator Helios 300
Editor's Choice
(Check price)
i7-10750H CPU, 16GB RAM, GeForce RTX 2060 GPU, 512GB SSD, 15.6″ Display (144Hz refresh rate)
MSI GP75
(Check price)
i7-10750H CPU, 16GB RAM, GeForce GTX 1660Ti GPU, 12GB SSD, 17.3″ Display (144Hz refresh rate)
Now, if you want to find out more about each of the products listed above, read on! We consider these the best cheap laptops to learn programming and we're listing them from the least to the most expensive at the moment of writing this article.
ASUS VivoBook 15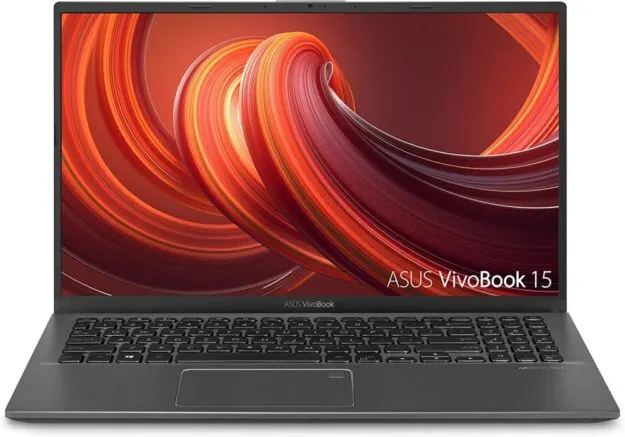 The cheapest on our list at the moment of writing, Asus' laptop is a good choice for those who want to learn how to code on a budget.
It doesn't have a dedicated graphics card, so if you're planning to design games or any app that requires dedicated GPU, you'll have to check out the models below.
But for general coding, the VivoBook 15 is a really good laptop. It features a fast CPU – the Intel Core i5-1035G1 (up to 3.6 GHz), as well as 8GB of RAM. It also has a 512GB SSD – which is fast and perfect storage.
Sure, this isn't the absolute best, but for starting up it's going to to a really good job when it comes to you writing and it compiling the code. It could use a RAM upgrade, though, to be even faster. That wouldn't be too expensive either!
In terms of size, it is a regular 15.6″ laptop, with full HD resolution and a nice 88% screen-to-body ratio. Images look crisp and nice and colors are bright and natural.
As a bonus – since you'll be doing a lot of typing on it – the VivoBook 15 has a backlit, ergonomic keyboard. This means that the keys are smoother and easier to press, so typing for many hours straight won't become a real pain.
It has a bunch of ports too: USB 2.0, USB 3.2 and also one USB-C. It also has a native HDMI port in case you need to plug in another display.
The battery drains out relatively fast when performing intensive tasks… but if you're just writing, expect it to last several hours.
All in all, this is a decent laptop that offers a solid performance when it comes to coding on it and, most importantly, it is very budget friendly as well as light and portable.
Click here to check price on Amazon.
HP Business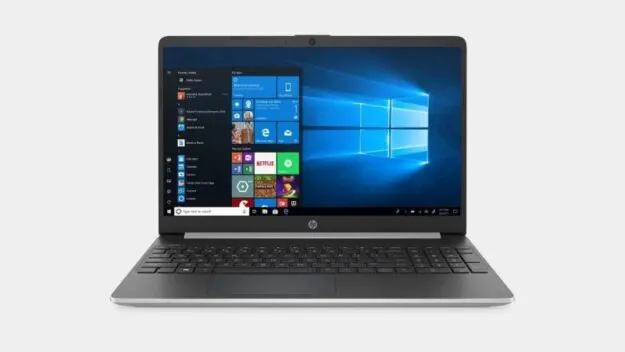 We're still not in dedicated GPU-territory, but we're looking at a model that is offering a bit more in terms of performance compared to the ASUS laptop above.
This HP business laptop (which can be easily used to learn programming) is powered by a slightly better processor – the i7-1065G7 (up to 3.9GHz), but also offers more RAM out of the box: 16GB.
These are already better specs that give you more options when it comes to coding, including extra speed so that you don't waste too much time staring at the screen and waiting.
It offers similar storage – 512GB on a SSD drive – which also helps with the overall speed.
One of its biggest drawbacks is related to the display resolution: the 15.6″ display only supports HD resolution at most (1366x768px). But the image is still as crisp as it can get and if you don't really need full HD, it's a CON you'll have to accept over the other PROS.
The screen is also touch-sensitive, so you have that as a bonus as well.
In terms of connectivity, it offers a various set of ports and also a card reader. It has a native HDMI port, two USB 3.1 ports, as well as one USB Type-C one.
Powered by a 41WHr battery, this laptop can last for several hours on a single charge…. but we'd always recommend to have the charger nearby anyway.
It is very portable and light and looks really well… so if you have a slightly higher budget and you don't mind the HD resolution, this one might be a better choice.
Click here to check price on Amazon.
Lenovo Legion 5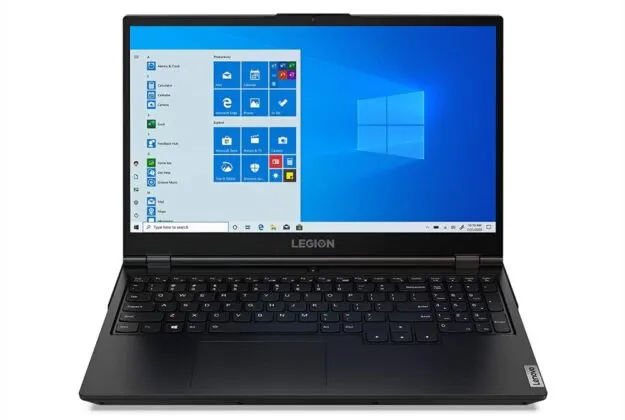 Lenovo is my go-to brand when it comes to cheap but good laptops. You'll be extremely happy with our find today. This also marks our entry into "dedicated GPU territory".
This means that these laptops can handle coding when it comes to designing video games or other apps that are depending on a dedicated GPU.
In this case, we're talking about the NVIDIA GeForce GTX 1660Ti GPU which remains a very solid option when it comes to graphics cards, even though it's not one of the latest models on the market.
In terms of processing power, you get a really powerful AMD Ryzen 7 4800H CPU (which beats the i7-10750H, for example, as seen here). It also has 16GB of RAM and a 512GB SSD.
I know that usually Intel processors are preferred, but trust us on this one: you won't regret getting a laptop with the Ryzen 7 4800H – it's lightning fast!
Being a gaming laptop, it has some advantages that will come in handy if you are looking to learn coding.
For starters, the 15.6″ display supports full-HD resolution (1920 x 1080px) but also has a 144Hz refresh rate, for smoother on-screen movement.
The white backlit keyboard is also very pleasant to the touch, being precise and comfortable, even for longer sessions.
It also offers a vast selection of ports, including four USB 3 and one USB-C, as well as a HDMI port. This should be more than enough for any additional peripherals you might need.
It is a bit bulky, but that's because it has an advanced cooling system – so you're covered when it comes to very high temperatures also. All in all, a great budget laptop to learn programming on, one that can easily tackle game design if that's what you are planning to do.
Click here to check price on Amazon.
Acer Predator Helios 300 – Editor's Choice
We're now moving to a model that offers a much better dedicated Graphics card – the NVIDIA GeForce RTX 2060. It is overclockable, it has 6GB of dedicated RAM and it is one of the best choices at the moment.
Acer paired it up with the Intel Core i7-10750H processor (hexacore, up to 5GHz) and 16GB of RAM, as well as 512GB of SSD storage.
In other words, you get a really strong laptop that can easily handle your coding adventures, no matter if you're planning to do gaming or less resource intensive programming.
The 15.6″ display has a 144Hz refresh rate and 3ms response times, which is as smooth as it can get. The images are clear, colors are crisp and you will have no reasons to complain about the quality of the display.
In terms of connectivity, it has one USB-C port (which supports charging), three USB 3 ports, one HDMI and also one miniDP port.
It has a solid battery that will last around 6 hours under regular usage, and we consider it the best option when it comes to learning to code oa solid machine that will offer anything and everything you need.
Click here to check price on Amazon.
MSI GP75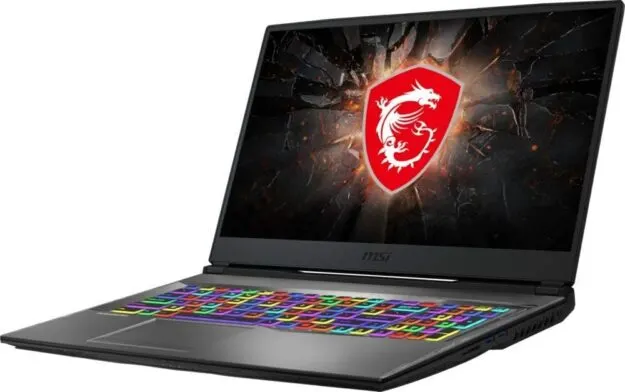 If you want a larger laptop – one that also offers a lot in terms of performance – then this model will make you really happy.
We're talking about a 17.3″ laptop which is better for coding, in my opinion – but at this size it loses its portability. So if you're expecting to travel a lot, a regular 15.6″ model recommended above would be a better choice.
But if you're planning to spend most time in the same location, a larger display will be more than welcome, trust me!
In this case, you get 17.3″ of pure joy, full HD display and 144Hz refresh rates.
The GP75 by MSI has a lot of other goodies for you, too. Apart from the large display, it is powered by an Intel Core i7-10750H CPU, 16GB of RAM and 512GB SSD.
You're getting a slightly less performant GPU (when compared to the previous model), but it's expected for its size and price range. Still, the GTX 1660Ti GPU it features is a solid graphics card that can easily handle most things that you throw at it.
All in all, this is a fast, solid laptop with a large screen – which is exactly what you need when you're programming. Sure, it could do with a better GPU and even more storage, but we're now in the budget category and this is what we can get.
And it's a lot, you will see! Also, you have the regular USB-C port included, as well as 3 USB 3 ports, a HDMI and miniDP port… all of which providing enough extras to keep you happy.
Click here to check price on Amazon.
How to choose the best laptop for learning to code
1. CPU is extremely important
Probably the most important element when looking at a laptop to learn coding on is the CPU.
It represents the processing power of your machine and you want it to be as good as possible in order to compile and run your code as fast as possible.
Without a solid processor, most of your time will be wasted waiting instead of working and that's counterproductive.
You will need at least an Intel i5 processor, but i7 and equivalent ones are better choices right now a they will remain useful for longer.
2. You need fast storage
SSDs are no longer novelty items, but there's still a very fair share of people who don't own one or don't consider one a must.
However, since a SSD is much faster than a traditional HDD, it becomes an extremely important feature of a laptop that you'll use for programming, since you will switch between files, save and copy and restore often. And SSDs offers the best speed available right now.
Unless you really need a ton of storage, you won't need a huge SSD (since they are expensive). 512GB is usually more than enough to start with but most laptop models offer easy upgrade options in case you need to add more.
3. RAM is also important
Although a ton of RAM doesn't automatically mean a much better computer for those learning to code, it is still pretty important as it will store the information required to run your programs.
However, even laptops with 8GB can easily handle most programming tasks, although you're better off with 16GB and above. The good news is that we can keep costs very low in this area and still get decent RAM.
4. The GPU only matters in specific cases
Having a dedicated graphics card is not necessary for a laptop you use for coding unless, of course, you are planning to develop games or any software that requires a dedicated GPU.
But for most coding tasks, the GPU is not really important. Which is very good, because laptops with dedicated graphics cards are usually more expensive.
We have options with both, though, in case you want a boost in performance and more options when it comes to using your laptop for other purposes as well.
5. Usually overlooked features
Most people only look at the specifications and performance of their machine when deciding what to purchase, but you should also pay attention to a few other details, which we have done when choosing the recommended laptops on the list above.
First of all, the screen size is extremely important – we believe that you shouldn't go for anything lower than 15.6″ because you need a larger screen in order to keep your eyes happy and healthy.
Next, comfort given by a solid, large keyboard and a high quality display with bright colors and eventually anti-glare are also important.
Usually, the higher your budget – the better the laptop, but sometime the price is influenced by the size of the display – so have that in mind as well.
Although we always recommend going for a laptop with a large screen – 17-inchers – we do understand that they're more difficult to carry around, so if a smaller screen size is acceptable, you're also getting a bigger bang for your buck in terms of performance.
Remember: you also need to be very comfortable when writing code and testing your programs, because you will spend hours in front of the screen and comfort is vital to keep you productive!
Conclusion
You have the best choices above so you can now pick the one you like the most.
Remember, we consider the Acer Predator Helios 300 as the best choice on our list, but if you don't need a dedicated GPU you can keep the costs even lower with any of the first two products that we recommended.