Nowadays, as we're not around people as we used to be, a long selfie stick is extremely important when it comes to capturing great photos and videos. And fortunately, we have a few great options to recommend today with top features and perfect quality.
No matter if we're talking about the New Year's Eve celebration, your travels or just capturing special moments at home, a long selfie stick will always come in handy.
And these best ones recommended today are durable, reliable and extremely easy to use. You will be very satisfied with your purchase, I'm sure of that!
The recommended selfie sticks in today's article will work with most smartphones out there, as well as most cameras – but I'll make sure to note any limitations or special requirements. But it's safe to assume that they do work with most models out there, be them regular phones or cameras.
So, without further ado, let's check out the best long selfie sticks below. We're starting by listing them first in case you don't really want to read our complete reviews. But we have those as well after the table, so keep reading if you want all the details!
Please note: Our blog gets commissions for purchases made through links in this article.
Now, if you want to make sure that these long selfie sticks are perfect for your device and if you want to find out all the details about each model, read on!
Longest Selfie Stick
This is a very descriptive name and basically tells you everything about this really good selfie stick. It shows you just how long this selfie stick is. It's actually the longest we have seen – and also extremely durable, having in mind that it can stretch up to a whooping 118″ long (3 meters).
It has six adjustable dimensions to fit your needs: 22in, 42in, 61in, 80in, 100in and 118in. It does bend like a fishing rod when at maximum size – don't worry, it's supposed to happen and it won't break! Takes a bit of practice to get used to, though.
This extremely long selfie stick connects to your device via Bluetooth with an easy to use remote which can be removed from the stick itself.
This selfie stick also doubles as a tripod. It only works on its lower lengths – no way to keep it vertically at maximum length! But the tripod functionality is extremely useful and comes in handy anyway. But I repeat – don't try it at higher lengths, because it won't work!
It is compatible with most Android phones out there, as well as iPhones (anything with a width between 56 – 80mm, which is most phones out there). It also works with all sorts of cameras that can be screwed into its end.
I wouldn't risk putting any camera that's too heavy on top of it, but your regular compact and action cameras should be perfectly safe.
Click here to check its price on Amazon
Ultra Long Selfie Stick
If you want an alternative to the longest selfie stick above, we have one for you. Although this one "only" stretches up to 106 inches, it's still much more than what the vast majority of selfie sticks offer and gives you a ton more options when it comes to shooting awesome photos and videos.
One extremely important thing to note here is that it only works with cameras, not phones. We also wouldn't recommend using any heavy cameras if you want to extend it to its maximum length. Ideally, use only small, action-camera like gadgets which are as light as possible.
Another potential problem is that this long selfie stick doesn't double up as a tripod. We would definitely recommend the one above simply because it is compatible with more devices and can be used as a tripod, but if you wanted an alternative at this incredible length, you have it.
Click here to check its price on Amazon
Aureday Tripod Selfie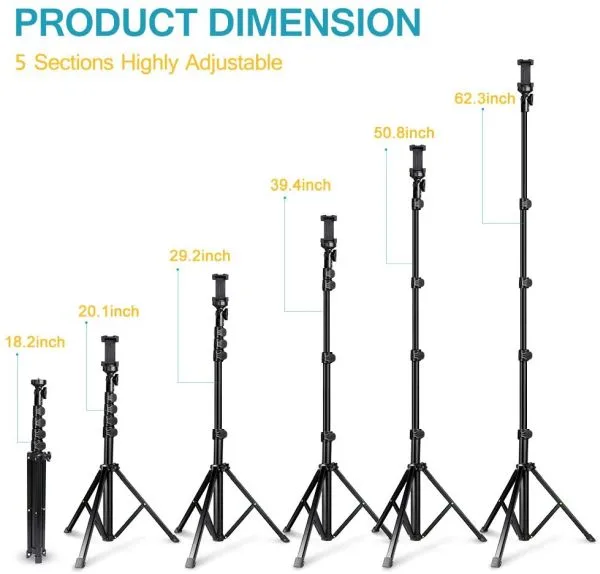 Even though the Aureday selfie stick is much shorter than the previous two recommendations, it's still a really long one, stretching to a maximum of 62″ (1.6 meters). That's still a lot, for sure!
This is also one of the best selling Selfie Sticks on Amazon at the moment of writing this article, with glowing reviews from the community. It is extremely durable and of high quality – while the tripod functionality itself is priceless.
The tripod is also built to offer a bit more stability than what the longest selfie stick above offers, so that's an important feature to have in mind, despite it being almost half its size. I know this sounds like a lot, but it's still a long selfie stick!
It works with almost all phones on the market, be them Android-powered or iPhones, large or small. It also offers a mount for cameras and your GoPro, offering full compatibility with most models out there.
It is operated via its bluetooth remote, which works flawlessly for up to 30 feet. In other words, this is a truly amazing, long selfie stick which also doubles up as a really solid tripod.
It has 5 incremental height adjustments, starting at 18.2 inch (its default height) and going up to a maximum of 62.3″. A great purchase for sure!
Click here to check it out on Amazon
UBeesize Phone Tripod
Another Amazon top seller makes its way to our list. This one is the #1 best selling selfie stick at the moment of writing so you can imagine just how good it is.
However, it's also the shortest on our list of recommended long selfie sticks. Standing tall at a maximum of 51 inches (1.3 meters), it's still pretty long, to offer enough options when taking photos.
Most of the times you won't really need one that stretches up to 3 meters anyway. Although it's not bad to have one one hand.
The UBeesize Phone Tripod and Selfie Stick is a really good product: coming with its own carry bag, it doubles up as a sturdy tripod even at full height, it is full of features and it's one of the most stable selfie sticks you will ever see – offering amazing stability even at maximum length.
It works with most phones and cameras and comes with a bluetooth remote that provides even more functionality. A really good choice if you don't want your long selfie stick to be incredibly long (but still longer than most!)
Click here check it out on Amazon
Selfie Stick Tripod
Last but not least, we have another selfie stick with tripod functionality created by UBeesize – so you know it's high quality that you're getting here!
This one stretches a bit more – up to 60″, but also has a less stable tripod area. But if you want it for length, this one's durable and strong, able to work with all phone models (Android and iOS) as small as light cameras. Or even heavier ones if you don't stretch it to the maximum.
Just like the others on our list, it offers a stable Bluetooth connection and a remote control, being extremely popular among users. Since this one is a bit lighter than the previous model, it's easier to use it as a selfie stick, while the previous one is more suited as a tall tripod.
You have your options though and can now make an educated decision, choosing the best model to fit your needs.
Click here to check it out on Amazon
Wrapping up
Even though selfie sticks were frowned upon when they were first introduced and most people were making fun of those using them, they are now considered must have accessories for most smartphone owners out there.
An essential item for parties, family gatherings, travel and basically any activity you can think of, they offer a ton more options when it comes to shooting the perfect photo or video.
And a longer selfie stick gives you more options, allowing for the capturing of breathtaking photos. You have the best of the best listed above, including what is probably the longest selfie stick you can buy.
So these would be our recommended selfie sticks that are long and durable. Just pick the one that you like the most and you'll be extremely happy with your purchase.