Looking for that perfect laptop that can run basically anything? A laptop with 32GB of RAM is a great choice for gaming and everything else. These are usually high end machines built with the latest and best technology, so if you want extreme power and amazing performance, you need to get yourself a 32GB RAM laptop for gaming.
You're also paying a lot less than you would for a 64GB laptop and honestly, the price difference for the extra 32GB of RAM is too big for the performance boost you're actually getting.
With most modern games, apps and photo/video editing software still going well even with 16GB of RAM, 32GB of RAM can be considered ideal for now and as future-proof as possible. This means that your laptop will remain relevant and will be able to run modern games for years.
So yes, choosing a gaming laptop with 32GB of RAM is a good idea, as prices have gone down a little and the performance they offer is incredible. And we're here to help you make the best choice by recommending the best 32GB RAM gaming laptops of 2021.
Our top favorite is the CUK GE66 Raider by MSI – an amazing laptop selling for a decent price. But we'll get into all the details below, so you can make a completely educated choice, based on your needs.
You might want a larger laptop, for example – so you could wish to get a 17.3″ one instead of a traditional 15.6″ model. The former is better for gaming due to the larger screen, but also a lot more expensive and offering less in terms of performance.
But it's up for you to decide, based on our top recommendations below. We'll start by listing the best 32GB RAM gaming laptops in a table below for an easy comparison, but we'll also get on with an in-depth analysis afterwards.
Please note: We get commissions for purchases made through links in this article.
Laptop Model
Details
OMEN 15
Best 15.6″ Budget Gaming Laptop with 32GB RAM
15.6″ display, i7-10750H, RTX 2070 SUPER GPU, 512GB SSD
Check price here
CUK GE66 Raider
Editor's choice – Best 32GB RAM Gaming laptop
15.6″ display, i7-10870H, RTX 3070 GPU, 1TB SSD
Check price here
ASUS ROG Strix Scar 15
High Storage 32GB RAM Gaming Laptop
15.6″ display, i9-10980HK, RTX 2070 SUPER GPU, 2TB SSD
Check price here
MAINGEAR Element 2
Top Budget 17.3″ Gaming Laptop
17.3″ display, i7-10750H, 2060 Max-P GPU, 1TB SSD
Check price here
MSI GS75 Stealth
Best choice for 17.3″ display size
17.3″ display, i7-10875H, RTX2070 Super Max-Q GPU, 512GB SSD
Check price here
Best Gaming Laptops with 32GB RAM: Reviews
Now let's find out more about these top gaming laptops with 32GB of RAM: details and everything you need to know in order to make an educated purchase and be 100% sure that you are indeed buying the right product for you.
Omen 15
The cheapest 15.6″ laptop on our list is actually a really good find! As you will see for yourself, it has some pretty impressive specifications, offering a lot in terms of quality especially for its low price.
First of all, it is powered by a solid CPU, the Intel Core i7-10750H which goes up to 5GHz and pairs up really well with the 32GB of RAM.
The GPU is a solid one (especially for the money). We're talking about the NVIDIA GeForce RTX 2070 Super Max-Q with 8GB of dedicated RAM. It's not the latest on the market, but should still have no problems running the latest games available.
The biggest problem of this model is the amount of storage it offers. We're talking about 512GB of SSD storage, which is definitely little when talking about computer games.
But you can still make it work and upgrading storage is both relatively cheap and easy to do.
The 15.6″ anti-glare display supports fullHD resolution (1920x1080px) and has an impressive 300 Hz refresh rate as well as 3ms response time. This means that even the fastest image movements on the screen will be smooth and pleasant, exactly as they should be when you're gaming.
In terms of extra connectivity, it has most ports on the left side. We're talking about an HDMI port, an USB Type-C one, three traditional USB ports, a microSD card reader as well as the regular audio jack and ethernet cable jack.
A really nice bonus is the presence of a miniPD port which can definitely come in handy.
It also has all the goodies that we gamers want, like a backlit keyboard with anti-ghosting capabilities, which is pretty comfortable. I still prefer plugging in an external mechanical keyboard, but that's just my way of doing things.
The battery is a decent one, without blowing you away. It will offer a maximum of 3 hours of gaming on a full charge, but you can't really get a lot more than that from most laptops anyway.
All in all, a really decent budget entry for a 32GB RAM gaming laptop.
Click here to check its price on Amazon.
CUK GE66 Raider – Editor's Choice
This is by far this year's winner in the category of the best laptops for gaming with 32GB of RAM. It offers amazing performance and specifications, without any actual CONs.
Apart from the 32GB of RAM that it offers, the CUK GE66 Raider is powered by the solid octa-core Intel Core i7-10870H processor (up to 5 GHz), but also an amazing GPU, the NVIDIA GeForce RTX 3070. Really impressive!
It also offers 1TB of SSD storage, which should be considered more than decent for most gamers out there.
In other words, this is one of the most powerful laptops out there: blazing fast and extremely reliable, it will be able to complete any task without a problem. And it also has a lot of extra goodies included in the package – things that gamers will probably appreciate the most.
For example, it comes with a beautiful backlit keyboard, it has tons of ports so you never run out of space when it comes to plugging in extra devices or gadgets (including USB Type-C, miniDP and card reader).
This is a 15.6″ display laptop that supports fullHD resolution, 300 Hz refresh rates and 3ms response times. In other words, you're getting the best you can get right now!
The battery is also on par with your regular gaming laptop, offering somewhere around two hours on a single charge. This could vary depending on the game you play and its settings, though.
But all in all, this is a really awesome product with a superb GPU and great overall specifications, making it our top choice for the 32GB laptop category.
Click here to check it out on Amazon.
ASUS ROG Strix Scar 15
Now we're switching to a model that trades a bit of performance for incredible amounts of storage. With modern games needing hundreds of GBs these days, it might not be a bad approach!
In other words, we're getting an impressive 2TB of SSD storage, which is the highest amount on our list. You'll definitely have nothing to worry about in this area.
Apart from the 32GB of RAM that it has, the ASUS ROG Strix Scar 15 is powered by a really solid processor, the Intel Core i9-10980HK which is a octa-core CPU, offering blazing fast speed (up to 5.3GHz Turbo Boosted).
The dedicated GPU is not the most impressive around, but it's not bad either. We're talking about the GeForce RTX 2070 SUPER with 8GB RAM. It also has the proprietary ROG boost to squeeze everything out of it, but it's still not the latest gen GPU.
However, it is a really good graphics card that can easily handle all modern games and will surely remain relevant for at least a few years from now.
The 15.6″ display is full HD (1920 x 1080px) and anti-glare as well, with minimal energy consumption. It has a 300Hz refresh rate with 3ms response times, meaning that it's extremely fast and all images on the screen will be smooth and flawless.
The laptop itself looks really good, like all ASUS laptops. You get a Per-Key RGB backlit keyboard, a touchpad with a virtual numpad to leave more room for the actual keyboard to be wider and more comfortable, and an overall solid design with the traditional red touches.
It also offers extra cooling capabilities thanks to the Grizzly Liquid Metal Thermal Compound that does a really good job in keeping temperatures low.
It has various bells and whistles, one of the most important being the ROG Keystone. This is a proprietary gadget which can be connected to offer access to a hidden Shadow Drive or quick-launch your games (and more). A really nice touch that improves safety and privacy metrics.
It is a bit on the heavy side – but that's expected for high end products like this one. Still, at around 5.6 lbs it won't break your back if you carry it around often.
It offers a decent amount of ports, without going overboard though. It has an HDMI port, one USB Type-C slot and three traditional USB 3 ones, plus a headphones jack and a RJ45 one in case you want to go for wired internet connection.
What I also like about its design is that unlike most laptops, it has some of the ports (including the one for the charger) at the back. That's really useful in freeing up some space.
The battery is not the greatest you have ever seen, but all batteries drain really fast when you're gaming at maximum settings, and you can still get a couple of decent hours from a full charge if you run it at maximum capacity, or even more otherwise.
Definitely worth checking out if all its bells and whistles (and increased storage) matter a lot more than the less than stellar GPU.
Click here to check the price on Amazon.
MAINGEAR Element 2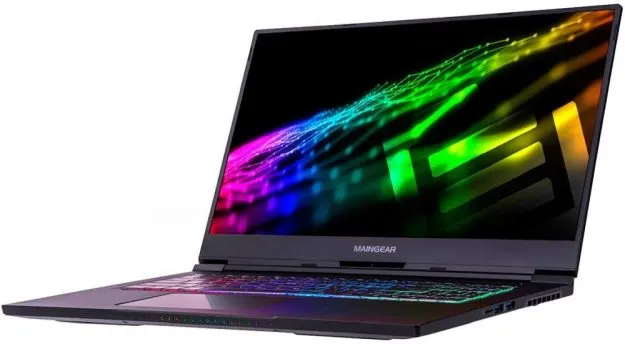 We're now moving to larger screen laptops which should be, in most cases, considered the better option as larger screens are generally welcome when gaming.
However, this also makes them more expensive and more difficult to carry around since they are heavier and larger. But if these are not really problems for you – then going for a larger model is definitely a good idea.
And we're starting with our best budget award in the 17.3″ category. It's a laptop that lacks the brand power of other models on our list, but wins in terms of affordability and specifications.
For a really low price, you're getting a decent large-screen gaming laptop with 32GB RAM. It's powered by the 10th Gen Intel Core i7-10750H CPU – which is still a more than decent model, but also the GeForce RTX 2060 Max-P GPU which can handle modern games with ease.
Sure, these are not top specs – you're getting a bit less that you would from a 15.6″ laptop, but you have to compromise a bit if you want a larger screen.
You don't have to compromise in terms of storage, fortunately, as this model offers a more than decent 1TB SSD for that.
The Element 2 offers fullHD resolution, but "just" 144Hz refresh rates. This is lower than the other products on our list, but still more than your regular laptop (with 60Hz refresh rates), so the video quality will still be really high and all those fast movements will look as natural as possible.
Overall, the laptop looks good and is easy to use, offering a backlit keyboard and various additional ports, including HDMI, USB-C and traditional USB 3 ports.
While it doesn't have a miniDP port, it offers a dual setup of 3.5mm jacks for headphones and microphone.
All in all, this is a really good gaming laptop with 32GB of RAM and a large screen. Remember that it's the cheapest on our list, and you're getting a lot for the money!
Click here to check it out on Amazon.
MSI GS75 Stealth
Last but not least, we have an equally impressive 17.3″ gaming laptop created by MSI.
The Stealth line is one of MSI's best in my opinion and this one won't disappoint, although it still fails to impress in terms of GPU.
For starters, it is powered by the solid i7-10875H processor, as well as the NVIDIA GeForce RTX2070 Super Max-Q GPU with 8GB of dedicated RAM. It's a solid combo that will offer high performance no matter what you throw at it!
The display is amazing too – full HD, anti-glare, wide angle and up to 300Hz refresh rates will keep you (and your eyes) extremely happy.
It comes with additional goodies, likes the backlit keyboard with anti-ghosting capabilities. We're also talking about per-Key RGB lights, so you have full control over the lights of your laptop.
This is also the only model on our list that offers two USB Type-C ports, as well as three traditional USB ones, and a mic/headphone jack combo. It also has an HDMI port, so everything's covered!
Its biggest CON is the fact that it only has a 512GB SSD. So you're not getting a ton of storage out of it, but fortunately upgrading it is really simple and won't cost too much.
But all in all, this is a really solid large gaming laptop that will keep you really happy for a long time!
Click here to check its price on Amazon.
Is 32GB RAM overkill for a gaming laptop?
This is the question that most people ask before buying a 32GB model. Maybe 16GB is just enough and you end up paying a bit less overall…
The truth is that, right now, 16GB is indeed enough for most games out there, including the latest releases.
But 32GB of RAM is a way for you to future-proof your rig and offers the best solution in terms of RAM at the moment. Anything above that would be overkill for gaming, in our opinion, though,
So while you will do perfectly fine with 16GB of RAM with most games out there, 32GB will offer you the guarantee that even upcoming AAA releases will still run smoothly on your device (as long as you have the GPU to match).
Conclusion
These would be our top recommended products. We tried to keep budget in mind as well, but without losing anything in terms of quality.
You can rest assured that, no matter which of the recommended laptops you choose, you are making the correct decision and you'll end up with an amazing product you'll love for the years to come!