Like it or not, kids these days will benefit a lot from a laptop. But choosing the best laptop for a kid is difficult task for parents who need to balance budget, performance and durability, as well as the overall quality of the laptop.
As a father of a son who managed to break my wife's laptop (there's a risk of it happening if you drop it from a desk, ha!), I understand how important this decision is. Especially now when schools can go online in any instant, but there's also homework and other projects to be done online.
Plus the plethora of kid-friendly YouTube channels, streaming services, TV and video calls…
Well, our recommended laptops for kids today will help you choose the best product based on your child's needs, but also budget. Let's check out the offer in the table below (but we'll get more in depth soon!).
Please note: Our blog gets commissions for purchases made through links in this article.
Model
Main features
Lenovo Chromebook Duet

Best Budget Laptop for Kids
Chrome OS, focused on online
Small, thin, light & portable
Can also be used as a tablet
Check price
Acer Aspire 5

Best Cheap Windows Laptop for Kids
Windows laptop, large screen (15.6″)
Good battery & performance
Check price
HP 15 Laptop

Editor's Choice
Large screen (15.6″), faster laptop
Lightweight design & durable
Check price
Lenovo Legion 5

Best Gaming Laptop for Kids
Dedicated GPU for Gaming
15.6″ display, high performance
Good for multitasking
Check price
Before we move on to learning even more about each of the recommended devices above, have in mind that for older children, other laptops might be more appropriate. We wrote an article about the best laptops for teenagers here – make sure to check it out if needed.
Alternately, if your child is too young, a toy laptop might be more appropriate.
What are the best laptops for children in 2021?
If you want more details about our top recommendations, read through our complete reviews below.
Lenovo Chromebook Duet
We're starting with a tiny laptop (at least from an adult's point of view). With a 10.1-inch display the Lenovo Chromebook Duet is definitely small – but is probably just enough for a young child. Plus, it has some nice aces up its sleeve to make up for the small size!
First of all, it's worth mentioning that it runs on Google's Chrome OS and not Windows. This is a lightweight, internet-focused operating system that won't run Windows programs (although many have an alternative or even a dedicated version for Chrome OS).
It is also a 2-in-1 product, meaning that the keyboard is detachable and your laptop can easily turn into an easy to use tablet. This is a nice feature, as most kids prefer tablets to regular laptops – at least when it comes to entertainment.
Despite the small size and equally small price, the tablet has a good image resolution, being full HD (1,920 x 1080 px) and offering great image quality. It has a long-lasting battery (up to 10 hours) and is also extremely durable.
This is made mainly for online use, meaning that it doesn't offer a lot of native storage: just 32GB in this case, which will fill up extremely fast, especially if your child enjoys taking photos and videos. Most of them usually do – but you still have cloud storage options if needed.
It will allow your child to download and install apps from the Play Store, and also browse the internet and use the likes of Google Docs for homework and projects. It is a safe, durable and extremely cheap option, better suited to younger children than older ones.
Click here to check price on Amazon.
Acer Aspire 5
If you prefer a Windows laptop and you're also on a budget, then the Acer Aspire is your best choice. It offers just enough for your child to enjoy a decent laptop, without too many bells and whistles.
It isn't the fastest laptop around, offering just 4GB of RAM and being powered by an older processor: the AMD Ryzen 3 3200U CPU. But this would still be enough for online learning, watching Youtube and streaming videos and even a bit of gaming for entertainment.
For example, it can easily run Minecraft or Roblox – two very popular games among kids.
This laptop also comes in a decent size, like most laptops: a solid 15.6″ display with full HD resolution make it a better choice for extended times doing homework or online learning, but also for watching cartoons, movies and TV shows.
It offers more storage than the previously recommended Chromebook: 128GB of super-fast SSD storage, but that can also fill up quite easily. But since laptops are not really built for taking photos and videos (like phones and tablets), it will probably be just enough.
With a battery life of around 7 hours, the Acer Aspire 5 can easily last through a day of school and provide just enough in terms of performance.
It has added bonuses, like a backlit keyboard (which is a bonus in poorly lit rooms), but it's also thin and light (around 4lbs/2kg).
Click here to check price on Amazon.
HP 15 Laptop – Editor's Choice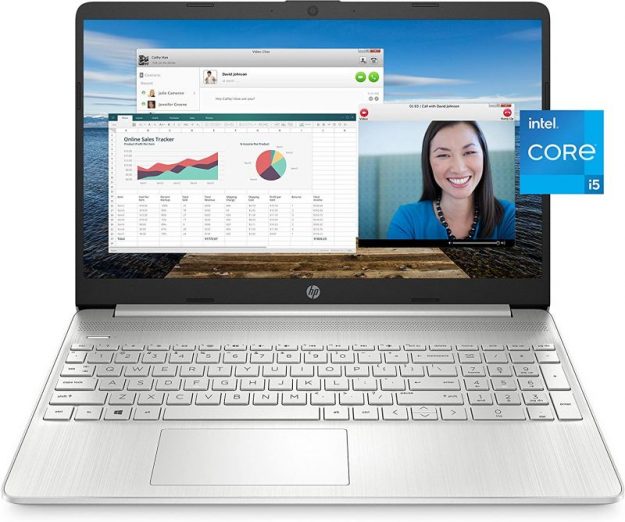 This is our top recommended laptop for kids and it should be the most perfect choice for most kids out there, nicely blending performance and durability with a solid design and many useful features.
Still, it's not a product designed for gaming, so distractions will be minimal or at least your child won't be always trying a new game.
But it is a high quality, fast laptop. It comes with 8GB RAM and 256GB of storage space on a fast SSD, but it's also powered by an 11th Gen Intel Core i5-1135G7 Processor, which makes everything smooth and nice.
As a bonus, it has a new integrated graphics card from Intel, the Intel Iris Xe Graphics, which is a step ahead your traditional integrated graphics cards.
This is also a 15.6″ laptop – so it has a decently large screen, perfect for everything from watching cartoons and movies, chatting with friends or going online on Zoom for school, but also for doing homework and completing school projects.
The battery is also good, offering around 7 hours on a single charge – but it's also a fast charging battery, which gets your laptop from 0% to 50% in just 45 minutes.
All in all, a perfect laptop selling for a fair price. Not extremely powerful, but offering just enough for kids. As an added bonus, it's also lightweight and easy to carry around.
Click here to check price on Amazon.
Lenovo Legion 5
This model offers the highest performance on the list and can also easily handle some gaming, if that's something that you have nothing against.
Actually, this is the only laptop on our list that can handle serious gaming. Even though the previous models can also handle Minecraft or Roblox, this one will offer a better performance in those games, but also allow your kid to play recent and more demanding resources.
That is because it comes with a dedicated graphics card, the NVIDIA GTX 1660Ti. This is a very good GPU, but not the latest on the market – keeping a good balance in terms of price and performance.
Apart from this, the Lenovo Legion 5 has 16GB of RAM and 512GB of SSD storage, as well as a very good processor: the AMD Ryzen 7 4800H. In other words, everything will run smoothly on this device!
It is a bit bulkier and heavier than previous models (because of the added GPU and additional cooling mechanisms), so very young children might have problems carrying it around: at 5.4 lbs (2.5kg), it's not too heavy for an adult, but could be for a little one.
It's all worth it though, as the screen itself is better than the rest. Even though it has the same 15.6″ display size and is full HD, it comes with a 144Hz refresh rate, one that is better for the eyes and makes all movement (in videos and especially games) a lot smoother.
All in all, this is the perfect choice if you want a higher performance laptop, one that can easily run games that kids love.
Click here to check price on Amazon.
Wrapping up
When choosing a laptop for your kid, you should always consider the fact that accidents will most likely happen: the younger your child, the greater the chances of them dropping the device, spilling water on it or doing all sorts of damage – even without intention.
So we definitely recommend not to go overboard and pay extra for the laptop as you will probably have to replace it sooner than you would others – even though laptops have a solid lifespan generally.
Plus, kids don't really need the latest, highest performance laptop right now, even if they are allowed to play computer games. This doesn't mean that we recommended slow and sluggish products.
No, all of the laptops above are fast and perfect for school projects, watching cartoons/movies and doing all sort of school-related work, including online learning.
In the end, the decision is yours and you can choose the best laptop for your child, depending on your budget and needs – the cheapest on the list are slower and offer fewer features, while the more expensive are faster and offer a bit more.