Do you dislike carrying a big paper book despite your love of reading? The ideal answer is to use an e-reader!
Moreover, if you're a bookworm who enjoys spending time in hot baths, saunas, or even on the beach, you require a waterproof e-reader that suits your way of life.
There are, fortunately, several excellent waterproof choices available.
Here we have discussed the 7 Best Waterproof e-Readers to help you pick one that suits your requirements and price range.
These e-Readers will let you read your favorite books wherever life takes you!
Comparing the 7 Best Waterproof e-Readers
| | | | | | | | |
| --- | --- | --- | --- | --- | --- | --- | --- |
| Features | Kindle Oasis | Kobo Forma | NOOK GlowLight Plus | Onyx Boox Note2 Pro Plus | Amazon Kindle Paperwhite | Kobo Libra 2 | Kobo Clara 2e |
| Display Size | 7 inch | 8 inch | 7.8 inch | 10.3 inch | 6 inch | 7 inche | 6 inch |
| Resolution or PPI (Pixels per inch) | 300 ppi | 300 ppi | 300 ppi | 1872 x 1404 pixels | 300 ppi | 300 ppi | 300 ppi |
| Waterproof Rating | IPX8 | IPX8 | IPX7 | IPX8 | IPX8 | IPX8 | IPX8 |
| Built-in Light | Yes, Adjustable | Yes | Yes, Adjustable | Yes, Adjustable | Yes, Adjustable | Yes, Adjustable | Yes, Adjustable |
| Storage Capacity | 8 or 32 GB | 8 or 32 GB | 8 GB | 64 GB | 8 or 32 GB | 8 GB | 8 GB |
| Battery Life | Up to 6 weeks | Up to 3 weeks | Up to 6 weeks | Up to 4 weeks | Up to 6 weeks | Up to 4 weeks | Up to 8 weeks |
| Operating System | Kindle OS | Kobo OS | Android | Android | Kindle OS | Kobo OS | Kobo OS |
| Audio Support | No | No | No | Yes, Built-in Speaker | No | No | No |
| Weight | 6.6 oz | 6.9 oz | 6.9 oz | 19.4 oz | 6.4 oz | 6.8 oz | 5.9 oz |
| Price | $249.99 – $349.99 | $279.99 | $199.99 | $599.99 | $129.99 – $249.99 | $169 USD | $119.99 |
Top 7 Waterproof e-Readers to Choose in 2023
We'll share the pros and cons of all seven e-Readers so you can choose one ideal for your lifestyle.
Then let's get going!
1. Kindle Oasis – Best for Travelling
The newest and best e-reader from Amazon is the Kindle Oasis.
This gadget offers the best reading experience possible in any setting thanks to its high-resolution display and movable warm light.
Thanks to its ergonomic design, it fits perfectly in one hand, allowing for hours of comfortable reading.
Also, you'll always have plenty of space for your favorite books and periodicals with 32GB of storage capacity!
So, the Kindle Oasis is your best option if you want a top-of-the-line e-reader that will endure for years.
Pros:
7″ high-resolution 300ppi display for a crisp and clear reading experience
Waterproof design (IPX8) to withstand accidental spills, splashes, and full submersion in water up to two meters for up to 60 minutes
Built-in adjustable warm light to shift screen shade from white to amber
Audible ready for free audiobook listening
32GB or 4GB of storage space to store thousands of books and magazines
Bluetooth connectivity for headphones and speakers for hands-free enjoyment
Battery life of up to 6 weeks on a single charge with no need for frequent recharging
PageTurn buttons for seamless navigation
Cons:
More expensive than other Kindle models
Heavier and thicker design makes it less portable than other Kindles
Does not offer cellular connectivity options, so users have to be connected to Wi-Fi to download books or access content
Limited range of available accessories
2. Kobo Forma – Best for Students
A breakthrough e-reader that provides readers with an unmatched experience is the Kobo Forma.
The Kobo Forma offers users a distinctive reading experience.
With access to more than 6M titles through the Kobo bookstore, the tablet includes 8GB of space for all your favorite magazines and books.
You can carry it without worrying about losing power because of the battery life.
The Kobo Forma is ideal for anybody searching for a user-friendly e-reader that can serve them for years because of its lightweight build and stylish appearance.
Pros:
Unparalleled reading experience with 8-inch Carta E Ink touchscreen display and adjustable ComfortLight PRO LED lighting system
Over 6 million titles available through the Kobo store, including books, magazines, and more
Long battery life of up to two weeks on a single charge gives users the freedom to take it anywhere without worrying about running out of power
Waterproof design ensures the device will not be damaged by water or sweat during use
Lightweight design and sleek look make it aesthetically pleasing to use.
Cons:
Only 8 GB storage is available. Limited amount of onboard storage.
Size may be large for some people.
3. NOOK GlowLight Plus – Best for Online Learning
The NOOK GlowLight Plus is an e-reader made by Barnes & Noble.
Its 6-inch touchscreen display, which has adjustable illumination settings and is bright and vibrant, makes it easy to read in any lighting condition.
Also, the device has Wi-Fi for downloading brand-new books from the official bookstore.
You can store many books and other digital goods on its enormous internal storage.
The NOOK GlowLight Plus also gives users access to more than 4M books, magazines, journals, and other publications via its internal library system.
Its cozy design makes it easy to hold while reading or thoroughly exploring its extensive information collection.
Pros:
Bright and vibrant 6-inch touchscreen display
Ergonomic design is comfortable to hold for extended periods
Access to over 4 million books, magazines, newspapers, and more
Cons:
Limited storage capacity compared to other e-readers
No audio or video capabilities.
4. Onyx Boox Note2 Pro Plus – Best for Storage
Powerful e-readers like the Onyx Boox Note2 Pro Plus provide an engaging reading experience.
It has a 13.3-inch HD E Ink display with an adjustable front light that lets you change the brightness and contrast for the best viewing experience regardless of the lighting.
The gadget also has Bluetooth and a Wi-Fi connection for simple access to internet information and 8GB of internal storage to hold thousands of books.
It can also recognize handwriting so you can take notes on the screen without a pen or keyboard.
The Onyx Boox Note2 Pro Plus is ideal for readers who want to remain connected while reading their favorite books on the road because of its extended battery life and lightweight design.
Pros:
Immersive reading experience
Store thousands of books online or offline
Take notes directly on the screen without needing a stylus or keyboard
Lightweight design for portability
Cons:
No backlight or color options
5. Amazon Kindle Paperwhite – Best for Long-Term Travel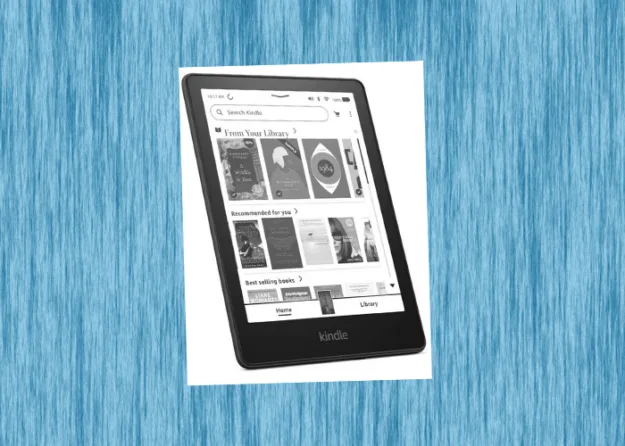 Reading is more comfortable for the eyes on the Kindle Paperwhite thanks to features like changeable font sizes and illumination.
It has a 6.8-inch display.
Moreover, its portable size and six weeks long battery life make it the ideal travel companion, enabling readers to read wherever they go.
The Kindle Paperwhite's highlighter and note-taking features let readers keep track of their thoughts and ideas as they read.
Also, the tablet includes built-in dictionaries and translation capabilities, making it simple to search for terms or phrases you need clarification on.
Pros:
Its warm light makes it best for the eyes.
Its small size and light weight make it simple to transport.
Extended battery life, up to six weeks between charges
Waterproof construction enables customers to utilize the device in a variety of settings.
Cons:
Users are constrained by the storage capacity of the device they buy because there is no extendable storage.
No actual page-turn buttons, which some users may like.
A larger display size could be preferred by some users when reading magazines or textbooks.
6. Kobo Libra 2 – Best for High-Resolution Display
The Kobo Libra 2 is a solid e-reader option for anyone who enjoys reading on the go.
ts waterproof design ensures you don't have to worry about accidentally dropping it in water or getting it wet at the beach or by the pool.
Its high-resolution display is also a highlight, providing sharp and clear text that's easy on the eyes.
In addition to its sturdy and high-quality design, the Kobo Libra 2 also boasts a long battery life of up to 4 weeks on a single charge.
This makes it a great option for those who travel frequently.
Overall, if you're in the market for a reliable and durable e-reader with a great display and long battery life, the Kobo Libra 2 is worth considering.
Pros
Waterproof and durable design
Large, high-resolution display
ComfortLight PRO for easy reading in any lighting
Supports a wide range of e-book formats
Cons
No built-in audio support
Limited app selection
7. Kobo Clara 2E – Best for Long Battery Time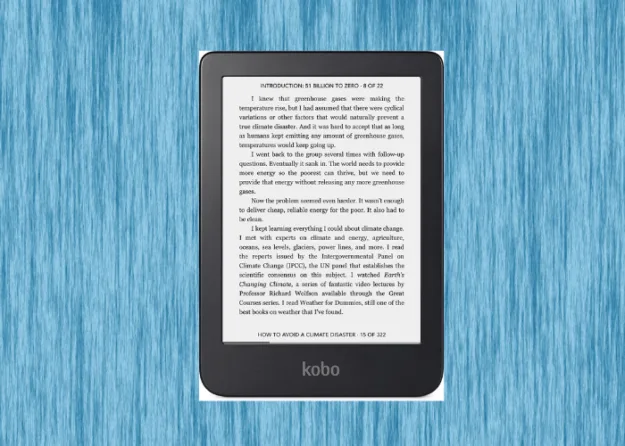 Owing to its size, the Kobo Clara 2E is now one of the most popular e-reading devices on the market.
Its light weight allows you to read for hours with one hand while sipping your coffee without getting fatigued.
With its user-friendly design and excellent reading functions, the Kobo Clara 2E may be your sole e-reader.
It can also compete with the Kindle because it is well made, has an elegant design, a high-quality screen, and reasonable prices.
Pros:
It weighs around 6.03 oz, so it is lightweight and compact.
It has a ComfortLight PRO to adjust the brightness and color temperature.
Great front-lit display
Excellent Pocket Integration
Cons:
Interface usability should be improved.
Slow processor
Conclusion
When choosing the best waterproof E-readers you need to carefully check their specs and the benefits that they can provide you with.
By thorough research and eye-to-detail you can avail yourself the best e-reader to get the most out of your investment.
That's it from our side.
For more informative articles on various topics, stay connected with us!